Château Lynch-Bages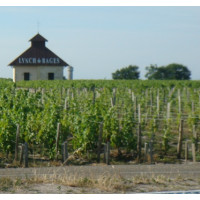 About Château Lynch-Bages
Château Lynch-Bages is one of eighteen Cinquièmes Crus (Fifth Growths) in the famous 1855 Classification. This noble estate in the heart of one of the grandest appellations on Earth has always been, and will always be, an exceptional piece of land for the cultivation of Cabernet Sauvignon in particular. Despite this natural proclivity for excellence, it was around the turn of the millennium that the transcendently nuanced layers of blackberry, tobacco, cedar and minerally slate began to emerge triumphantly from wine-stained glasses with delightful predictability vintage-after-vintage.
The Cazes family have been a presence at this property since 1930, initially renting before purchasing the beautiful château in 1939. Fascinatingly, very little was known about the history of the site, until a priest contacted the family in 1991 proclaiming to have in his possession 250 pages of documents detailing 300 years of Lynch-Bages' history! The family purchased the papers for 50,000 francs, learning that the 16th château earned its modern name whilst under the ownership of Thomas Lynch from (as were so many 18th century merchants in the region) Galway, Ireland.
Viticulture, Winemaking and the Wines
A major destination for the considerable investment afforded to the property by the Cazes family over the past 30 years has been detailed soil and topographical analysis. This study found that whilst the majority of the Bages plateau was deep Garonne gravel (classic Pauillac), the vines were also planted variably on clay and limestone subsoil. Advancements in viticulture naturally allowed the family to change tack and adapt where necessary, and Lynch-Bages has produced some of the most gorgeously perfumed and aristocratically structured wine for decades.
A believer in late harvests, he made the wine riper and more powerful. The 90 hectares (220 acres) of Château Lynch-Bages are located just outside the town of Pauillac. The vineyard occupies a gravel ridge looking down over the Gironde estuary. The well-drained soil consists mainly of deep gravel beds over a limestone sub-strata, and it is planted 73% Cabernet Sauvignon, 15% Merlot, 10% Cabernet Franc and 2% Petit Verdot.