Germany
The wines of Germany are among the most distinctive and diverse in the world. This European country produces a range of different wines, from crisp whites to full-bodied reds, each with its own unique style and flavour profile.

German Riesling is the most famous of all German wines, known for its various styles, complexity and extraordinary ageability. Other popular German grape varieties include Spätburgunder (Pinot Noir), Silvaner, Muller-Thurgau and more...

Germany's wine regions are famous for their picturesque landscapes and unique wine culture. The most prominent wine regions include Mosel, Nahe, Rheingau, Baden and Rheinhessen, all of which are located along the banks of the Rhine and Mosel rivers.

In recent years, the wines of Germany have gained increasing recognition and popularity among wine enthusiasts worldwide. With its unique winemaking techniques, indigenous grape varieties, and beautiful settings, Germany offers a unique and diverse range of wines.

A wine country that boasts many extraordinary wines, leading producers in this country include Jos Jos Prum, Keller, Dönnhoff, Markus Molitor and more...
Germany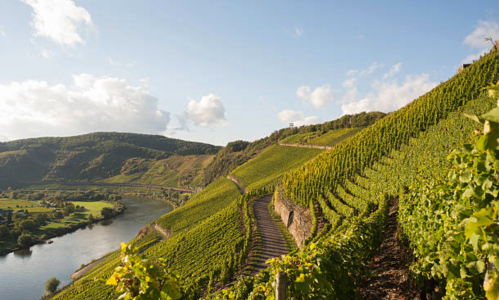 Name
Price Low
Price High
Year (Old)
Year (New)
Product Name
Region
Qty
Score
Price

Mosel
10
-

Inc. TAX

€450.47

Pfalz
2
-

Inc. TAX

€546.47

Pfalz
1
-

Inc. TAX

€701.58

Pfalz
2
-

Inc. TAX

€352.38

Pfalz
2
-

Inc. TAX

€313.12

Pfalz
2
-

Inc. TAX

€414.78

Pfalz
2
-

Inc. TAX

€473.92

Pfalz
4
-

Inc. TAX

€608.87

Pfalz
6
-

Inc. TAX

€402.78

Pfalz
3
-

Inc. TAX

€283.12

Rheinhessen
2
-

Inc. TAX

€474.47

Rheinhessen
40
-

Inc. TAX

€242.87

Rheinhessen
40
-

Inc. TAX

€248.87

Rheinhessen
30
-

Inc. TAX

€248.87

Rheinhessen
5
-

Inc. TAX

€1,382.87

Rheinhessen
10
-

Inc. TAX

€843.83

Rheinhessen
7
-

Inc. TAX

€1,391.20

Pfalz
1
-

Inc. TAX

€857.27

Pfalz
2
-

Inc. TAX

€396.47

Pfalz
1
-

Inc. TAX

€622.72

Pfalz
3
-

Inc. TAX

€678.47

Pfalz
3
-

Inc. TAX

€643.67

Pfalz
6
-

Inc. TAX

€590.87

Pfalz
2
-

Inc. TAX

€581.27

Pfalz
1
-

Inc. TAX

€442.49

Pfalz
2
-

Inc. TAX

€1,310.87

Pfalz
1
-

Inc. TAX

€841.12

Pfalz
2
-

Inc. TAX

€608.87

Pfalz
5
-

Inc. TAX

€362.87

Pfalz
10
-

Inc. TAX

€286.07
Product Name
Region
Qty
Score
Price

Mosel
10
-

In Bond

€353.00

Pfalz
2
-

In Bond

€433.00

Pfalz
1
-

In Bond

€566.00

Pfalz
2
-

In Bond

€275.00

Pfalz
2
-

In Bond

€246.00

Pfalz
2
-

In Bond

€327.00

Pfalz
2
-

In Bond

€380.00

Pfalz
4
-

In Bond

€485.00

Pfalz
6
-

In Bond

€317.00

Pfalz
3
-

In Bond

€221.00

Rheinhessen
2
-

In Bond

€373.00

Rheinhessen
40
-

In Bond

€180.00

Rheinhessen
40
-

In Bond

€185.00

Rheinhessen
30
-

In Bond

€185.00

Rheinhessen
5
-

In Bond

€1,130.00

Rheinhessen
10
-

In Bond

€692.00

Rheinhessen
7
-

In Bond

€1,150.00

Pfalz
1
-

In Bond

€692.00

Pfalz
2
-

In Bond

€308.00

Pfalz
1
-

In Bond

€504.00

Pfalz
3
-

In Bond

€543.00

Pfalz
3
-

In Bond

€514.00

Pfalz
6
-

In Bond

€470.00

Pfalz
2
-

In Bond

€462.00

Pfalz
1
-

In Bond

€365.00

Pfalz
2
-

In Bond

€1,070.00

Pfalz
1
-

In Bond

€686.00

Pfalz
2
-

In Bond

€485.00

Pfalz
5
-

In Bond

€280.00

Pfalz
10
-

In Bond

€216.00