Smith-Haut-Lafitte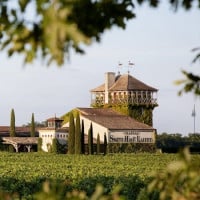 Smith-Haut-Lafitte was bought by Florence and Daniel Cathiard in 1990. But its prestigious history dates back to 1365 when the first vines were planted. George Smith bought the Graves estate in 1720, adding his name to the property. After renovating the estate, the Cathiards now live in the 18th century chartreuse dating from George Smith's time. Over the years, the Cathiards have invested hugely to modernize Smith Haut-Lafitte. In 1995 they built their own cooperage, allowing them produce 70% of their own barrels to their exacting specifications.
They have also created state-of-the-art wine making facilities. In 2009 they were one of the first estates to use "Oenoview" satellite imagery system to assess grape ripeness. They also make use of the latest optical sorting technology. These efforts have seen quality, and critical acclaim, leap upwards - culminating in a perfect 100 score from Wine Advocate for the 2009 vintage. Today the vineyard is organic and self-sustainable, with an eye to biodynamic farming techniques. These efforts are led by Fabien Teitgen, the Technical Director for all the Cathiard properties is an integral part of their estate's success.
There are no products matching the selection.