Dominio de Pingus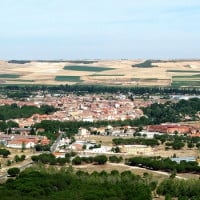 About Dominio de Pingus
Dominio de Pingus is located in the La Horra region of Ribera del Duero in Spain. The owner/winemaker is one of the most celebrated names in world wine. Peter Sisseck, an oenologist originally from Denmark, started the estate way back in 1995 and has grown to be one of the globe's very top wines.
Viniculture
There are currently 3 wines produced by the estate: Flor de Pingus, a single barrel cuvée called Amelia (which began in 2003), and the flagship Pingus. In a normal vintage, there are usually about 4,000 cases of Flor de Pingus, 500 cases of Pingus and just 25 cases of Amelia. The vines are all over 35 years of age and have been farmed biodynamically since 2005.
The first vintage of Pingus was in 1995. The vines producing this fantastic wine are all at least 65 years of age and yields are typically under 1 ton per acre. The wine is 100% Tempranillo and is bottled without fining or filtration.