Philippe Livera (Tilleuls)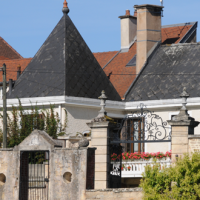 Occupying a disused stable-block, Domaine des Tilleuls is set in the very heart of Gevrey-Chambertin, close to the village church. Founded by the current winemaker's great-great grandfather, this has been in the hands of the Livera family for almost 100 years. Since Damien took the reins in 2007, he has steadily reduced dependence on negociants such as Jadout and Bouchard and has increased the percentage of wines bottled by the domaine itself. In 2015 Damien reached new heights with some of his best wines to date, though the quality had been improving markedly since 2009. The approach to wine-making is judicious; methods include retention of CO2 from fermentation to reduce the need for additional Sulfur, minimal new oak for fresh, lighter entry level wines and 100% barrel ageing for more noble grands crus. Simply, put, this is a domaine that is doing all the right things and should be watched closely over the next few years.
There are no products matching the selection.