Paul Jaboulet Aîné
About Paul Jaboulet Aîné
Undoubtedly one of the greatest names in the Rhône Valley, Paul Jaboulet Aîné was founded in 1834 by Antoine Jaboulet and is perhaps best known for its flagship La Chapelle, of which the 1961 vintage still holds the title as one of the greatest wines ever made. A series of mishaps in the 1990s threw the estate in disarray and it took the financial might of the Frey family to set the estate on a path to recovery.
Since 2006, the Frey family have accomplished an impressive feat at Paul Jaboulet Aine by taking this historic estate to its rightful place as the first growth of the Rhone. With their experience at Chateau La Lagune in Bordeaux, the Frey family saw the potential in Jaboulet's vineyards, including the important and iconic vineyard, Hermitage La Chapelle.
Caroline Frey has since taken over as owner and winemaker of Paul Jaboulet Aîné and within 10 years, enabled Paul Jaboulet Aîné to attain organic certification.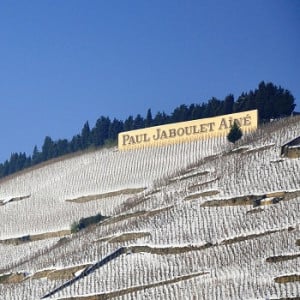 Name
Price Low
Price High
Year (Old)
Year (New)
Prices:
Product Name
Region
Qty
Score
Price

Rhone
-
96 (JS)

Expected Price Range

€844 - €1,013

James Suckling (96)

Incredibly deep and complex nose for the 2021 vintage with masses of forest berry, licorice and autumn trumpet mushroom aromas, with an enormous tannin structure that's very refined. The classic power of Hermitage comes through at the extremely long finish. Although the tannins are anything but aggressive, the aromas will need considerable time to fully unfurl. From parcels on the western side of the Hermitage hill with predominantly granite soils, the largest parcel being in Le Meal. From organically grown grapes. Drinkable now, but best from 2026.

More Info

Rhone
2
-

Inc. TAX

€288.47

Rhone
3
-

Inc. TAX

€232.49

Rhone
1
-

Inc. TAX

€1,315.45

Rhone
1
-

Inc. TAX

€690.13

Rhone
6
94 (WA)

Inc. TAX

€501.18

Wine Advocate (94)

The 2015 Cornas Domaine de Saint Pierre is a full-bodied, concentrated wine that brings the essence of Cornas to the bottle in its scents of crushed stones and firm, tannic finish. Hints of toasted almond and mocha give it a gloss of modernity, but its red plum fruit, hints of iron or blood, and sturdy feel bring it right back to the appellation's granite slopes.

More Info

Rhone
10
93 (VN)

Inc. TAX

€379.98

Vinous (93)

Inky ruby. Powerful, mineral-driven aromas of ripe black/blue fruits, candied violet, olive and exotic spices. Densely packed and focused on the palate, offering bitter cherry and boysenberry flavors that unfold slowly with air and show sharp delineation. The blue fruit and floral notes drive a long, juicy finish given framework by dusty, slow-building tannins.

More Info

Rhone
2
-

Inc. TAX

€293.27

Rhone
1
94 (WA)

Inc. TAX

€587.58

Wine Advocate (94)

The 2017 Cote Rotie Domaine des Pierrelles is full-bodied but exceedingly elegant, with silky, fine-grained tannins. Charming notes of violets, raspberries and black olives lead the way, backed by hints of dried spices and mocha, finishing long. It's a complex and compelling example of Cote Rotie, and it's great to see all of the Jaboulet team's hard work in the vineyards paying off.

More Info

Rhone
2
94 (VN)

Inc. TAX

€533.58

Vinous (94)

Dark ruby. Pungent, spice- and smoke-tinged dark berries, cherry pit, olive and potpourri on the assertively perfumed nose. Juicy and energetic on the palate, offering gently sweet red and dark berry flavors, along with floral pastille, allspice, olive and cracked pepper notes. Fine-grained tannins add shape to a very long, lively finish that strongly echoes the floral and spice notes.

More Info

Rhone
1
-

Inc. TAX

€861.29

Rhone
1
-

Inc. TAX

€576.89

Rhone
1
-

Inc. TAX

€503.05

Rhone
2
90-93 (VN)

Inc. TAX

€428.87

Vinous - Josh Raynolds (90-93)

Ruby-red. Textbook Cote-Rotie aromas of fresh red- and blackcurrant, cherry pit, violet, smoky bacon and graphite. Firm, focused and deep, with zesty acidity giving energy and focus to the black fruit flavors. Elegant finish features silky tannins and impressive lift.

More Info

Rhone
3
94 (WA)

Inc. TAX

€437.58

Wine Advocate (94)

Bearing more than a passing resemblance to an actual Hermitage, the 2017 Crozes Hermitage Domaine de Roure comes from granitic soils, and it comes across as darker, more concentrated and sturdier than Jaboulet's other Crozes bottlings. Cassis and black olive notes abound in this full-bodied, structured wine, which finishes long and velvety, picking up hints of baking spices along the way.

More Info

Rhone
6
94 (VN)

Inc. TAX

€309.18

Vinous (94)

Deep magenta. A highly perfumed bouquet evokes ripe red and blue fruits, potpourri and licorice, and a smoky mineral accent builds in the glass. Appealingly sweet and penetrating on the palate, offering juicy dark fruit preserve and floral pastille flavors that are brightened by a snap of juicy acidity and a building, spicy nuance. Clings with impressive tenacity on the gently tannic finish, leaving behind Chambord and exotic spice notes.

More Info

Rhone
1
92 (WA)

Inc. TAX

€1,182.13

Wine Advocate (92)

The 1990 is an unqualified winner. My instincts suggest it will easily eclipse the 1978. The 1990 exhibits a huge, roasted Syrah nose and the massive power produced by the hot sun and drought of this vintage. It has also benefited from an unbelievably long 40-day maceration. The huge, smoky, superripe nose of herbs, coffee, and cassis is followed by a densely packed, authoritatively rich, nearly massive, surprisingly well-balanced wine. Anticipated maturity: now-2005. Last tasted 12/95.

More Info

Rhone
1
88+ (VN)

Inc. TAX

€455.74

Vinous (88+)

Full red. Restrained, pure aromas of red fruits, menthol, oak and dried rose. Dense and ripe but tightly wound, even a bit youthfully pinched today, with some edgy acids. Notes of currant, meat, leather and pepper. Grew sweeter with aeration, suggesting that it will improve with bottle aging.

More Info

Rhone
1
91+ (VN)

Inc. TAX

€493.33

Vinous (91+)

Deep ruby. Very ripe and warm on the nose, but not pruney or over the top. A big, round wine with lush dark berry and cherry compote flavors and a serious, chewy texture. A bit youthfully inexpressive today but the power and concentration of the material are obvious. Notes of espresso and candied licorice emerged with aeration. Frederic Jaboulet noted that production was down from a normal 20,000 cases to 7,000.

More Info

Rhone
3
90-92 (VN)

Inc. TAX

€494.14

Vinous (90-92)

Primary violet color. Extremely dense and unforthcoming on the nose, with brooding dark berry flavors. Sweet on the palate but currently dominated by its structure; large-scaled and chewy. Deep and powerful but stubbornly unforthcoming. Finishes with hints of sweet mocha and licorice.

More Info

Rhone
2
90-92 (VN)

Inc. TAX

€485.17

Vinous (90-92)

Primary violet color. Extremely dense and unforthcoming on the nose, with brooding dark berry flavors. Sweet on the palate but currently dominated by its structure; large-scaled and chewy. Deep and powerful but stubbornly unforthcoming. Finishes with hints of sweet mocha and licorice.

More Info

Rhone
2
90-93 (VN)

Inc. TAX

€512.77

Vinous (90-93)

Inky ruby. Explosively aromatic nose offers sexy oak spice-laced dark berry and black cherry, complicated by cured tobacco and violet oil. Very youthful but awfully sweet, with deep, almost liqueur-like blackcurrant and blueberry flavors and supple, molten tannins. A lush, highly attractive Thalabert in the making, with impressive depth and excellent length.

More Info

Rhone
1
90-93 (VN)

Inc. TAX

€512.77

Vinous (90-93)

Inky ruby. Explosively aromatic nose offers sexy oak spice-laced dark berry and black cherry, complicated by cured tobacco and violet oil. Very youthful but awfully sweet, with deep, almost liqueur-like blackcurrant and blueberry flavors and supple, molten tannins. A lush, highly attractive Thalabert in the making, with impressive depth and excellent length.

More Info

Rhone
4
93 (WA)

Inc. TAX

€327.18

Wine Advocate (93)

The 2010 Crozes-Hermitage Domaine de Thalabert, which I raved about last year, is slightly better than their brilliant 2009. It boasts a dense purple color along with a beautiful perfume of camphor, licorice, forest floor, black currants and Christmas fruitcake. With tremendous intensity, full body and supple tannins, it should drink well for 10-15 years, perhaps longer where well-stored. This cuvee is always one of the best buys in the Northern Rhone.

More Info

Rhone
6
94 (VN)

Inc. TAX

€492.67

Vinous (94)

Inky ruby. Suave, mineral-accented scents of ripe blueberry, black currant and Indian spices, along with a slowly emerging floral component. Plush, broad and deeply concentrated, displaying black and blue fruit, licorice and mocha flavors that are energized by an intense, peppery overtone. Finishes extremely long, fleshy and sweet, delivering intense mineral thrust, a subtle cracked pepper nuance and youthful, building tannins.

More Info

Rhone
1
94 (VN)

Inc. TAX

€220.38

Vinous (94)

Inky ruby. Suave, mineral-accented scents of ripe blueberry, black currant and Indian spices, along with a slowly emerging floral component. Plush, broad and deeply concentrated, displaying black and blue fruit, licorice and mocha flavors that are energized by an intense, peppery overtone. Finishes extremely long, fleshy and sweet, delivering intense mineral thrust, a subtle cracked pepper nuance and youthful, building tannins.

More Info

Rhone
10
94 (JD)

Inc. TAX

€288.78

Jeb Dunnuck (94)

The 2016 Crozes Hermitage Domaine De Thalabert offers a rocking (and classic) bouquet of ripe black fruits intermixed with notions new saddle leather, pepper, garrigue, and hints of bacon fat. This ripe, medium to full-bodied, silky wine has remarkable purity, is already complex, and finishes with serious length. Drink it over the coming 10-15 years.

More Info

Rhone
1
-

Inc. TAX

€224.87

Rhone
1
94 (JD)

Inc. TAX

€251.58

Jeb Dunnuck (94)

This terroir always delivers a wild, opulent, gamey style of wine, and the 2017 Crozes-Hermitage Domaine de Thalabert doesn't disappoint. Loads of chocolaty black fruits, ground pepper, truffle, and smoked game, as well as a hint of black olives, emerge from the glass, and it's medium to full-bodied, has a rocking texture, ripe tannins, and a great finish. It's a classic example of this wine and terroir. Drink it over the coming 15 years or so.

More Info

Rhone
2
93-95 (WA)

Inc. TAX

€239.58

Wine Advocate (93-95)

Although the fruit sourcing has changed from the old days, the 2018 Crozes Hermitage Domaine de Thalabert remains a solid offering in the Jaboulet lineup. Violets accent blackberries and plums on the nose, while the palate is full-bodied, lush and velvety, underscored by doses of salinity and licorice on the lengthy finish.

More Info
Product Name
Region
Qty
Score
Price

Rhone
-
96 (JS)

Expected Price Range

€844 - €1,013

James Suckling (96)

Incredibly deep and complex nose for the 2021 vintage with masses of forest berry, licorice and autumn trumpet mushroom aromas, with an enormous tannin structure that's very refined. The classic power of Hermitage comes through at the extremely long finish. Although the tannins are anything but aggressive, the aromas will need considerable time to fully unfurl. From parcels on the western side of the Hermitage hill with predominantly granite soils, the largest parcel being in Le Meal. From organically grown grapes. Drinkable now, but best from 2026.

More Info

Rhone
2
-

In Bond

€218.00

Rhone
3
-

In Bond

€190.00

Rhone
1
-

In Bond

€1,090.00

Rhone
1
-

In Bond

€572.00

Rhone
6
94 (WA)

In Bond

€399.00

Wine Advocate (94)

The 2015 Cornas Domaine de Saint Pierre is a full-bodied, concentrated wine that brings the essence of Cornas to the bottle in its scents of crushed stones and firm, tannic finish. Hints of toasted almond and mocha give it a gloss of modernity, but its red plum fruit, hints of iron or blood, and sturdy feel bring it right back to the appellation's granite slopes.

More Info

Rhone
10
93 (VN)

In Bond

€298.00

Vinous (93)

Inky ruby. Powerful, mineral-driven aromas of ripe black/blue fruits, candied violet, olive and exotic spices. Densely packed and focused on the palate, offering bitter cherry and boysenberry flavors that unfold slowly with air and show sharp delineation. The blue fruit and floral notes drive a long, juicy finish given framework by dusty, slow-building tannins.

More Info

Rhone
2
-

In Bond

€222.00

Rhone
1
94 (WA)

In Bond

€471.00

Wine Advocate (94)

The 2017 Cote Rotie Domaine des Pierrelles is full-bodied but exceedingly elegant, with silky, fine-grained tannins. Charming notes of violets, raspberries and black olives lead the way, backed by hints of dried spices and mocha, finishing long. It's a complex and compelling example of Cote Rotie, and it's great to see all of the Jaboulet team's hard work in the vineyards paying off.

More Info

Rhone
2
94 (VN)

In Bond

€426.00

Vinous (94)

Dark ruby. Pungent, spice- and smoke-tinged dark berries, cherry pit, olive and potpourri on the assertively perfumed nose. Juicy and energetic on the palate, offering gently sweet red and dark berry flavors, along with floral pastille, allspice, olive and cracked pepper notes. Fine-grained tannins add shape to a very long, lively finish that strongly echoes the floral and spice notes.

More Info

Rhone
1
-

In Bond

€714.00

Rhone
1
-

In Bond

€477.00

Rhone
1
-

In Bond

€413.00

Rhone
2
90-93 (VN)

In Bond

€335.00

Vinous - Josh Raynolds (90-93)

Ruby-red. Textbook Cote-Rotie aromas of fresh red- and blackcurrant, cherry pit, violet, smoky bacon and graphite. Firm, focused and deep, with zesty acidity giving energy and focus to the black fruit flavors. Elegant finish features silky tannins and impressive lift.

More Info

Rhone
3
94 (WA)

In Bond

€346.00

Wine Advocate (94)

Bearing more than a passing resemblance to an actual Hermitage, the 2017 Crozes Hermitage Domaine de Roure comes from granitic soils, and it comes across as darker, more concentrated and sturdier than Jaboulet's other Crozes bottlings. Cassis and black olive notes abound in this full-bodied, structured wine, which finishes long and velvety, picking up hints of baking spices along the way.

More Info

Rhone
6
94 (VN)

In Bond

€239.00

Vinous (94)

Deep magenta. A highly perfumed bouquet evokes ripe red and blue fruits, potpourri and licorice, and a smoky mineral accent builds in the glass. Appealingly sweet and penetrating on the palate, offering juicy dark fruit preserve and floral pastille flavors that are brightened by a snap of juicy acidity and a building, spicy nuance. Clings with impressive tenacity on the gently tannic finish, leaving behind Chambord and exotic spice notes.

More Info

Rhone
1
92 (WA)

In Bond

€959.00

Wine Advocate (92)

The 1990 is an unqualified winner. My instincts suggest it will easily eclipse the 1978. The 1990 exhibits a huge, roasted Syrah nose and the massive power produced by the hot sun and drought of this vintage. It has also benefited from an unbelievably long 40-day maceration. The huge, smoky, superripe nose of herbs, coffee, and cassis is followed by a densely packed, authoritatively rich, nearly massive, surprisingly well-balanced wine. Anticipated maturity: now-2005. Last tasted 12/95.

More Info

Rhone
1
88+ (VN)

In Bond

€335.00

Vinous (88+)

Full red. Restrained, pure aromas of red fruits, menthol, oak and dried rose. Dense and ripe but tightly wound, even a bit youthfully pinched today, with some edgy acids. Notes of currant, meat, leather and pepper. Grew sweeter with aeration, suggesting that it will improve with bottle aging.

More Info

Rhone
1
91+ (VN)

In Bond

€385.00

Vinous (91+)

Deep ruby. Very ripe and warm on the nose, but not pruney or over the top. A big, round wine with lush dark berry and cherry compote flavors and a serious, chewy texture. A bit youthfully inexpressive today but the power and concentration of the material are obvious. Notes of espresso and candied licorice emerged with aeration. Frederic Jaboulet noted that production was down from a normal 20,000 cases to 7,000.

More Info

Rhone
3
90-92 (VN)

In Bond

€367.00

Vinous (90-92)

Primary violet color. Extremely dense and unforthcoming on the nose, with brooding dark berry flavors. Sweet on the palate but currently dominated by its structure; large-scaled and chewy. Deep and powerful but stubbornly unforthcoming. Finishes with hints of sweet mocha and licorice.

More Info

Rhone
2
90-92 (VN)

In Bond

€367.00

Vinous (90-92)

Primary violet color. Extremely dense and unforthcoming on the nose, with brooding dark berry flavors. Sweet on the palate but currently dominated by its structure; large-scaled and chewy. Deep and powerful but stubbornly unforthcoming. Finishes with hints of sweet mocha and licorice.

More Info

Rhone
2
90-93 (VN)

In Bond

€390.00

Vinous (90-93)

Inky ruby. Explosively aromatic nose offers sexy oak spice-laced dark berry and black cherry, complicated by cured tobacco and violet oil. Very youthful but awfully sweet, with deep, almost liqueur-like blackcurrant and blueberry flavors and supple, molten tannins. A lush, highly attractive Thalabert in the making, with impressive depth and excellent length.

More Info

Rhone
1
90-93 (VN)

In Bond

€390.00

Vinous (90-93)

Inky ruby. Explosively aromatic nose offers sexy oak spice-laced dark berry and black cherry, complicated by cured tobacco and violet oil. Very youthful but awfully sweet, with deep, almost liqueur-like blackcurrant and blueberry flavors and supple, molten tannins. A lush, highly attractive Thalabert in the making, with impressive depth and excellent length.

More Info

Rhone
4
93 (WA)

In Bond

€254.00

Wine Advocate (93)

The 2010 Crozes-Hermitage Domaine de Thalabert, which I raved about last year, is slightly better than their brilliant 2009. It boasts a dense purple color along with a beautiful perfume of camphor, licorice, forest floor, black currants and Christmas fruitcake. With tremendous intensity, full body and supple tannins, it should drink well for 10-15 years, perhaps longer where well-stored. This cuvee is always one of the best buys in the Northern Rhone.

More Info

Rhone
6
94 (VN)

In Bond

€373.00

Vinous (94)

Inky ruby. Suave, mineral-accented scents of ripe blueberry, black currant and Indian spices, along with a slowly emerging floral component. Plush, broad and deeply concentrated, displaying black and blue fruit, licorice and mocha flavors that are energized by an intense, peppery overtone. Finishes extremely long, fleshy and sweet, delivering intense mineral thrust, a subtle cracked pepper nuance and youthful, building tannins.

More Info

Rhone
1
94 (VN)

In Bond

€165.00

Vinous (94)

Inky ruby. Suave, mineral-accented scents of ripe blueberry, black currant and Indian spices, along with a slowly emerging floral component. Plush, broad and deeply concentrated, displaying black and blue fruit, licorice and mocha flavors that are energized by an intense, peppery overtone. Finishes extremely long, fleshy and sweet, delivering intense mineral thrust, a subtle cracked pepper nuance and youthful, building tannins.

More Info

Rhone
10
94 (JD)

In Bond

€222.00

Jeb Dunnuck (94)

The 2016 Crozes Hermitage Domaine De Thalabert offers a rocking (and classic) bouquet of ripe black fruits intermixed with notions new saddle leather, pepper, garrigue, and hints of bacon fat. This ripe, medium to full-bodied, silky wine has remarkable purity, is already complex, and finishes with serious length. Drink it over the coming 10-15 years.

More Info

Rhone
1
-

In Bond

€165.00

Rhone
1
94 (JD)

In Bond

€191.00

Jeb Dunnuck (94)

This terroir always delivers a wild, opulent, gamey style of wine, and the 2017 Crozes-Hermitage Domaine de Thalabert doesn't disappoint. Loads of chocolaty black fruits, ground pepper, truffle, and smoked game, as well as a hint of black olives, emerge from the glass, and it's medium to full-bodied, has a rocking texture, ripe tannins, and a great finish. It's a classic example of this wine and terroir. Drink it over the coming 15 years or so.

More Info

Rhone
2
93-95 (WA)

In Bond

€181.00

Wine Advocate (93-95)

Although the fruit sourcing has changed from the old days, the 2018 Crozes Hermitage Domaine de Thalabert remains a solid offering in the Jaboulet lineup. Violets accent blackberries and plums on the nose, while the palate is full-bodied, lush and velvety, underscored by doses of salinity and licorice on the lengthy finish.

More Info