Jean-Louis Chave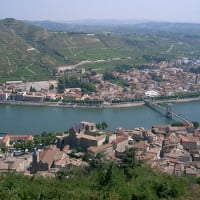 Domaine Jean-Louis Chave is often called the "Pope of Hermitage". From the tiny village of Mauves, just south of Hermitage in the norther Rhône, Chave's traditionally made wine is the "top of the hierarchy" (Jeb Dunnuck) in Heritage. The Chave family owns plots in all 7 of the lieux-dits (special plots) on the famous Hermitage hill (see image below), which enables them to produce wines of stunning complexity and finesse.
Domaine Chave was founded in 1481. It has been blessed with an "incredible succession of talented vignerons" (Jeb Dunnuck) through the ages. Gérard Chave ran the estate until Gérard before slowly handing over to son Jean-Louis Chave. This is a traditional estate which keeps an eye on the future (a recently completed new cellar includes a state-of-the-art lab). Vinification is in three large oak upright casks. Aging is in small French oak barrels with the amount of new oak falling in the 20-30% range. The wines are then blended in tank and bottled without being filtered. If needed, the wines can see a light egg-white fining before bottling.
There are no products matching the selection.