Château Batailley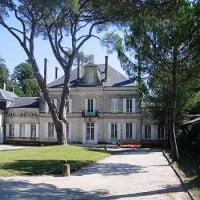 Château Batailley
It is not often the words "Pauillac" and "good value" are found in the same sentence, but this can certainly be said about the Fifth Cru Classé, Château Batailley. With roots dating as far back as the 1400s, Château Batailley took its name from the word "bataille" (meaning battle), in memory of a battle in 1453 where French troops succeeded in re-capturing Château Latour from the English. Eventually acquired by famed Bordeaux négociant Daniel Guestier in 1816, who aggressively increased Batailley's acreage with more plots adjacent to Lynch Bages and Grand Puy Lacoste, Château Batailley's reputation climbed steadily and after changing hands a few times, had part of the estate branching off as Château Haut Batailley.
Today, Château Batailley owns 60 hectares of vines planted to 70% Cabernet Sauvignon, 25% Merlot with Cabernet Franc and Petit Verdot making up the remaining. Vines are, on average, 40 years of age and grow on soils consisting of gravel, clay and sand with a maximum elevation of 27 metres.
One of the most reliable wines from the Left Bank, Château Batailley is a wine to turn to for a classic taste of Bordeaux at a non-stratospheric price.
Prices:
Year
Wine
Region
Format
Qty
Score
Price
Wishlist

Batailley 1959 (1x75cl)

Inc. TAX: €629.56

1959
Bordeaux
1x75cl
1
92 (VN (NM))

Read Review/Description

Inc. TAX: €629.56

Batailley 1971 (10x75cl)

Inc. TAX: €1,488.62

1971
Bordeaux
10x75cl
1
73 (WA)

Read Review/Description

Inc. TAX: €1,488.62

Batailley 1985 (12x75cl)

Inc. TAX: €1,986.94

1985
Bordeaux
12x75cl
1
86 (WA)

Read Review/Description

Inc. TAX: €1,986.94

Batailley 2001 (6x75cl)

Inc. TAX: €556.52

2001
Bordeaux
6x75cl
1
87 (WA)

Read Review/Description

Inc. TAX: €556.52

Batailley 2006 (12x75cl)

Inc. TAX: €931.84

2006
Bordeaux
12x75cl
1
91 (WA)

Read Review/Description

Inc. TAX: €931.84

Batailley 2008 (12x75cl)

Inc. TAX: €931.84

2008
Bordeaux
12x75cl
1
91 (VN (NM))

Read Review/Description

Inc. TAX: €931.84

Batailley 2008 (6x150cl)

Inc. TAX: €935.44

2008
Bordeaux
6x150cl
1
91 (VN (NM))

Read Review/Description

Inc. TAX: €935.44

Batailley 2010 (12x75cl)

Inc. TAX: €1,795.84

2010
Bordeaux
12x75cl
1
94 (VN (NM))

Read Review/Description

Inc. TAX: €1,795.84

Batailley 2012 (12x75cl)

Inc. TAX: €933.04

2012
Bordeaux
12x75cl
1
17.5 (JR)

Read Review/Description

Inc. TAX: €933.04

Batailley 2015 (6x75cl)

Inc. TAX: €368.12

2015
Bordeaux
6x75cl
1
94-95 (JS)

Read Review/Description

Inc. TAX: €368.12

Batailley 2016 (6x75cl)

Inc. TAX: €401.72

2016
Bordeaux
6x75cl
1
96 (JS)

Read Review/Description

Inc. TAX: €401.72

Batailley 2018 (12x75cl)

Inc. TAX: €790.24

2018
Bordeaux
12x75cl
7
94-95 (JS)

Read Review/Description

Inc. TAX: €790.24

Batailley 2019 (12x75cl)

Inc. TAX: €610.24

2019
Bordeaux
12x75cl
9
96 (JS)

Read Review/Description

Inc. TAX: €610.24

Batailley 2019 (3x150cl)

Inc. TAX: €357.32

2019
Bordeaux
3x150cl
1
96 (JS)

Read Review/Description

Inc. TAX: €357.32

Batailley 2019 (5x75cl)

Inc. TAX: €329.95

2019
Bordeaux
5x75cl
1
96 (JS)

Read Review/Description

Inc. TAX: €329.95

Batailley 2019 (6x75cl)

Inc. TAX: €354.92

2019
Bordeaux
6x75cl
1
96 (JS)

Read Review/Description

Inc. TAX: €354.92

Batailley 2020 (3x150cl)

Inc. TAX: €312.92

2020
Bordeaux
3x150cl
1
94-95 (JS)

Read Review/Description

Inc. TAX: €312.92

Batailley 2020 (6x75cl)

Inc. TAX: €318.92

2020
Bordeaux
6x75cl
1
94-95 (JS)

Read Review/Description

Inc. TAX: €318.92

Batailley 2021 (12x75cl)

Inc. TAX: €498.64

2021
Bordeaux
12x75cl
1
93-94 (JS)

Read Review/Description

Inc. TAX: €498.64
Year
Wine
Region
Format
Qty
Score
Price
Wishlist

Batailley 1959 (1x75cl)

In Bond: €522.00

1959
Bordeaux
1x75cl
1
92 (VN (NM))

Read Review/Description

In Bond: €522.00

Batailley 1971 (10x75cl)

In Bond: €1,215.00

1971
Bordeaux
10x75cl
1
73 (WA)

Read Review/Description

In Bond: €1,215.00

Batailley 1985 (12x75cl)

In Bond: €1,625.00

1985
Bordeaux
12x75cl
1
86 (WA)

Read Review/Description

In Bond: €1,625.00

Batailley 2001 (6x75cl)

In Bond: €448.00

2001
Bordeaux
6x75cl
1
87 (WA)

Read Review/Description

In Bond: €448.00

Batailley 2006 (12x75cl)

In Bond: €745.00

2006
Bordeaux
12x75cl
1
91 (WA)

Read Review/Description

In Bond: €745.00

Batailley 2008 (12x75cl)

In Bond: €745.00

2008
Bordeaux
12x75cl
1
91 (VN (NM))

Read Review/Description

In Bond: €745.00

Batailley 2008 (6x150cl)

In Bond: €748.00

2008
Bordeaux
6x150cl
1
91 (VN (NM))

Read Review/Description

In Bond: €748.00

Batailley 2010 (12x75cl)

In Bond: €1,465.00

2010
Bordeaux
12x75cl
1
94 (VN (NM))

Read Review/Description

In Bond: €1,465.00

Batailley 2012 (12x75cl)

In Bond: €746.00

2012
Bordeaux
12x75cl
1
17.5 (JR)

Read Review/Description

In Bond: €746.00

Batailley 2015 (6x75cl)

In Bond: €291.00

2015
Bordeaux
6x75cl
1
94-95 (JS)

Read Review/Description

In Bond: €291.00

Batailley 2016 (6x75cl)

In Bond: €319.00

2016
Bordeaux
6x75cl
1
96 (JS)

Read Review/Description

In Bond: €319.00

Batailley 2018 (12x75cl)

In Bond: €627.00

2018
Bordeaux
12x75cl
7
94-95 (JS)

Read Review/Description

In Bond: €627.00

Batailley 2019 (12x75cl)

In Bond: €477.00

2019
Bordeaux
12x75cl
9
96 (JS)

Read Review/Description

In Bond: €477.00

Batailley 2019 (3x150cl)

In Bond: €282.00

2019
Bordeaux
3x150cl
1
96 (JS)

Read Review/Description

In Bond: €282.00

Batailley 2019 (5x75cl)

In Bond: €262.00

2019
Bordeaux
5x75cl
1
96 (JS)

Read Review/Description

In Bond: €262.00

Batailley 2019 (6x75cl)

In Bond: €280.00

2019
Bordeaux
6x75cl
1
96 (JS)

Read Review/Description

In Bond: €280.00

Batailley 2020 (3x150cl)

In Bond: €245.00

2020
Bordeaux
3x150cl
1
94-95 (JS)

Read Review/Description

In Bond: €245.00

Batailley 2020 (6x75cl)

In Bond: €250.00

2020
Bordeaux
6x75cl
1
94-95 (JS)

Read Review/Description

In Bond: €250.00

Batailley 2021 (12x75cl)

In Bond: €384.00

2021
Bordeaux
12x75cl
1
93-94 (JS)

Read Review/Description

In Bond: €384.00