Domaine Arlaud
About Domaine Arlaud
In 1942, Joseph Arlaud married Renée Amiot and it was the latter who brought deep Burgundian roots and swathes of Grand Cru vines to the partnership. Far from a lucky benefactor of a sizable dowry however, Joseph embarked on a project of extremely shrewd acquisitions over the next few years, growing the family Domaine to hold plots in an enviable four Grands Crus.
Culminating in the 1966 acquisition of the 14th Century cellar which adorns their label, Joseph Arlaud passed on one of the greatest Domaines in Burgundy to his diligent children. Today, it is his grandson Cyprien Arlaud who manages the estate, having taken over total control in 2013. Moving winemaking to more modern (and effective!) premises in Morey Saint Denis, the beautiful ancient cellar is now used to store the family reserves and host exclusive tastings.
Viniculture
One of the very first estates to recognise the importance of modern, low-intervention and biodynamic practices and their positive impacts on the soil and general terroir of this special region, Domaine Arlaud ceased use of all chemical herbicides as early as 1998 whilst drastically reducing all non-natural treatments at the same time. Slowly but surely over the course of Cyprien's involvement amongst the vines, Domaine Arlaud was awarded the official status of fully Biodynamic by Veritas in 2014.
There is a desperation to convey the personality of both fruit and terroir at Domaine Arlaud, which culminates in extremely gentle and well-judged winemaking. After initial harvest, for example, grapes are sorted and destemmed by hand a further three times! Over recent years, some 30% of bunches are left whole, meaning tannin and structure is imbued naturally into the wine without the need for aggressive extraction and brutal pressing.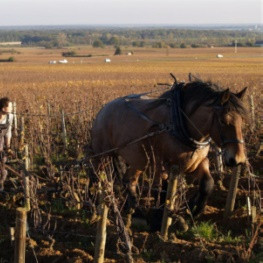 Name
Price Low
Price High
Year (Old)
Year (New)
Prices:
Product Name
Region
Qty
Score
Price

Burgundy
1
96-98 (VN)

Inc. TAX

€1,519.33

Vinous (96-98)

The 2021 Bonnes-Mares Grand Cru is the last poured by Cyprien Arlaud, though curiously, atypically for this cuvée, aromatically, it is a bit obdurate at first on the nose, eventually revealing mineral-laden red berry fruit reminiscent of Roumier (Christophe). The palate is very well balanced, not powerful but surfeit with finesse and adorned with symmetry and poise. Seamlessly integrated oak with a long finish conveying the terroir to the max. Awesome. Three (and a quarter) barrels.

More Info

Burgundy
-
-

Expected Price Range

€1,558 - €1,870

Burgundy
1
87-89 (JMO)

Inc. TAX

€193.46

Jasper Morris Inside Burgundy (87-89)

A fine even purple. A nose of charm and delicious, adequately ripe, dark red fruit. Energetic fruit, with a touch of sandalwood, tightly wound with quite high acidity. Just slightly dry at the finish, though compensated by surprising length. Drink from 2024-2026.

More Info

Burgundy
-
-

Expected Price Range

€145 - €174

Burgundy
-
-

Expected Price Range

€981 - €1,177

Burgundy
-
-

Expected Price Range

€415 - €498

Burgundy
-
-

Expected Price Range

€554 - €665

Burgundy
1
92-94 (JMO)

Inc. TAX

€582.40

Jasper Morris Inside Burgundy (92-94)

Rich deep crimson purple. A very solid bouquet, a wealth of ripe fruit. Plumper here, another feeling of sandalwood and spice, a little firmer in tannins than Ruchots: indeed, I think Cyprien is being cruel serving this after the sublime Ruchots. Tasted: December 2021

More Info

Burgundy
-
-

Expected Price Range

€981 - €1,177

Burgundy
1
87-89 (VN)

Inc. TAX

€311.03

Vinous (87-89)

The 2020 Chambolle-Musigny Village showed a little reduction on the nose, but there were some quite intense red fruit underneath that should blossom once in bottle. The palate is medium-bodied with a slightly toasty entry, fine depth and acidity with a slightly chalky finish that just needs a little more persistence. I think this year, Arlaud's Morey-Saint-Denis Village has the upper hand.

More Info

Burgundy
3
87-89 (VN)

Inc. TAX

€539.27

Vinous (87-89)

The 2020 Chambolle-Musigny Village showed a little reduction on the nose, but there were some quite intense red fruit underneath that should blossom once in bottle. The palate is medium-bodied with a slightly toasty entry, fine depth and acidity with a slightly chalky finish that just needs a little more persistence. I think this year, Arlaud's Morey-Saint-Denis Village has the upper hand.

More Info

Burgundy
2
87-89 (VN)

Inc. TAX

€645.01

Vinous (87-89)

The 2021 Chambolle-Musigny Village showed a bit of reduction like its Morey counterpart, here, a little more red fruit developing. The palate is quite lithe on the entry, fine tannins with good depth, some sinew towards the finish that should soften with age. Give it a couple of years in bottle.

More Info

Burgundy
-
-

Expected Price Range

€488 - €585

Burgundy
3
92-94 (WA)

Inc. TAX

€1,342.38

Wine Advocate (92-94)

The 2013 Charmes-Chambertin Grand Cru has a perfumed, floral bouquet that is quintessential Charmes-Chambertin really. It is very well defined and pure with small dark cherries, blueberry and iris scents. The palate is medium-bodied with fine tannin structure, a citric thread of acidity and an austere and serious finish that is more Morey-like in style. There is a lovely sense of salinity on the aftertaste that begs you to take another sip. I actually prefer this to the Clos-de-la-Roche this year.

More Info

Burgundy
5
95 (WS)

Inc. TAX

€2,630.77

Wine Spectator (95)

A powerful, dense version, evoking cherry, currant and spice flavors, with underlying accents of mineral and tobacco. Tight and chalky on the finish, but showing promise. Best from 2020 through 2040.

More Info

Burgundy
1
96 (DC)

Inc. TAX

€1,123.98

Decanter (96)

Cyprien Arlaud's vines cover a total of 1ha in Mazoyères, just below Latricières-Chambertin. Picked in three stages to maximise complexity, this was fermented with 30% whole bunches and aged in 20% new wood. It's right up there with the best expressions of the Grand Cru in 2018, marrying texture and weight to finesse and balance in a Pinot that caresses the palate with red cherry and raspberry fruit.

More Info

Burgundy
1
92-94 (VN)

Inc. TAX

€1,690.38

Vinous (92-94)

The 2019 Charmes-Chambertin Grand Cru is very pure and intense on the nose, a melange of black and blueberry fruit infused with pressed violet petals. The oak here is seamlessly integrated. The palate is opulent on the entry with black plum and boysenberry jam. There is a subtle confit element to this Charmes-Chambertin with grippy tannins on the finish that delivers a subtle bitter/sappy edginess.

More Info

Burgundy
1
95-97 (VN)

Inc. TAX

€884.80

Vinous (95-97)

The 2020 Charmes-Chambertin Grand Cru, matured in 15% new oak, showed just a tiny morsel of reduction on the nose, that the concentration here was still tangible. The palate is medium-bodied with sappy red fruit, fine acidity, taut and fresh and very precise. This has real class and verve, though it will benefit from several years in bottle.

More Info

Burgundy
1
95-97 (VN)

Inc. TAX

€1,600.38

Vinous (95-97)

The 2020 Charmes-Chambertin Grand Cru, matured in 15% new oak, showed just a tiny morsel of reduction on the nose, that the concentration here was still tangible. The palate is medium-bodied with sappy red fruit, fine acidity, taut and fresh and very precise. This has real class and verve, though it will benefit from several years in bottle.

More Info

Burgundy
3
94-96 (VN)

Inc. TAX

€1,712.66

Vinous (94-96)

The 2021 Charmes-Chambertin Grand Cru is a little more "gourmand" on the nose, cohering with time in the glass, loamy, almost peaty aromas emerge with time. The palate is medium-bodied with finely-honed tannins. Lovely symmetry here, with a slight creaminess in texture towards the finish, where it feels very persistent. This is a lovely Charmes-Chambertin that should evolve wonderfully in bottle.

More Info

Burgundy
-
-

Expected Price Range

€1,485 - €1,781

Burgundy
1
93-95 (VN)

Inc. TAX

€1,086.40

Vinous (93-95)

The 2018 Clos de la Roche Grand Cru is matured with 30% whole bunch and 20% new oak. The superb bouquet presents a mélange of red and black fruit, sous-bois and blood orange aromas that blossom from the glass. The medium-bodied palate delivers supple tannins and finely judged acidity. Quite compact for a Clos de la Roche, with noticeable backbone on the finish. It will require several years in bottle but it should be worth the wait.

More Info

Burgundy
-
-

Expected Price Range

€981 - €1,177

Burgundy
1
89-91 (VN)

Inc. TAX

€1,026.53

Vinous (89-91)

The 2021 Gevrey-Chambertin Village is the most expressive and charming of Arlaud's Village Crus with lovely brambly red fruit mixed with sous-bois and light citrus scents. The palate is medium-bodied with a velvety smooth entry, plush tannins, hints of kirsch and blood orange on the finish. Excellent.

More Info

Burgundy
-
-

Expected Price Range

€762 - €914

Burgundy
1
92-94 (VN)

Inc. TAX

€258.89

Vinous (92-94)

The 2019 Gevrey-Chambertin Aux Combottes 1er Cru really captures the complexity and intellectual capacity of this propitious Premier Cru with beautifully defined, mineral-driven black fruit, touches of freshly rolled tobacco developing with time. The palate is medium-bodied with supple tannins, sweet and candied with blueberry and cassis notes towards the sensual finish. It is a powerful Aux Combottes that just needs to evolve a touch more restraint and Pinoté, though that will develop with cellaring.

More Info

Burgundy
-
-

Expected Price Range

€1,097 - €1,316

Burgundy
1
93-94 (VN)

Inc. TAX

€585.18

Vinous (93-94)

The 2018 Morey-Saint-Denis Les Millandes 1er Cru offers plenty of brambly black fruit laced with crushed stone and pressed violets on the nose; scents of blood orange develop with aeration. The palate is medium-bodied with saturated tannins, more flesh than some of Arlaud's other Premier Crus and an irresistible, effervescent, blood-orange-infused finish. Superb.

More Info

Burgundy
1
90-92 (VN)

Inc. TAX

€809.27

Vinous (90-92)

The 2019 Morey-Saint-Denis Les Millandes 1er Cru came across very backward on the nose, gradually opening with black fruit and black olive/briny aromas. The palate is medium-bodied with ripe black cherry and blueberry fruit, sweet and sorbet-fresh with a high-toned, yet focused finish that lingers long in the mouth. Very promising but it will require 3-4 years in bottle.

More Info

Burgundy
1
92-94 (JMO)

Inc. TAX

€631.98

Jasper Morris Inside Burgundy (92-94)

Fresh dark purple, a mild reduction, a wine of elegance and charm on the palate with a surprisingly peppery finish. Almost exotic Asian spices. The fruit itself spreads beautifully across the palate, a mix of red and black. Tasted: December 2021

More Info
Product Name
Region
Qty
Score
Price

Burgundy
1
96-98 (VN)

In Bond

€1,255.00

Vinous (96-98)

The 2021 Bonnes-Mares Grand Cru is the last poured by Cyprien Arlaud, though curiously, atypically for this cuvée, aromatically, it is a bit obdurate at first on the nose, eventually revealing mineral-laden red berry fruit reminiscent of Roumier (Christophe). The palate is very well balanced, not powerful but surfeit with finesse and adorned with symmetry and poise. Seamlessly integrated oak with a long finish conveying the terroir to the max. Awesome. Three (and a quarter) barrels.

More Info

Burgundy
-
-

Expected Price Range

€1,558 - €1,870

Burgundy
1
87-89 (JMO)

In Bond

€139.00

Jasper Morris Inside Burgundy (87-89)

A fine even purple. A nose of charm and delicious, adequately ripe, dark red fruit. Energetic fruit, with a touch of sandalwood, tightly wound with quite high acidity. Just slightly dry at the finish, though compensated by surprising length. Drink from 2024-2026.

More Info

Burgundy
-
-

Expected Price Range

€145 - €174

Burgundy
-
-

Expected Price Range

€981 - €1,177

Burgundy
-
-

Expected Price Range

€415 - €498

Burgundy
-
-

Expected Price Range

€554 - €665

Burgundy
1
92-94 (JMO)

In Bond

€476.00

Jasper Morris Inside Burgundy (92-94)

Rich deep crimson purple. A very solid bouquet, a wealth of ripe fruit. Plumper here, another feeling of sandalwood and spice, a little firmer in tannins than Ruchots: indeed, I think Cyprien is being cruel serving this after the sublime Ruchots. Tasted: December 2021

More Info

Burgundy
-
-

Expected Price Range

€981 - €1,177

Burgundy
1
87-89 (VN)

In Bond

€248.00

Vinous (87-89)

The 2020 Chambolle-Musigny Village showed a little reduction on the nose, but there were some quite intense red fruit underneath that should blossom once in bottle. The palate is medium-bodied with a slightly toasty entry, fine depth and acidity with a slightly chalky finish that just needs a little more persistence. I think this year, Arlaud's Morey-Saint-Denis Village has the upper hand.

More Info

Burgundy
3
87-89 (VN)

In Bond

€427.00

Vinous (87-89)

The 2020 Chambolle-Musigny Village showed a little reduction on the nose, but there were some quite intense red fruit underneath that should blossom once in bottle. The palate is medium-bodied with a slightly toasty entry, fine depth and acidity with a slightly chalky finish that just needs a little more persistence. I think this year, Arlaud's Morey-Saint-Denis Village has the upper hand.

More Info

Burgundy
2
87-89 (VN)

In Bond

€519.00

Vinous (87-89)

The 2021 Chambolle-Musigny Village showed a bit of reduction like its Morey counterpart, here, a little more red fruit developing. The palate is quite lithe on the entry, fine tannins with good depth, some sinew towards the finish that should soften with age. Give it a couple of years in bottle.

More Info

Burgundy
-
-

Expected Price Range

€488 - €585

Burgundy
3
92-94 (WA)

In Bond

€1,100.00

Wine Advocate (92-94)

The 2013 Charmes-Chambertin Grand Cru has a perfumed, floral bouquet that is quintessential Charmes-Chambertin really. It is very well defined and pure with small dark cherries, blueberry and iris scents. The palate is medium-bodied with fine tannin structure, a citric thread of acidity and an austere and serious finish that is more Morey-like in style. There is a lovely sense of salinity on the aftertaste that begs you to take another sip. I actually prefer this to the Clos-de-la-Roche this year.

More Info

Burgundy
5
95 (WS)

In Bond

€2,155.00

Wine Spectator (95)

A powerful, dense version, evoking cherry, currant and spice flavors, with underlying accents of mineral and tobacco. Tight and chalky on the finish, but showing promise. Best from 2020 through 2040.

More Info

Burgundy
1
96 (DC)

In Bond

€918.00

Decanter (96)

Cyprien Arlaud's vines cover a total of 1ha in Mazoyères, just below Latricières-Chambertin. Picked in three stages to maximise complexity, this was fermented with 30% whole bunches and aged in 20% new wood. It's right up there with the best expressions of the Grand Cru in 2018, marrying texture and weight to finesse and balance in a Pinot that caresses the palate with red cherry and raspberry fruit.

More Info

Burgundy
1
92-94 (VN)

In Bond

€1,390.00

Vinous (92-94)

The 2019 Charmes-Chambertin Grand Cru is very pure and intense on the nose, a melange of black and blueberry fruit infused with pressed violet petals. The oak here is seamlessly integrated. The palate is opulent on the entry with black plum and boysenberry jam. There is a subtle confit element to this Charmes-Chambertin with grippy tannins on the finish that delivers a subtle bitter/sappy edginess.

More Info

Burgundy
1
95-97 (VN)

In Bond

€728.00

Vinous (95-97)

The 2020 Charmes-Chambertin Grand Cru, matured in 15% new oak, showed just a tiny morsel of reduction on the nose, that the concentration here was still tangible. The palate is medium-bodied with sappy red fruit, fine acidity, taut and fresh and very precise. This has real class and verve, though it will benefit from several years in bottle.

More Info

Burgundy
1
95-97 (VN)

In Bond

€1,315.00

Vinous (95-97)

The 2020 Charmes-Chambertin Grand Cru, matured in 15% new oak, showed just a tiny morsel of reduction on the nose, that the concentration here was still tangible. The palate is medium-bodied with sappy red fruit, fine acidity, taut and fresh and very precise. This has real class and verve, though it will benefit from several years in bottle.

More Info

Burgundy
3
94-96 (VN)

In Bond

€1,405.00

Vinous (94-96)

The 2021 Charmes-Chambertin Grand Cru is a little more "gourmand" on the nose, cohering with time in the glass, loamy, almost peaty aromas emerge with time. The palate is medium-bodied with finely-honed tannins. Lovely symmetry here, with a slight creaminess in texture towards the finish, where it feels very persistent. This is a lovely Charmes-Chambertin that should evolve wonderfully in bottle.

More Info

Burgundy
-
-

Expected Price Range

€1,485 - €1,781

Burgundy
1
93-95 (VN)

In Bond

€896.00

Vinous (93-95)

The 2018 Clos de la Roche Grand Cru is matured with 30% whole bunch and 20% new oak. The superb bouquet presents a mélange of red and black fruit, sous-bois and blood orange aromas that blossom from the glass. The medium-bodied palate delivers supple tannins and finely judged acidity. Quite compact for a Clos de la Roche, with noticeable backbone on the finish. It will require several years in bottle but it should be worth the wait.

More Info

Burgundy
-
-

Expected Price Range

€981 - €1,177

Burgundy
1
89-91 (VN)

In Bond

€811.00

Vinous (89-91)

The 2021 Gevrey-Chambertin Village is the most expressive and charming of Arlaud's Village Crus with lovely brambly red fruit mixed with sous-bois and light citrus scents. The palate is medium-bodied with a velvety smooth entry, plush tannins, hints of kirsch and blood orange on the finish. Excellent.

More Info

Burgundy
-
-

Expected Price Range

€762 - €914

Burgundy
1
92-94 (VN)

In Bond

€212.00

Vinous (92-94)

The 2019 Gevrey-Chambertin Aux Combottes 1er Cru really captures the complexity and intellectual capacity of this propitious Premier Cru with beautifully defined, mineral-driven black fruit, touches of freshly rolled tobacco developing with time. The palate is medium-bodied with supple tannins, sweet and candied with blueberry and cassis notes towards the sensual finish. It is a powerful Aux Combottes that just needs to evolve a touch more restraint and Pinoté, though that will develop with cellaring.

More Info

Burgundy
-
-

Expected Price Range

€1,097 - €1,316

Burgundy
1
93-94 (VN)

In Bond

€469.00

Vinous (93-94)

The 2018 Morey-Saint-Denis Les Millandes 1er Cru offers plenty of brambly black fruit laced with crushed stone and pressed violets on the nose; scents of blood orange develop with aeration. The palate is medium-bodied with saturated tannins, more flesh than some of Arlaud's other Premier Crus and an irresistible, effervescent, blood-orange-infused finish. Superb.

More Info

Burgundy
1
90-92 (VN)

In Bond

€652.00

Vinous (90-92)

The 2019 Morey-Saint-Denis Les Millandes 1er Cru came across very backward on the nose, gradually opening with black fruit and black olive/briny aromas. The palate is medium-bodied with ripe black cherry and blueberry fruit, sweet and sorbet-fresh with a high-toned, yet focused finish that lingers long in the mouth. Very promising but it will require 3-4 years in bottle.

More Info

Burgundy
1
92-94 (JMO)

In Bond

€508.00

Jasper Morris Inside Burgundy (92-94)

Fresh dark purple, a mild reduction, a wine of elegance and charm on the palate with a surprisingly peppery finish. Almost exotic Asian spices. The fruit itself spreads beautifully across the palate, a mix of red and black. Tasted: December 2021

More Info