England
English wines are rapidly garnering attention and prestige in the global wine industry, thanks to the country's unique climate and geography, which create an environment conducive to producing an array of high-quality wines now recognised worldwide. One of the most renowned offerings in this budding industry is English sparkling wine, often compared to Champagne due to the striking similarities in both production methods and flavour profiles.
Terroir, the combination of climate, soil, and other environmental factors that contribute to a wine's character, plays a crucial role in English sparkling wine's close resemblance to its French counterpart. Much like the iconic champagne-making region in France, certain areas in England, such as the South Downs, Kent, and Sussex, boast a mix of chalky soils and cool, maritime climates that help generate crisp acidity and refreshing notes of citrus and green apple in their sparkling wines.
In addition to sparkling wine, England is also home to an impressive selection of high-quality still wines, including Chardonnay, Pinot Noir, and Bacchus. Known for their bright acidity and fruit-forward flavours, these wines are further evidence of the significant impact of terroir on the eventual taste and quality of a wine.
Wineries such as Chapel Down, Nyetimber, and Wiston Estate are leading the charge in producing excellent English sparkling wines that are captivating the palates of wine enthusiasts across the globe. Typically, made using the traditional method, these sparklers benefit from the region's terroir, closely resembling the characteristics of Champagne. In recent years, this similarity and a growing concern for global warming has witnessed well-known Champagne houses buying up land in England. Bringing together hundreds of years of sparkling wine production with a new and exciting terroir that's gaining global interest.
As awareness and appreciation of English wines continue to grow, it is clear that the local terroir plays a pivotal role in these offerings' success, notably in the striking parallels between English sparkling wines and the iconic Champagne. As a result, wine lovers everywhere can now explore the unique wine that the rolling hills of England has to offer.
England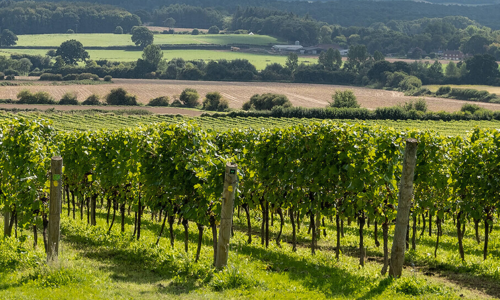 Name
Price Low
Price High
Year (Old)
Year (New)
Product Name
Region
Qty
Score
Price

England
6
-

Inc. TAX

€257.36

England
1
-

Inc. TAX

€251.58

England
5
(IW)

Inc. TAX

€383.58

International Wine & Spirit Competition ()

Elegant white flowers and tropical fruits with vibrant acidity, delicate autolysis and a fine mousse. Bronze Medal, International Wine & Spirit Competition 2020

More Info

England
5
-

Inc. TAX

€383.58

England
2
92 (DC)

Inc. TAX

€347.58

Decanter (92)

Silver Medal Very elegant and softly fruited, with reticent autolytic complexity alongside green apple and red fruits, brightened by refreshing acidity.

More Info

England
3
-

Inc. TAX

€438.47

England
1
97 (DC)

Inc. TAX

€371.58

Decanter (97)

Platinum Medal Winner 60% Chardonnay, 32% Pinot Noir, 8% Pinot Meunier Bold and opulent, with a plush nose of cinnamon-coated baked apples, spun sugar, oats and custard, then a soft yet crisp palate revealing layers of intense apricot, red apple, nuts and toast. Still retains plenty of age-worthy freshness.

More Info

England
4
-

Inc. TAX

€486.47

England
11
-

Inc. TAX

€491.58

England
4
-

Inc. TAX

€421.98

England
4
-

Inc. TAX

€490.38

England
1
-

Inc. TAX

€464.87

England
4
-

Inc. TAX

€397.67

England
4
91 (VN)

Inc. TAX

€442.38

Vinous (91)

The 2017 Boot Hill Vineyard Guinevere comes from selected parcels of Chardonnay from the estate, matured for 12 months in oak barriques. Silvery in hue, it has a well-defined bouquet with almond and sesame scents, developing subtle marine-like notes with aeration. The oak is nicely integrated both on the nose and on the palate, which is underpinned by a fine bead of acidity that counters the creamy texture. Sour lemon mixes with white peach and hazelnut, maintaining impressive focus and poise toward the persistent finish. Excellent.

More Info

England
2
-

Inc. TAX

€834.37

England
4
-

Inc. TAX

€309.18

England
2
-

Inc. TAX

€318.47

England
1
-

Inc. TAX

€599.27

England
2
-

Inc. TAX

€502.38

England
2
-

Inc. TAX

€1,014.37

England
1
-

Inc. TAX

€491.58

England
2
-

Inc. TAX

€547.67

England
4
-

Inc. TAX

€446.87

England
16
92 (JG)

Inc. TAX

€184.38

Jamie Goode (92)

This is really refined. The acidity is pronounced but it is elegant acidity that integrates well with the subtly creamy, herbal citrus fruit, with a twist of apricot and mandarin richness in the background. Very fine.

More Info

England
11
93 (JG)

Inc. TAX

€208.38

Jamie Goode (93)

This is a varietal Pinot Meunier, mainly from the 2015 vintage (plus some older barrel-aged wines), with zero dosage. A full pink/red colour, this has a powerful nose of red cherries, some rhubarb, and some sappy herby notes. The palate shows lovely herb-tinged, subtly leafy red cherry and strawberry fruit, with the acidity integrated perfectly. Despite the lack of dosage, this doesn't seem at all acidic or bracing: the fruit carries the palate so well. Nice tartness on the finish, with a little tannic bite that makes it incredibly food friendly. A remarkable wine that defies easy categorization, and beautifully put together.

More Info

England
24
94.0

Inc. TAX

€280.38

England
26
94 (WAN)

Inc. TAX

€435.18

Wine Anorak (94)

12% alcohol. 88% Pinot Meunier (saignée), 7% Chardonnay, 5% red Pinot Noir, with some reserve wines as well as the core 2016 vintage. Disgorged in August 2022 with a dosage of 5 g/litre. This is a really serious sparkling rosé. It's a full orange/pink in colour and has beautiful aromatics of orange peel, lime, cranberries and some sappy green notes, leading to a structured palate showing strawberry, marzipan, lime and grapefruit pith, with a lively acid line and some fine spicy framing. There's even a hint of cream under the vivid fruit. So many layers to this: a serious, gastronomic wine. Incisive.

More Info

England
2
95 (DC)

Inc. TAX

€1,240.38

Decanter (95)

A very impressive, impeccably made wine with everything in its place. It has crisp acidity, some sweetness to the patisserie, cream, bruised apple and white pear flavours, and a generous texture. Vibrant, racy and tense, there's lots more to come from this.

More Info

England
9
95 (DC)

Inc. TAX

€534.40

Decanter (95)

A very impressive, impeccably made wine with everything in its place. It has crisp acidity, some sweetness to the patisserie, cream, bruised apple and white pear flavours, and a generous texture. Vibrant, racy and tense, there's lots more to come from this.

More Info

England
1
-

Inc. TAX

€741.86
Product Name
Region
Qty
Score
Price

England
6
-

In Bond

€199.00

England
1
-

In Bond

€191.00

England
5
(IW)

In Bond

€301.00

International Wine & Spirit Competition ()

Elegant white flowers and tropical fruits with vibrant acidity, delicate autolysis and a fine mousse. Bronze Medal, International Wine & Spirit Competition 2020

More Info

England
5
-

In Bond

€301.00

England
2
92 (DC)

In Bond

€271.00

Decanter (92)

Silver Medal Very elegant and softly fruited, with reticent autolytic complexity alongside green apple and red fruits, brightened by refreshing acidity.

More Info

England
3
-

In Bond

€343.00

England
1
97 (DC)

In Bond

€291.00

Decanter (97)

Platinum Medal Winner 60% Chardonnay, 32% Pinot Noir, 8% Pinot Meunier Bold and opulent, with a plush nose of cinnamon-coated baked apples, spun sugar, oats and custard, then a soft yet crisp palate revealing layers of intense apricot, red apple, nuts and toast. Still retains plenty of age-worthy freshness.

More Info

England
4
-

In Bond

€383.00

England
11
-

In Bond

€391.00

England
4
-

In Bond

€333.00

England
4
-

In Bond

€390.00

England
1
-

In Bond

€365.00

England
4
-

In Bond

€309.00

England
4
91 (VN)

In Bond

€350.00

Vinous (91)

The 2017 Boot Hill Vineyard Guinevere comes from selected parcels of Chardonnay from the estate, matured for 12 months in oak barriques. Silvery in hue, it has a well-defined bouquet with almond and sesame scents, developing subtle marine-like notes with aeration. The oak is nicely integrated both on the nose and on the palate, which is underpinned by a fine bead of acidity that counters the creamy texture. Sour lemon mixes with white peach and hazelnut, maintaining impressive focus and poise toward the persistent finish. Excellent.

More Info

England
2
-

In Bond

€658.00

England
4
-

In Bond

€239.00

England
2
-

In Bond

€243.00

England
1
-

In Bond

€477.00

England
2
-

In Bond

€400.00

England
2
-

In Bond

€808.00

England
1
-

In Bond

€391.00

England
2
-

In Bond

€434.00

England
4
-

In Bond

€350.00

England
16
92 (JG)

In Bond

€135.00

Jamie Goode (92)

This is really refined. The acidity is pronounced but it is elegant acidity that integrates well with the subtly creamy, herbal citrus fruit, with a twist of apricot and mandarin richness in the background. Very fine.

More Info

England
11
93 (JG)

In Bond

€155.00

Jamie Goode (93)

This is a varietal Pinot Meunier, mainly from the 2015 vintage (plus some older barrel-aged wines), with zero dosage. A full pink/red colour, this has a powerful nose of red cherries, some rhubarb, and some sappy herby notes. The palate shows lovely herb-tinged, subtly leafy red cherry and strawberry fruit, with the acidity integrated perfectly. Despite the lack of dosage, this doesn't seem at all acidic or bracing: the fruit carries the palate so well. Nice tartness on the finish, with a little tannic bite that makes it incredibly food friendly. A remarkable wine that defies easy categorization, and beautifully put together.

More Info

England
24
94.0

In Bond

€215.00

England
26
94 (WAN)

In Bond

€344.00

Wine Anorak (94)

12% alcohol. 88% Pinot Meunier (saignée), 7% Chardonnay, 5% red Pinot Noir, with some reserve wines as well as the core 2016 vintage. Disgorged in August 2022 with a dosage of 5 g/litre. This is a really serious sparkling rosé. It's a full orange/pink in colour and has beautiful aromatics of orange peel, lime, cranberries and some sappy green notes, leading to a structured palate showing strawberry, marzipan, lime and grapefruit pith, with a lively acid line and some fine spicy framing. There's even a hint of cream under the vivid fruit. So many layers to this: a serious, gastronomic wine. Incisive.

More Info

England
2
95 (DC)

In Bond

€1,015.00

Decanter (95)

A very impressive, impeccably made wine with everything in its place. It has crisp acidity, some sweetness to the patisserie, cream, bruised apple and white pear flavours, and a generous texture. Vibrant, racy and tense, there's lots more to come from this.

More Info

England
9
95 (DC)

In Bond

€436.00

Decanter (95)

A very impressive, impeccably made wine with everything in its place. It has crisp acidity, some sweetness to the patisserie, cream, bruised apple and white pear flavours, and a generous texture. Vibrant, racy and tense, there's lots more to come from this.

More Info

England
1
-

In Bond

€596.00