Torbreck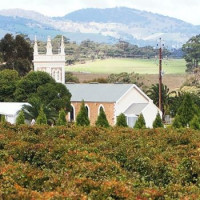 About Torbreck
Established in 1994 on the Western Ridge of the Barossa Valley in an appellation named Marananga, Torbreck is the brainchild of former lumberjack David Powell. A former lumberjack, he named the estate after a forest in Scotland. The estate's first release in 1997 gained magnificent praise. In 2002 they acquired their historic property in Lyndoch, and then in 2008, the estate was bought by Pete Knight. Today, with the prodigious stewardship of Ian Hongell, this estate has rapidly ascended into the Australian elite.
Torbreck "has it all" - it has some of the finest terroirs in Barossa, a superstar winemaking team and multiple vineyards planted exclusively with vines well over 100 years old. To this day, Torbreck sources much of the fruit used to produce its incredible wines from selected farmers throughout the region - a continuation of David Powell's early belief in the concept of "shared farming". The team at Torbreck are highly involved in the farming regimes at their contractors' sites, but the belief that generational growers can coax the best out of their family terroirs is firmly held by Ian Hongell et al.
There are no products matching the selection.