Chile
Chile is a well-established wine region known for producing exceptional fine wines that showcase the unique terroir of the country. The Chilean wine industry dates back to the 16th century, but it wasn't until the 1980s that Chilean wines started gaining international recognition for their high quality and value.

Today, Chile produces a range of world-class wines, including Cabernet Sauvignon, Carmenere, and Syrah, among others. Some of the most famous vineyards in Chile include Concha y Toro, Viña Montes, Viña Errázuriz, Lapostolle, and Casa Silva. These vineyards are known for their commitment to sustainable and organic farming practices, as well as their use of traditional winemaking techniques.

Concha y Toro, for example, is one of the largest wine producers in Chile and produces a range of high-quality wines, including the Don Melchor Cabernet Sauvignon, the Marques de Casa Concha Cabernet Sauvignon, and the Casillero del Diablo.

With a focus on sustainable farming practices, a commitment to traditional winemaking techniques, and the use of unique terroir, Chilean wines have gained increasing recognition and popularity among wine enthusiasts worldwide. From the bold and robust Cabernet Sauvignon to the elegant and complex Carmenere, Chilean wines are sure to impress even the most discerning wine connoisseurs.
Chile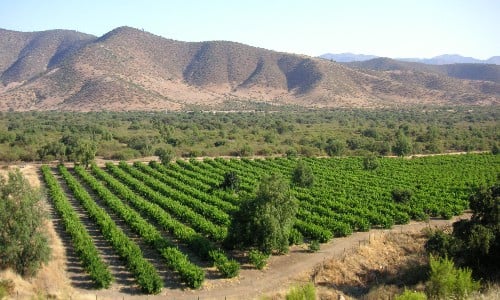 Name
Price Low
Price High
Year (Old)
Year (New)
Product Name
Region
Qty
Score
Price

Sur
2
98 (WA)

Inc. TAX

€750.47

Wine Advocate (98)

The austere and tight 2021 Selección de Parcelas Los Primos Chardonnay feels very young. It was harvested the second week of April, keeping very good freshness and acidity, with 13% alcohol, and there was part of the wine that he did not add any sulfur. He used 35% new 400-liter barrels, and the used ones are still 228-liter ones that eventually will be replaced with the used 400-liter ones in future years. There is great purity and symmetry; the oak is neatly integrated; and there's nuance, detail and a superb juiciness in the palate and citrus acidity that makes you salivate. The palate is dry and mineral, serious, less Meursault and more Chablis... It's persistent and long and has all the ingredients and balance between them to develop nicely in bottle. There was some frost, and only 3,480 bottles were produced. It was bottled in August 2022.

More Info

Central Valley
10
-

Inc. TAX

€232.07

Central Valley
10
-

Inc. TAX

€245.27

Central Valley
1
100 (JS)

Inc. TAX

€874.07

James Suckling (100)

An extremely aromatic and focused Clos Apalta with blackberry, blueberry, floral and hot stone character. Full body, very linear and ultra-fine tannins. Focused and tight. Precise and long. This is the most polished and beautiful definition of this wine ever. You want to drink it now but better in 2020. A blend of carmenére, cabernet sauvignon and merlot.

More Info

Central Valley
2
99 (JS)

Inc. TAX

€736.38

James Suckling (99)

This is really focused and refined with fantastic dried flowers and dark berries. Dried-lavender and mint undertones. Medium-to full-bodied with refined and polished tannins that are all together and so focused. Really integrated and melted together on the palate. Compact and very linear. Please give this two or three years to come completely together, but it's already breathtaking. Better to drink after 2022.

More Info

Central Valley
1
100 (JS)

Inc. TAX

€679.67

James Suckling (100)

What a stunning nose of crushed berries, fresh flowers, sandalwood and light vineyard dust. Black olives, too. Very complex. Full-bodied with a beautiful, dense palate of blackberries, chocolate, walnuts and cigar box. Fantastic length and composure. The tannin just rolls over the palate. Very structured. The most classically structured wine ever from here. Goes on for minutes. Outrageous and so polished. A blend of 48% carmenere, 26% cabernet sauvignon, 25% merlot and 1% petit verdot. Try after 2025.

More Info

Central Valley
1
98 (JS)

Inc. TAX

€695.27

James Suckling (98)

So aromatic and fresh with dried flowers, sweet tobacco and hints of straw. Red fruit, cloves and green peppercorns. Medium-to full-bodied with fine tannins that are very fresh and refined. Fine, silky and beautiful. Hints of minerals and granite to the dark fruit. Such gorgeous length and beauty. 64% carmenere, 18% cabernet franc and 18% merlot. Extremely long and poised. Cooler wine. From biodynamically grown grapes. Delicious to drink already, but another three to four years will make it even better.

More Info

Central Valley
1
99 (JS)

Inc. TAX

€704.87

James Suckling (99)

A generous array of ripe black and blue fruit with pink peppercorns, green olives, dried flowers, toffee and chocolate orange. It's full-bodied with firm, creamy and velvety tannins. Long and polished. Lovely salted caramel and olives at the end. Keeps going. Unfolds on the finish. 70% carmenere, 18% merlot, 8% cabernet sauvignon and 4% petit verdot. Drink or hold.

More Info

Central Valley
10
95 (JS)

Inc. TAX

€319.98

James Suckling (95)

Aromatic and herbal nose of thyme, bay leaves, currants, blackberries, licorice and pomelo pith. Medium-bodied with a fleshy, delicious and open palate. Ripe tannins. Plush and caressing finish. 49% carmenere, 30% merlot, 18% cabernet sauvignon and 3% petit verdot. Drink now or hold.

More Info

Central Valley
-
95 (JS)

Expected Price Range

€162 - €195

James Suckling (95)

A beautiful delivery of Petit Clos with spiced black cherries, cassis, olives and some red capsicums to the nose. Chalky tannins are densely packed on the medium- to full-bodied palate. Tight, structured and fine-grained. Very long. Drink or hold.

More Info

Coquimbo
1
97 (TA)

Inc. TAX

€372.78

Tim Atkin (97)

Right up there with the best Chardonnays Chile, and South America, has ever produced. This stunning wine comes from five specific blocks within the Quebrada Secain Limarí. Tangy, chiselled and refined, with very stylish oak. It's the kind of thing that could embarrass a range of Puligny-Montrachet Premiers Crus in a blind tasting. Simply stunning

More Info

Coquimbo
3
96 (DC)

Inc. TAX

€325.98

Decanter (96)

Elegant perfume of lavender, wet stones and jasmine haunt the nose of this expressive and vibrant wine. With the chalky minerality and tangy finish that are trademarks of Limarí, this shows great regional typicity and is a mouthwatering wine with subtle oak integration. A complex yet elegant style.

More Info

Central Valley
1
99 (JS)

Inc. TAX

€678.78

James Suckling (99)

Fantastic aromas of blackcurrants and other dark fruit with crushed stone, iron and oysters, following through to a full body that shows incredible energy and depth, offering ripe yet fresh fruit, together with bright herbs and earth. Precision and balance of the intensity of the vintage. Layered. Perhaps the greatest Don Melchor ever made. Try after 2022.

More Info

Central Valley
1
100 (JS)

Inc. TAX

€778.38

James Suckling (100)

This is amazing. The vibrancy and energy in this wine is stunning. The complexity of aromas are breathtaking with flowers, blackcurrants, raspberries and peaches. Full-bodied, yet ever so refined and polished with impeccable texture and beauty. The length is marvelous. This is a testimony to balance, harmony and transparency in a great red. Drink after 2023.

More Info

Central Valley
2
98 (JS)

Inc. TAX

€670.91

James Suckling (98)

Very perfumed and aromatic with blackcurrant, sweet-tobacco and Spanish-cedar character. Full-bodied with ultra fine tannins that build on the palate and take the fruit and other flavors to an endless finish. More refined than the perfect 2018 and almost as compelling. Drink in 2023 or after.

More Info

Central Valley
1
96 (TA)

Inc. TAX

€219.18

Tim Atkin MW (96)

Given the price of some Chilean icons these days, Coyam remains one of the best value reds in the country, right up there with the country's top red blends. Based on Syrah and Carmenère with the remaining 19% made up of Cabernet Sauvignon, Garnacha, Malbec, Carignan, Tempranillo and Mourvèdre, this is wonderfully detailed and complex. Racy and mineral, with scented oak, mint, wild herb and sweet spice undertones and a core of inky damson and black cherry fruit. 2022-30

More Info

Central Valley
1
96 (VN)

Inc. TAX

€168.78

Vinous (96)

The 2020 Coyam is a blend of 38% Syrah, 37% Carménère, 8% Cabernet Sauvignon, 5% Carignan, 4% Garnacha, 4% Mourvèdre, 2% Petit Verdot, 1% Malbec and 1% Tempranillo from the Los Robles vineyard in Colchagua. It was aged for 18 months, 75% in barrels and the rest in foudres and eggs. A rich purple in the glass. The complex nose features nuanced aromas ranging from blackberry to blueberry and currant with hints of cedar and spice. In the mouth, it's juicy with a grippy texture and delicate, concentrated but relaxed tannins before the lengthy finish. It seems that the healthy biodynamic vineyard was able to withstand the warmth of 2020. An extremely well-made wine that handled the conditions with aplomb.

More Info

Central Valley
3
98 (JS)

Inc. TAX

€432.78

James Suckling (98)

This shows superb finesse and balance with wonderful, harmonious fruit and tannin tones that give the wine purity and focus. Dried spices, blackberries, walnuts and tile. Deep, contained structure with pure, fine tannins. The finish is incredible and goes on for minutes. A blend of 56% syrah, 31% carmenere, and 13% cabernet sauvignon. From biodynamically grown grapes. One for the cellar. Better after 2022, but already fantastic.

More Info

Central Valley
1
98 (JS)

Inc. TAX

€432.61

James Suckling (98)

A complex nose of blackberry, plum, mocha, cigar box, graphite and spice. It's full-bodied with fine tannins. Creamy-textured and structured with a juicy core. Pure with a velvety texture on the palate, which is layered and balanced and leads to a flavorful finish that lasts over and over. Spicy on the finish with cloves and black pepper. Grilled meat, too. A blend of 52% syrah, 34% carmenere and 14% cabernet sauvignon. From biodynamically grown grapes. Vegan. Try in 2023.

More Info

Aconcagua
1
-

Inc. TAX

€138.47

Aconcagua
2
92 (VN)

Inc. TAX

€516.78

Vinous (92)

The 2018 Don Maximiano is 70% Cabernet, 15% Malbec, 7% Carménère, 5% Petit Verdot and 3% Cabernet Franc from Panquehue, Aconcagua. Intense purple in the glass, it delivers a nose of red fruit with plum, a little jam, black currant, mint, balsamic notes and rose over secondary woody aromas. Ample and juicy on the palate with good energy; the tannins are fine and the flavors intense. A wine that might be described as the missing link between the past and the present.

More Info

Aconcagua
1
-

Inc. TAX

€617.27

Aconcagua
1
98 (WA)

Inc. TAX

€396.78

Wine Advocate (98)

The 2017 Aconcagua Costa Las Pizarras Chardonnay is really fascinating, and it's even sharper, more restrained and with higher acidity than the 2016 that I tasted next to it. Winemaker Francisco Pancho Baettig is really pushing the wine to the limits—harvesting early and with more concentration and structure achieved through lower yields, which provides depth and complexity. The origin is the same as for 2016, and so is the vinification and aging in French barriques for almost 13 months. This is really young and austere, and it took some time in the glass to open up. It has Chablis-like definition, austerity and crispness; it's pure, mineral, long, precise like a laser cut, symmetric and chiseled. Even if it's sharp and citrusy, the palate has more volume and depth, and some nutty notes appear after some time. It's more like a Meursault than a Chablis this time, with great length, and I couldn't help but think of the whites from Jean-Marc Roulot when tasting this. It's a monumental mineral white, with the coastal freshness and the slate tastiness. This is hands down the best vintage of Las Pizarras and the best Chardonnay I've ever tasted from Chile. It's amazing how this wine has developed in only four vintages. As an American friend of mine would say, it's awesome beyond belief! 7,000 bottles were filled in March 2018.

More Info

Aconcagua
1
99 (JS)

Inc. TAX

€361.98

James Suckling (99)

I love the aromas of lavender, sandalwood, sliced apples and pears. Some gunpowder and slate undertones. Full-bodied, yet formed and tight with minerality and brightness. Vivid acidity gives this energy and depth. Drinkable, but will age beautifully.

More Info

Aconcagua
1
97 (JS)

Inc. TAX

€504.47

James Suckling (97)

Real depth for a chardonnay, with lots of limey, smoky green fruit, chalky, flinty citrus, stones and oyster shells. Pure, full-bodied and mouthwatering, with laser beams of acidity cutting through the taut, textured palate. Bright, long and pure with a delicious, austere edge. Drink or hold.

More Info

Aconcagua
5
98 (JS)

Inc. TAX

€486.78

James Suckling (98)

Punchy minerals cut through the creamy lemon and limey citrus, almost like licking wet stones! Some green apples, too. Steely, with a hint of white flowers and white almond. Very transparent and vertical but this is not a typical full-bodied chardonnay, it is rather linear, tense and electric. Sharpened minerality lingers in a lengthy, mineral finish. An extremely gastronomic and mouthwatering chardonnay. Drink now or hold.

More Info

Aconcagua
1
97.0

Inc. TAX

€524.87

Aconcagua
1
-

Inc. TAX

€524.87

Aconcagua
6
95 (WA)

Inc. TAX

€816.78

Wine Advocate (95)

I also tasted two consecutive vintages of the slate Pinot Noir, and the oldest of the two is the 2016 Aconcagua Costa Las Pizarras Pinot Noir, which fermented with 18% full clusters in open vats after a cold soak and had a 20-day maceration. It matured for some 14 months in French barriques, 33% of them new. It has that iodine-like or fresh blood note I associate with schist and iron soils. This seems fresher and more precise than the previous 2015, unlike what I saw in the Chardonnay bottlings. It's nicely textured, with ultra refined tannins that provide some grip and stick to your teeth. 6,500 bottles were filled in May 2017.

More Info

Aconcagua
1
98-99 (JS)

Inc. TAX

€446.87

James Suckling (98-99)

I love the aromas of smoked meat, dried strawberries and spices. Some resin and pine-needle undertones. Full-bodied, layered and rich with plenty of fruit and linear tannins running through the middle of the wine. Juicy and refined. Purity and greatness. Drink on release or hold.

More Info
Product Name
Region
Qty
Score
Price

Sur
2
98 (WA)

In Bond

€603.00

Wine Advocate (98)

The austere and tight 2021 Selección de Parcelas Los Primos Chardonnay feels very young. It was harvested the second week of April, keeping very good freshness and acidity, with 13% alcohol, and there was part of the wine that he did not add any sulfur. He used 35% new 400-liter barrels, and the used ones are still 228-liter ones that eventually will be replaced with the used 400-liter ones in future years. There is great purity and symmetry; the oak is neatly integrated; and there's nuance, detail and a superb juiciness in the palate and citrus acidity that makes you salivate. The palate is dry and mineral, serious, less Meursault and more Chablis... It's persistent and long and has all the ingredients and balance between them to develop nicely in bottle. There was some frost, and only 3,480 bottles were produced. It was bottled in August 2022.

More Info

Central Valley
10
-

In Bond

€171.00

Central Valley
10
-

In Bond

€182.00

Central Valley
1
100 (JS)

In Bond

€706.00

James Suckling (100)

An extremely aromatic and focused Clos Apalta with blackberry, blueberry, floral and hot stone character. Full body, very linear and ultra-fine tannins. Focused and tight. Precise and long. This is the most polished and beautiful definition of this wine ever. You want to drink it now but better in 2020. A blend of carmenére, cabernet sauvignon and merlot.

More Info

Central Valley
2
99 (JS)

In Bond

€595.00

James Suckling (99)

This is really focused and refined with fantastic dried flowers and dark berries. Dried-lavender and mint undertones. Medium-to full-bodied with refined and polished tannins that are all together and so focused. Really integrated and melted together on the palate. Compact and very linear. Please give this two or three years to come completely together, but it's already breathtaking. Better to drink after 2022.

More Info

Central Valley
1
100 (JS)

In Bond

€544.00

James Suckling (100)

What a stunning nose of crushed berries, fresh flowers, sandalwood and light vineyard dust. Black olives, too. Very complex. Full-bodied with a beautiful, dense palate of blackberries, chocolate, walnuts and cigar box. Fantastic length and composure. The tannin just rolls over the palate. Very structured. The most classically structured wine ever from here. Goes on for minutes. Outrageous and so polished. A blend of 48% carmenere, 26% cabernet sauvignon, 25% merlot and 1% petit verdot. Try after 2025.

More Info

Central Valley
1
98 (JS)

In Bond

€557.00

James Suckling (98)

So aromatic and fresh with dried flowers, sweet tobacco and hints of straw. Red fruit, cloves and green peppercorns. Medium-to full-bodied with fine tannins that are very fresh and refined. Fine, silky and beautiful. Hints of minerals and granite to the dark fruit. Such gorgeous length and beauty. 64% carmenere, 18% cabernet franc and 18% merlot. Extremely long and poised. Cooler wine. From biodynamically grown grapes. Delicious to drink already, but another three to four years will make it even better.

More Info

Central Valley
1
99 (JS)

In Bond

€565.00

James Suckling (99)

A generous array of ripe black and blue fruit with pink peppercorns, green olives, dried flowers, toffee and chocolate orange. It's full-bodied with firm, creamy and velvety tannins. Long and polished. Lovely salted caramel and olives at the end. Keeps going. Unfolds on the finish. 70% carmenere, 18% merlot, 8% cabernet sauvignon and 4% petit verdot. Drink or hold.

More Info

Central Valley
10
95 (JS)

In Bond

€248.00

James Suckling (95)

Aromatic and herbal nose of thyme, bay leaves, currants, blackberries, licorice and pomelo pith. Medium-bodied with a fleshy, delicious and open palate. Ripe tannins. Plush and caressing finish. 49% carmenere, 30% merlot, 18% cabernet sauvignon and 3% petit verdot. Drink now or hold.

More Info

Central Valley
-
95 (JS)

Expected Price Range

€162 - €195

James Suckling (95)

A beautiful delivery of Petit Clos with spiced black cherries, cassis, olives and some red capsicums to the nose. Chalky tannins are densely packed on the medium- to full-bodied palate. Tight, structured and fine-grained. Very long. Drink or hold.

More Info

Coquimbo
1
97 (TA)

In Bond

€292.00

Tim Atkin (97)

Right up there with the best Chardonnays Chile, and South America, has ever produced. This stunning wine comes from five specific blocks within the Quebrada Secain Limarí. Tangy, chiselled and refined, with very stylish oak. It's the kind of thing that could embarrass a range of Puligny-Montrachet Premiers Crus in a blind tasting. Simply stunning

More Info

Coquimbo
3
96 (DC)

In Bond

€253.00

Decanter (96)

Elegant perfume of lavender, wet stones and jasmine haunt the nose of this expressive and vibrant wine. With the chalky minerality and tangy finish that are trademarks of Limarí, this shows great regional typicity and is a mouthwatering wine with subtle oak integration. A complex yet elegant style.

More Info

Central Valley
1
99 (JS)

In Bond

€547.00

James Suckling (99)

Fantastic aromas of blackcurrants and other dark fruit with crushed stone, iron and oysters, following through to a full body that shows incredible energy and depth, offering ripe yet fresh fruit, together with bright herbs and earth. Precision and balance of the intensity of the vintage. Layered. Perhaps the greatest Don Melchor ever made. Try after 2022.

More Info

Central Valley
1
100 (JS)

In Bond

€630.00

James Suckling (100)

This is amazing. The vibrancy and energy in this wine is stunning. The complexity of aromas are breathtaking with flowers, blackcurrants, raspberries and peaches. Full-bodied, yet ever so refined and polished with impeccable texture and beauty. The length is marvelous. This is a testimony to balance, harmony and transparency in a great red. Drink after 2023.

More Info

Central Valley
2
98 (JS)

In Bond

€537.00

James Suckling (98)

Very perfumed and aromatic with blackcurrant, sweet-tobacco and Spanish-cedar character. Full-bodied with ultra fine tannins that build on the palate and take the fruit and other flavors to an endless finish. More refined than the perfect 2018 and almost as compelling. Drink in 2023 or after.

More Info

Central Valley
1
96 (TA)

In Bond

€164.00

Tim Atkin MW (96)

Given the price of some Chilean icons these days, Coyam remains one of the best value reds in the country, right up there with the country's top red blends. Based on Syrah and Carmenère with the remaining 19% made up of Cabernet Sauvignon, Garnacha, Malbec, Carignan, Tempranillo and Mourvèdre, this is wonderfully detailed and complex. Racy and mineral, with scented oak, mint, wild herb and sweet spice undertones and a core of inky damson and black cherry fruit. 2022-30

More Info

Central Valley
1
96 (VN)

In Bond

€122.00

Vinous (96)

The 2020 Coyam is a blend of 38% Syrah, 37% Carménère, 8% Cabernet Sauvignon, 5% Carignan, 4% Garnacha, 4% Mourvèdre, 2% Petit Verdot, 1% Malbec and 1% Tempranillo from the Los Robles vineyard in Colchagua. It was aged for 18 months, 75% in barrels and the rest in foudres and eggs. A rich purple in the glass. The complex nose features nuanced aromas ranging from blackberry to blueberry and currant with hints of cedar and spice. In the mouth, it's juicy with a grippy texture and delicate, concentrated but relaxed tannins before the lengthy finish. It seems that the healthy biodynamic vineyard was able to withstand the warmth of 2020. An extremely well-made wine that handled the conditions with aplomb.

More Info

Central Valley
3
98 (JS)

In Bond

€342.00

James Suckling (98)

This shows superb finesse and balance with wonderful, harmonious fruit and tannin tones that give the wine purity and focus. Dried spices, blackberries, walnuts and tile. Deep, contained structure with pure, fine tannins. The finish is incredible and goes on for minutes. A blend of 56% syrah, 31% carmenere, and 13% cabernet sauvignon. From biodynamically grown grapes. One for the cellar. Better after 2022, but already fantastic.

More Info

Central Valley
1
98 (JS)

In Bond

€342.00

James Suckling (98)

A complex nose of blackberry, plum, mocha, cigar box, graphite and spice. It's full-bodied with fine tannins. Creamy-textured and structured with a juicy core. Pure with a velvety texture on the palate, which is layered and balanced and leads to a flavorful finish that lasts over and over. Spicy on the finish with cloves and black pepper. Grilled meat, too. A blend of 52% syrah, 34% carmenere and 14% cabernet sauvignon. From biodynamically grown grapes. Vegan. Try in 2023.

More Info

Aconcagua
1
-

In Bond

€93.00

Aconcagua
2
92 (VN)

In Bond

€412.00

Vinous (92)

The 2018 Don Maximiano is 70% Cabernet, 15% Malbec, 7% Carménère, 5% Petit Verdot and 3% Cabernet Franc from Panquehue, Aconcagua. Intense purple in the glass, it delivers a nose of red fruit with plum, a little jam, black currant, mint, balsamic notes and rose over secondary woody aromas. Ample and juicy on the palate with good energy; the tannins are fine and the flavors intense. A wine that might be described as the missing link between the past and the present.

More Info

Aconcagua
1
-

In Bond

€492.00

Aconcagua
1
98 (WA)

In Bond

€312.00

Wine Advocate (98)

The 2017 Aconcagua Costa Las Pizarras Chardonnay is really fascinating, and it's even sharper, more restrained and with higher acidity than the 2016 that I tasted next to it. Winemaker Francisco Pancho Baettig is really pushing the wine to the limits—harvesting early and with more concentration and structure achieved through lower yields, which provides depth and complexity. The origin is the same as for 2016, and so is the vinification and aging in French barriques for almost 13 months. This is really young and austere, and it took some time in the glass to open up. It has Chablis-like definition, austerity and crispness; it's pure, mineral, long, precise like a laser cut, symmetric and chiseled. Even if it's sharp and citrusy, the palate has more volume and depth, and some nutty notes appear after some time. It's more like a Meursault than a Chablis this time, with great length, and I couldn't help but think of the whites from Jean-Marc Roulot when tasting this. It's a monumental mineral white, with the coastal freshness and the slate tastiness. This is hands down the best vintage of Las Pizarras and the best Chardonnay I've ever tasted from Chile. It's amazing how this wine has developed in only four vintages. As an American friend of mine would say, it's awesome beyond belief! 7,000 bottles were filled in March 2018.

More Info

Aconcagua
1
99 (JS)

In Bond

€283.00

James Suckling (99)

I love the aromas of lavender, sandalwood, sliced apples and pears. Some gunpowder and slate undertones. Full-bodied, yet formed and tight with minerality and brightness. Vivid acidity gives this energy and depth. Drinkable, but will age beautifully.

More Info

Aconcagua
1
97 (JS)

In Bond

€398.00

James Suckling (97)

Real depth for a chardonnay, with lots of limey, smoky green fruit, chalky, flinty citrus, stones and oyster shells. Pure, full-bodied and mouthwatering, with laser beams of acidity cutting through the taut, textured palate. Bright, long and pure with a delicious, austere edge. Drink or hold.

More Info

Aconcagua
5
98 (JS)

In Bond

€387.00

James Suckling (98)

Punchy minerals cut through the creamy lemon and limey citrus, almost like licking wet stones! Some green apples, too. Steely, with a hint of white flowers and white almond. Very transparent and vertical but this is not a typical full-bodied chardonnay, it is rather linear, tense and electric. Sharpened minerality lingers in a lengthy, mineral finish. An extremely gastronomic and mouthwatering chardonnay. Drink now or hold.

More Info

Aconcagua
1
97.0

In Bond

€415.00

Aconcagua
1
-

In Bond

€415.00

Aconcagua
6
95 (WA)

In Bond

€662.00

Wine Advocate (95)

I also tasted two consecutive vintages of the slate Pinot Noir, and the oldest of the two is the 2016 Aconcagua Costa Las Pizarras Pinot Noir, which fermented with 18% full clusters in open vats after a cold soak and had a 20-day maceration. It matured for some 14 months in French barriques, 33% of them new. It has that iodine-like or fresh blood note I associate with schist and iron soils. This seems fresher and more precise than the previous 2015, unlike what I saw in the Chardonnay bottlings. It's nicely textured, with ultra refined tannins that provide some grip and stick to your teeth. 6,500 bottles were filled in May 2017.

More Info

Aconcagua
1
98-99 (JS)

In Bond

€350.00

James Suckling (98-99)

I love the aromas of smoked meat, dried strawberries and spices. Some resin and pine-needle undertones. Full-bodied, layered and rich with plenty of fruit and linear tannins running through the middle of the wine. Juicy and refined. Purity and greatness. Drink on release or hold.

More Info