Price does not Reflect Quality - Compared to other vintages, Latour 2014 is the standout value on the Latour curve. Its 'fair value' is around £3,500 a case, versus a current price of just £2,550.

Overlooked Vintage – The 2014 vintage in Bordeaux is misunderstood and under-appreciated. Its vintage score is comparable to much more heralded vintages like 2015 or 2005.

Un-Hyped Vintages can Provide Best Returns – Statistically, the best investment returns often come from supposedly 'weaker' vintages, because the collector's entry point is often significantly lower.

League of their Own - Latour's decision to leave the En Primeur system places them in a unique position for controlling secondary market pricing.

Ownership - Château Latour is owned by French billionaire François Pinault through his Groupe Artemis company, which also owns Gucci, YSL and Clos du Tart. Artemis has a strong history of investment and brand development in all their entities.

First Among Equals – Latour is often viewed as the "top" First Growth and has a reputation for being the longest living of this super elite club. The 2014 vintage is estimated to have a drinking window until 2068.
---
Bordeaux 2014: A Much Better Vintage than Commonly Assumed
2014 is a misunderstood and under-appreciated vintage. In a way, it was fortunate that Château Latour released their 2014 only last year (2022), as it gave everyone a chance to re-appraise and re-consider 2014's merits.
2014 is far, far better as a vintage – in the Northern Médoc especially – than many casual Bordeaux observers realise.
The pronounced 'Indian summer' that occurred in September 2014 allowed the great estates of Pauillac, St-Estèphe and St-Julien to ripen their grapes under virtually perfect conditions, and this is reflected in Wine Advocate's vintage score and rating for 2014 as 93 points and 'Outstanding'. This designation is only one rank off 'Extraordinary', the highest possible level.
A vintage score of 93 points scotches any notion of 2014 being an 'off' vintage. 2013 was a genuinely off vintage, scoring just 81 points (!). In fact, 2014's closest comparables are some of the most heralded modern vintages of the northern Médoc:
2014 is Comparable with Very Serious Bordeaux Vintages

2014 is only a couple of points lower than 2005, which is widely hailed as one of the greatest Bordeaux vintages of the 2000s.
---
Latour 2014 – The Best Wine Production of a Serious Vintage
Château Latour is not an average Bordeaux estate. This iconic First Growth has been producing exceptional wines since the 14th century, and its wines are known for their power, complexity, and ability to age gracefully. The hallowed Pauillac terroir is famed for being able to produce exceptional wine from a variety of climatic scenarios.
In his Latour 2014 review, Wine Advocate's William Kelley specifically references the Northern Médoc as having produced the best wine of 2014.
It is no surprise to find Latour 2014 scoring 97+ points from Wine Advocate, with critic William Kelley calling it "one of the very finest wines" of the vintage. In fact, Kelley is mistaken. Latour isn't one of the best wines of 2014, it is the best wine (in terms of WA score)!
Jancis Robinson is equally enthusiastic, scoring Latour 2014 a huge 19/20 points. James Suckling weighs in with a 99 points score of his own, and all the major critics rate this wine exceptionally well with numerous 96 and 97 point scores.
---
Latour 2014 has Positive Score Momentum
Latour 2014 received its current 97+ points score from Wine Advocate in March 2022. This was an increase on the 96 points 'in bottle' score from 2017 (although the 2017 score was given by then WA critic Neal Martin). The 'in bottle' score was itself above the lower band of Martin's 'en primeur' score of (95-97 points).
We like to see this kind of positive score moment, as it indicates a wine evolving better than expected in the bottle. This promises well for future score 'upgrades' and also for the potential longevity of the wine.
---
Latour 2014 Equals (or Beats) many Celebrated Latours
Latour 2014 outscores many more 'fashionable' vintages of Latour: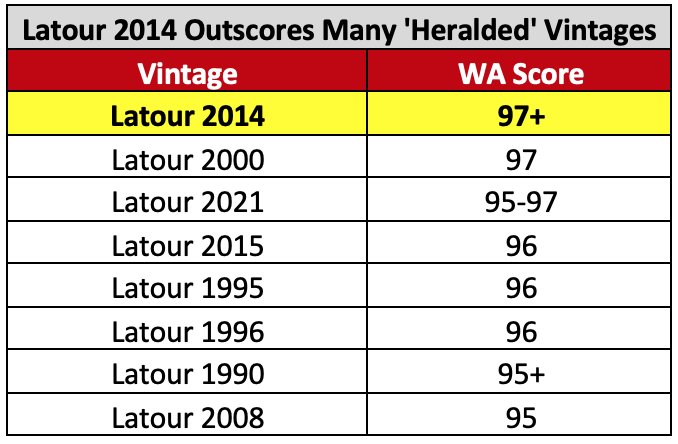 Latour 2000, for example, now nudges £5,000 a case in price, but is scored lower than the 2014 (though of course with more aging behind it).
But with a drinking window until at least 2068, Latour 2014 will outlast many of the vintages in the list above by many year, and this is vitally important when considering appreciation potential.
---
Latour 2014: Price does not Reflect Quality
Latour 2014 is one of the most undervalued of Latour currently. Its discount to the 'fair value' curve is only matched by the 2003. But in the latter case it is clear that the market doesn't wholly trust WA's 100 points score from the heatwave vintage of 2003.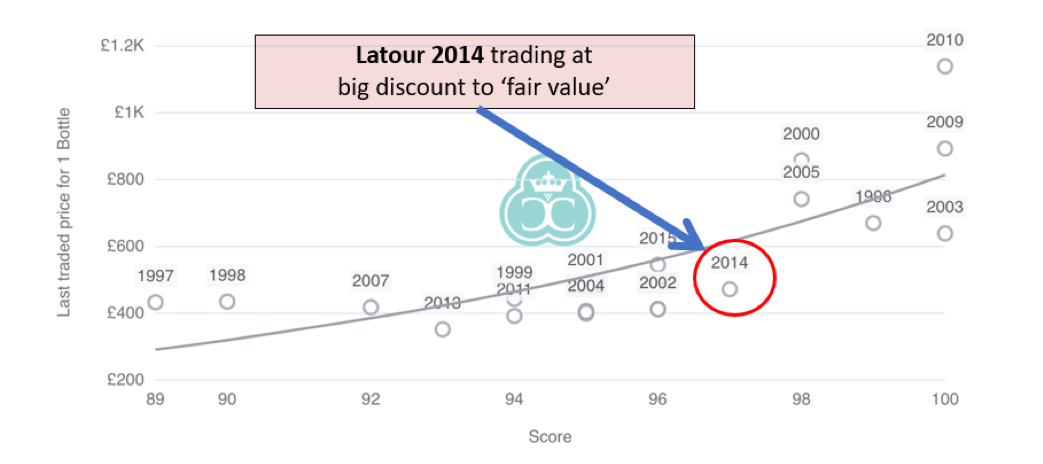 The current price of £2,550 (6x75cl) for Latour 2014 is well below the implied 'fair value' for its 97+ points WA score, which is close to £3,500.
Indeed, compared with similarly scored vintages, the undervaluation of Latour 2014 stands out clearly:

---
Release of Latour 2016 Might be a Catalyst for Price Movement
The next release from Latour is scheduled to be the Latour 2016, most likely in March 2024.
What price will Latour 2016 release at? The 96 points Latour 2015 was gobbled up by collectors at a release price of £3,150 per case. With a nailed on 100 points from multiple critics, including Wine Advocate, it seems inconceivable that Latour 2016 won't see a very significant price jump.
The nearest comparable trading in the marketplace will be the 100 points Latour 2010. That is trading at £6,200 per 6x75cl, and so a price of less than £4,000 for the 2016 seems inconceivable (and even £4,400 would not, in our view, value the wine fully).
But if (when) the new Latour 2016 releases at £4,000-£4,500 how will that make the 97+ points Latour 2014 look, way down at just £2,550? Pretty darn attractive, in our view!
---
En Primeur Exit Give Latour Flexibility on Pricing
Château Latour left the Bordeaux 'en primeur' system in 2012, the first major Bordeaux estates to do so.
Instead of annual releases in the early summer following the harvest, Latour is released only after extended ageing in bottle, when the estate considers it ready for consumption. This decision has several advantages for collectors.
It ensures that the wine is of the highest quality when it is released, as it has been aged in the estate's cellars only; and

The château can release the wine when the timing is most appropriate, avoiding the financial squalls which come from time to time, and also resisting the 'group think' on pricing that the 'en primeur' process engenders.
We expect Latour to continue to use this flexibility to their advantage, and to continue to plough their own furrow when it comes to release pricing. The fact that Latour is always releasing stock 'ex-chateau' has been demonstrated to support premium pricing, and we expect this trend to continue.
---
Ownership by Pinault Provides Expectation of Performance
Château Latour has a long and storied history, with records dating back to the 14th century.
Today, Latour is owned by French businessman François Pinault of Groupe Artemis, the owner of luxury fashion giants Gucci and Yves Saint Laurent, who acquired the estate in 1993. Since then, Pinault has made significant investments in the winery, including a complete renovation of the winemaking facilities and a focus on sustainable farming.
Ownership by a master luxury goods brand builder like Mon. Pinault is only going to mean one thing: most exclusivity and higher prices for Latour. If you don't own any Latour already, it is not going to get more 'accessible' in the future. Quite the opposite.
Being outside the 'en primeur' system also gives Latour greater scope to 'go its own way' on pricing, and we expect them to use this flexibility to drive release prices ever higher. We anticipate the estate using the group's balance to buy up stray back vintages which aren't priced 'appropriately'.
This is a tide you want to be swimming with, not against. And buying positions in Latour back vintages today does exactly that.