Ausone
About Château Ausone
Château Ausone vies with Cheval-Blanc to be Saint-Émilion's most prestigious estate. Named after the Roman poet Ausonius who once resided in this area, Ausone is one of four Premier Grand Cru Classé (A) wines in the classification of Saint-Émilion (along with Angélus, Cheval Blanc and Pavie).
Quite possibly the oldest winemaking estate in the entire region, the vines of Château Ausone occupy the same site as a villa owned by the Roman poet and proconsul Ausonius nearly 2000 years ago. The connection to the current name is clear to see, but the Vauthier family have owned these hallowed vineyards for several centuries into the 12th generation with Pauline.
Viniculture
Ausone stands tall over the town of St-Émilion itself, with a mere seven hectares of entirely classified vines – making it the single smallest First Growth in any appellation, on any Bank. Clinging precariously to steep, ancient slopes comprised of clay and limestone with particularly shallow soil cover, it has been said that Ausone is one of few properties in the region where one can simply tell from the sight of its terroir that the wine is exceptional. There are Cabernet Franc vines that are more than 100 years of age (planted 1906).
Striking chunks of limestone are immediately obvious, and it comes as no surprise to learn that such is the extent of said geological influence that there are deep quarries running beneath the vines. Actively worked between the 13th and 19th centuries, the dormant mines are now used by the Vauthiers to store oak barrels at a temperature of 12 degrees and a steady year-round humidity of 97% – in fact so effective are these limestone cellars that a dehumidifier had to be installed!
Aside from producing some of the greatest, rarest wine on Earth, Ausone's terroir is exceptional for its consistency. Vintage after vintage, both the Grand Vin and the second wine excel whilst others stumble – the latter representing a minuscule 10% of the total production of an already dramatically small amount.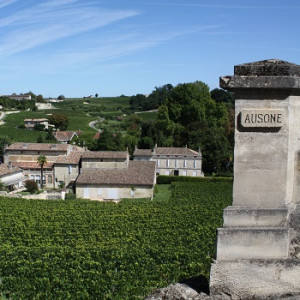 Name
Price Low
Price High
Year (Old)
Year (New)
Prices:
Product Name
Region
Qty
Score
Price

Bordeaux
1
-

Inc. TAX

€2,420.87

Bordeaux
1
88 (WA)

Inc. TAX

€1,080.55

Wine Advocate (88)

Extremely severe and hard, with an overwhelming scent of damp, dirty earth and herbs, this austere, fruitless style of claret may last another 50 years, but it is hollow and charmless. Interestingly, the spectacular 1976 is a candidate for the wine of the vintage.

More Info

Bordeaux
1
-

Inc. TAX

€4,559.33

Bordeaux
6
82 (WA)

Inc. TAX

€614.53

Wine Advocate (82)

This medium ruby wine remains closed, but exhibits adequate ripeness of fruit. However, the hard tannins are cause for concern. The 1981 Ausone is a medium-weight wine, with good concentration, but I believe it will always be an austere, tough-textured, charmless wine. It still needs 10 years to soften and develop. Anticipated maturity: Now-2010. Last tasted, 1/90.

More Info

Bordeaux
1
89 (WS)

Inc. TAX

€5,678.77

Wine Spectator (89)

Firm and vivid, offering clear cherry, tobacco and cedar flavors backed by firm, round tannins; it blooms on the finish.--The Bordeaux 50. Drink now through 2000. 2,000 cases made. -JS

More Info

Bordeaux
2
89 (WS)

Inc. TAX

€614.53

Wine Spectator (89)

Firm and vivid, offering clear cherry, tobacco and cedar flavors backed by firm, round tannins; it blooms on the finish.--The Bordeaux 50. Drink now through 2000. 2,000 cases made. -JS

More Info

Bordeaux
1
-

Inc. TAX

€3,084.66

Bordeaux
1
91 (VN (NM))

Inc. TAX

€5,009.74

Vinous - Neal Martin (91)

The 1992 Ausone is an off-vintage that I had never tasted before. It was actually better than expected. The nose is agreeable with only a slight greenness underneath those tobacco tinged black fruit, a touch of bacon fat emerging with time. The palate is medium-bodied with coarse tannin, rather ferrous and smudged, earthy with a short finish. It has its shortcomings although it does improve in the glass, gaining more cohesion and vigour, so don't write it off. Tasted at the Ausone vertical in London.

More Info

Bordeaux
1
-

Inc. TAX

€498.89

Bordeaux
1
98.0

Inc. TAX

€10,382.77

Bordeaux
1
95 (WA)

Inc. TAX

€7,682.77

Wine Advocate (95)

Is the 1999 Ausone the wine of the vintage? Dense purple color, a compelling bouquet of licorice, minerals, black and blueberry liqueur, extraordinary delineation, high tannin, superb extract, and phenomenal richness all are the stuff of a legend. This wine seems impossible to have emerged from a vintage like 1999. Proprietor Alain Vauthier produced only 20,000 bottles because he eliminated one-fourth of the tiny crop. The result is out-and-out fabulous, but the wine needs 12-15 years of cellaring. Anticipated maturity: 2015-2050.

More Info

Bordeaux
2
95 (WA)

Inc. TAX

€7,220.77

Wine Advocate (95)

Is the 1999 Ausone the wine of the vintage? Dense purple color, a compelling bouquet of licorice, minerals, black and blueberry liqueur, extraordinary delineation, high tannin, superb extract, and phenomenal richness all are the stuff of a legend. This wine seems impossible to have emerged from a vintage like 1999. Proprietor Alain Vauthier produced only 20,000 bottles because he eliminated one-fourth of the tiny crop. The result is out-and-out fabulous, but the wine needs 12-15 years of cellaring. Anticipated maturity: 2015-2050.

More Info

Bordeaux
1
98+ (WA)

Inc. TAX

€10,219.03

Wine Advocate (98+)

Two bottles were badly corked, which is certainly a scary situation for a wine where only 1,000 or so cases were produced. However, a third bottle was magical and just short of perfection. Its saturated purple color was followed by a surprisingly more evolved and open wine than I had written in my tasting note in 2003, where I predicted maturity between 2020 and 2075. This wine displays wonderful, sweet tannin and a big, sweet kiss of truffle, crushed rock, blueberry, blackberry, and licorice. Extremely rich, full-bodied, with astonishing power, precision, and delicacy, this is a sumptuous wine that should age well for 50-60 years, but in the case of the one bottle out of three that was not corked, it seemed far more evolved and forward than I suggested in my write-up in 2003.

More Info

Bordeaux
1
98+ (WA)

Inc. TAX

€13,496.77

Wine Advocate (98+)

Two bottles were badly corked, which is certainly a scary situation for a wine where only 1,000 or so cases were produced. However, a third bottle was magical and just short of perfection. Its saturated purple color was followed by a surprisingly more evolved and open wine than I had written in my tasting note in 2003, where I predicted maturity between 2020 and 2075. This wine displays wonderful, sweet tannin and a big, sweet kiss of truffle, crushed rock, blueberry, blackberry, and licorice. Extremely rich, full-bodied, with astonishing power, precision, and delicacy, this is a sumptuous wine that should age well for 50-60 years, but in the case of the one bottle out of three that was not corked, it seemed far more evolved and forward than I suggested in my write-up in 2003.

More Info

Bordeaux
1
98+ (WA)

Inc. TAX

€6,580.38

Wine Advocate (98+)

Two bottles were badly corked, which is certainly a scary situation for a wine where only 1,000 or so cases were produced. However, a third bottle was magical and just short of perfection. Its saturated purple color was followed by a surprisingly more evolved and open wine than I had written in my tasting note in 2003, where I predicted maturity between 2020 and 2075. This wine displays wonderful, sweet tannin and a big, sweet kiss of truffle, crushed rock, blueberry, blackberry, and licorice. Extremely rich, full-bodied, with astonishing power, precision, and delicacy, this is a sumptuous wine that should age well for 50-60 years, but in the case of the one bottle out of three that was not corked, it seemed far more evolved and forward than I suggested in my write-up in 2003.

More Info

Bordeaux
1
100 (WA)

Inc. TAX

€10,496.77

Wine Advocate (100)

Amazing! The limestone soils of Ausone appear to have been the perfect foil for resisting the extreme heat and drought of June, July and August, 2003. This black/purple-colored effort boasts a glorious nose of violets, truffles, lead pencil shavings, blueberry and blackberry liqueur. Full-bodied with staggering concentration, a voluptuous texture, low acidity and well-integrated, melted tannins, this deep, multidimensional, profound Bordeaux is beginning to drink exceptionally well. It should continue to do so for another two decades or more.

More Info

Bordeaux
1
98 (WSM)

Inc. TAX

€9,302.77

Wine & Spirit Magazine (98)

Tasted from barrel in 2005, this was among the best wines of the vintage, with limestone-soil character coming through the fresh brightness of fruit. Ausone was all potential energy then, and it has only improved in the two years since. The wine shares the resonant depths of the ancient limestone caves at Ausone, as the flavors echo through the finish. It starts off from a small place, a sweet confection that brings roasted blueberries to mind, the caramelized oak tasting like the edge of charred fat on extremely fine grilled beef. Over the course of several days, the wine becomes increasingly more subtle and serious in tone, with delicate red fruit, gracious mineral-inflected tannins and detailed flavors that last effortlessly. This Ausone will live for decades.

More Info

Bordeaux
1
98 (WSM)

Inc. TAX

€3,376.38

Wine & Spirit Magazine (98)

Tasted from barrel in 2005, this was among the best wines of the vintage, with limestone-soil character coming through the fresh brightness of fruit. Ausone was all potential energy then, and it has only improved in the two years since. The wine shares the resonant depths of the ancient limestone caves at Ausone, as the flavors echo through the finish. It starts off from a small place, a sweet confection that brings roasted blueberries to mind, the caramelized oak tasting like the edge of charred fat on extremely fine grilled beef. Over the course of several days, the wine becomes increasingly more subtle and serious in tone, with delicate red fruit, gracious mineral-inflected tannins and detailed flavors that last effortlessly. This Ausone will live for decades.

More Info

Bordeaux
1
100 (VN (AG))

Inc. TAX

€7,738.38

Vinous - Antonio Galloni (100)

The 2005 Ausone is magnificent. A wine of soaring intensity and class, the 2005 dazzles from the very first taste. The aromatics alone are captivating, with notes of cinnamon, mint, crushed rocks, blood orange, mocha and incense. Graceful and stately in bearing, the 2005 boasts tremendous purity and breathtaking balance. Readers will find a stunning Saint-Émilion that is just at the beginning of what promises to be a very long drinking window that will be measured in decades. It is a towering achievement from the Vauthier family.

More Info

Bordeaux
1
97 (VN (ST))

Inc. TAX

€9,287.86

Vinous - Stephen Tanzer (97)

Bright medium ruby. Brooding, pure aromas of blackberry, blueberry, boysenberry, espresso and minerals. Wonderfully dense yet weightless, with a penetrating calcaire energy to its sappy black fruit and mineral flavors. This has filled out impressively since its early days in barrel but is still just at the beginning of its evolution. The slowly mounting, compellingly long finish saturates the palate with flavor, and the substantial tannins are amazingly sweet and fine-grained. My early candidate for wine of the vintage: this fills the mouth with perfume but its fruit of steel suggests that it will last a very long time. I won't be around to drink this beauty at its peak.

More Info

Bordeaux
7
97 (VN (ST))

Inc. TAX

€4,330.38

Vinous - Stephen Tanzer (97)

Bright medium ruby. Brooding, pure aromas of blackberry, blueberry, boysenberry, espresso and minerals. Wonderfully dense yet weightless, with a penetrating calcaire energy to its sappy black fruit and mineral flavors. This has filled out impressively since its early days in barrel but is still just at the beginning of its evolution. The slowly mounting, compellingly long finish saturates the palate with flavor, and the substantial tannins are amazingly sweet and fine-grained. My early candidate for wine of the vintage: this fills the mouth with perfume but its fruit of steel suggests that it will last a very long time. I won't be around to drink this beauty at its peak.

More Info

Bordeaux
1
98.0

Inc. TAX

€2,279.20

Bordeaux
1
100 (JS)

Inc. TAX

€3,779.20

James Suckling (100)

Incredible nose of currants and blueberries. Flowers too. Licorice. Such purity on the nose of Cabernet Franc. Full body, incredible structure, with fabulous tannins and a long, long finish. Built out of stone. The prefect Ausone. Try after 2022.

More Info

Bordeaux
1
100 (JS)

Inc. TAX

€6,136.38

James Suckling (100)

Incredible nose of currants and blueberries. Flowers too. Licorice. Such purity on the nose of Cabernet Franc. Full body, incredible structure, with fabulous tannins and a long, long finish. Built out of stone. The prefect Ausone. Try after 2022.

More Info

Bordeaux
1
99 (WE)

Inc. TAX

€14,831.86

Wine Enthusiast (99)

98-100. Very concentrated and wonderfully perfumed wine. It has great balance and acidity, intense freshness. The superb fragrance of the Cabernet Franc has made a gorgeous wine, black fruited and likely to age for decades.

More Info

Bordeaux
1
99 (WE)

Inc. TAX

€3,197.20

Wine Enthusiast (99)

98-100. Very concentrated and wonderfully perfumed wine. It has great balance and acidity, intense freshness. The superb fragrance of the Cabernet Franc has made a gorgeous wine, black fruited and likely to age for decades.

More Info

Bordeaux
2
99 (WE)

Inc. TAX

€7,354.38

Wine Enthusiast (99)

98-100. Very concentrated and wonderfully perfumed wine. It has great balance and acidity, intense freshness. The superb fragrance of the Cabernet Franc has made a gorgeous wine, black fruited and likely to age for decades.

More Info

Bordeaux
1
95+ (WA)

Inc. TAX

€3,832.38

Wine Advocate (95+)

Its bigger sibling, the 2011 Ausone increases the level of intensity, elegance, complexity, richness and length. Nearly a mirror image of the La Chapelle, just with more going on, the Ausone boasts a more saturated purple color, and the wine has everything in large, intense proportions. The finesse and delicacy of all its components are what make it such a remarkable wine. The quality of the tannins and purity of the fruit make this another legendary effort that should age for 30-40 years.

More Info

Bordeaux
3
93-95 (WA)

Inc. TAX

€2,312.93

Wine Advocate (93-95)

Probably the wine of the vintage, once again. Only 9,000 bottles of the 2013 Ausone were produced, as crop size was 50% of normal. However, proprietor Alain Vauthier and his daughter certainly have proven a truly great wine can be produced in some of the most trying conditions Bordeaux wine producers have had to deal with over the last 20 years. Yields were only 22 hectoliters per hectare and the final blend was 55% Cabernet Franc and 45% Merlot. The haunting aromas of wet rocks, spring flowers, blue and black fruits and forest floor are followed by an incredibly dense, attractive wine with sweet tannin, stunning concentration and texture, medium body and a depth that is essentially unreal in a vintage such as this. The wine is a superb example of great winemaking under the most difficult circumstances. Unlike more recent Ausones, this should be reasonably drinkable in 5-6 years and yet be capable of lasting 25-30.

More Info

Bordeaux
4
93-95 (WA)

Inc. TAX

€573.73

Wine Advocate (93-95)

Probably the wine of the vintage, once again. Only 9,000 bottles of the 2013 Ausone were produced, as crop size was 50% of normal. However, proprietor Alain Vauthier and his daughter certainly have proven a truly great wine can be produced in some of the most trying conditions Bordeaux wine producers have had to deal with over the last 20 years. Yields were only 22 hectoliters per hectare and the final blend was 55% Cabernet Franc and 45% Merlot. The haunting aromas of wet rocks, spring flowers, blue and black fruits and forest floor are followed by an incredibly dense, attractive wine with sweet tannin, stunning concentration and texture, medium body and a depth that is essentially unreal in a vintage such as this. The wine is a superb example of great winemaking under the most difficult circumstances. Unlike more recent Ausones, this should be reasonably drinkable in 5-6 years and yet be capable of lasting 25-30.

More Info
Product Name
Region
Qty
Score
Price

Bordeaux
1
-

In Bond

€1,995.00

Bordeaux
1
88 (WA)

In Bond

€893.00

Wine Advocate (88)

Extremely severe and hard, with an overwhelming scent of damp, dirty earth and herbs, this austere, fruitless style of claret may last another 50 years, but it is hollow and charmless. Interestingly, the spectacular 1976 is a candidate for the wine of the vintage.

More Info

Bordeaux
1
-

In Bond

€3,755.00

Bordeaux
6
82 (WA)

In Bond

€509.00

Wine Advocate (82)

This medium ruby wine remains closed, but exhibits adequate ripeness of fruit. However, the hard tannins are cause for concern. The 1981 Ausone is a medium-weight wine, with good concentration, but I believe it will always be an austere, tough-textured, charmless wine. It still needs 10 years to soften and develop. Anticipated maturity: Now-2010. Last tasted, 1/90.

More Info

Bordeaux
1
89 (WS)

In Bond

€4,695.00

Wine Spectator (89)

Firm and vivid, offering clear cherry, tobacco and cedar flavors backed by firm, round tannins; it blooms on the finish.--The Bordeaux 50. Drink now through 2000. 2,000 cases made. -JS

More Info

Bordeaux
2
89 (WS)

In Bond

€509.00

Wine Spectator (89)

Firm and vivid, offering clear cherry, tobacco and cedar flavors backed by firm, round tannins; it blooms on the finish.--The Bordeaux 50. Drink now through 2000. 2,000 cases made. -JS

More Info

Bordeaux
1
-

In Bond

€2,555.00

Bordeaux
1
91 (VN (NM))

In Bond

€4,130.00

Vinous - Neal Martin (91)

The 1992 Ausone is an off-vintage that I had never tasted before. It was actually better than expected. The nose is agreeable with only a slight greenness underneath those tobacco tinged black fruit, a touch of bacon fat emerging with time. The palate is medium-bodied with coarse tannin, rather ferrous and smudged, earthy with a short finish. It has its shortcomings although it does improve in the glass, gaining more cohesion and vigour, so don't write it off. Tasted at the Ausone vertical in London.

More Info

Bordeaux
1
-

In Bond

€412.00

Bordeaux
1
98.0

In Bond

€8,615.00

Bordeaux
1
95 (WA)

In Bond

€6,365.00

Wine Advocate (95)

Is the 1999 Ausone the wine of the vintage? Dense purple color, a compelling bouquet of licorice, minerals, black and blueberry liqueur, extraordinary delineation, high tannin, superb extract, and phenomenal richness all are the stuff of a legend. This wine seems impossible to have emerged from a vintage like 1999. Proprietor Alain Vauthier produced only 20,000 bottles because he eliminated one-fourth of the tiny crop. The result is out-and-out fabulous, but the wine needs 12-15 years of cellaring. Anticipated maturity: 2015-2050.

More Info

Bordeaux
2
95 (WA)

In Bond

€5,980.00

Wine Advocate (95)

Is the 1999 Ausone the wine of the vintage? Dense purple color, a compelling bouquet of licorice, minerals, black and blueberry liqueur, extraordinary delineation, high tannin, superb extract, and phenomenal richness all are the stuff of a legend. This wine seems impossible to have emerged from a vintage like 1999. Proprietor Alain Vauthier produced only 20,000 bottles because he eliminated one-fourth of the tiny crop. The result is out-and-out fabulous, but the wine needs 12-15 years of cellaring. Anticipated maturity: 2015-2050.

More Info

Bordeaux
1
98+ (WA)

In Bond

€8,485.00

Wine Advocate (98+)

Two bottles were badly corked, which is certainly a scary situation for a wine where only 1,000 or so cases were produced. However, a third bottle was magical and just short of perfection. Its saturated purple color was followed by a surprisingly more evolved and open wine than I had written in my tasting note in 2003, where I predicted maturity between 2020 and 2075. This wine displays wonderful, sweet tannin and a big, sweet kiss of truffle, crushed rock, blueberry, blackberry, and licorice. Extremely rich, full-bodied, with astonishing power, precision, and delicacy, this is a sumptuous wine that should age well for 50-60 years, but in the case of the one bottle out of three that was not corked, it seemed far more evolved and forward than I suggested in my write-up in 2003.

More Info

Bordeaux
1
98+ (WA)

In Bond

€11,210.00

Wine Advocate (98+)

Two bottles were badly corked, which is certainly a scary situation for a wine where only 1,000 or so cases were produced. However, a third bottle was magical and just short of perfection. Its saturated purple color was followed by a surprisingly more evolved and open wine than I had written in my tasting note in 2003, where I predicted maturity between 2020 and 2075. This wine displays wonderful, sweet tannin and a big, sweet kiss of truffle, crushed rock, blueberry, blackberry, and licorice. Extremely rich, full-bodied, with astonishing power, precision, and delicacy, this is a sumptuous wine that should age well for 50-60 years, but in the case of the one bottle out of three that was not corked, it seemed far more evolved and forward than I suggested in my write-up in 2003.

More Info

Bordeaux
1
98+ (WA)

In Bond

€5,465.00

Wine Advocate (98+)

Two bottles were badly corked, which is certainly a scary situation for a wine where only 1,000 or so cases were produced. However, a third bottle was magical and just short of perfection. Its saturated purple color was followed by a surprisingly more evolved and open wine than I had written in my tasting note in 2003, where I predicted maturity between 2020 and 2075. This wine displays wonderful, sweet tannin and a big, sweet kiss of truffle, crushed rock, blueberry, blackberry, and licorice. Extremely rich, full-bodied, with astonishing power, precision, and delicacy, this is a sumptuous wine that should age well for 50-60 years, but in the case of the one bottle out of three that was not corked, it seemed far more evolved and forward than I suggested in my write-up in 2003.

More Info

Bordeaux
1
100 (WA)

In Bond

€8,710.00

Wine Advocate (100)

Amazing! The limestone soils of Ausone appear to have been the perfect foil for resisting the extreme heat and drought of June, July and August, 2003. This black/purple-colored effort boasts a glorious nose of violets, truffles, lead pencil shavings, blueberry and blackberry liqueur. Full-bodied with staggering concentration, a voluptuous texture, low acidity and well-integrated, melted tannins, this deep, multidimensional, profound Bordeaux is beginning to drink exceptionally well. It should continue to do so for another two decades or more.

More Info

Bordeaux
1
98 (WSM)

In Bond

€7,715.00

Wine & Spirit Magazine (98)

Tasted from barrel in 2005, this was among the best wines of the vintage, with limestone-soil character coming through the fresh brightness of fruit. Ausone was all potential energy then, and it has only improved in the two years since. The wine shares the resonant depths of the ancient limestone caves at Ausone, as the flavors echo through the finish. It starts off from a small place, a sweet confection that brings roasted blueberries to mind, the caramelized oak tasting like the edge of charred fat on extremely fine grilled beef. Over the course of several days, the wine becomes increasingly more subtle and serious in tone, with delicate red fruit, gracious mineral-inflected tannins and detailed flavors that last effortlessly. This Ausone will live for decades.

More Info

Bordeaux
1
98 (WSM)

In Bond

€2,795.00

Wine & Spirit Magazine (98)

Tasted from barrel in 2005, this was among the best wines of the vintage, with limestone-soil character coming through the fresh brightness of fruit. Ausone was all potential energy then, and it has only improved in the two years since. The wine shares the resonant depths of the ancient limestone caves at Ausone, as the flavors echo through the finish. It starts off from a small place, a sweet confection that brings roasted blueberries to mind, the caramelized oak tasting like the edge of charred fat on extremely fine grilled beef. Over the course of several days, the wine becomes increasingly more subtle and serious in tone, with delicate red fruit, gracious mineral-inflected tannins and detailed flavors that last effortlessly. This Ausone will live for decades.

More Info

Bordeaux
1
100 (VN (AG))

In Bond

€6,430.00

Vinous - Antonio Galloni (100)

The 2005 Ausone is magnificent. A wine of soaring intensity and class, the 2005 dazzles from the very first taste. The aromatics alone are captivating, with notes of cinnamon, mint, crushed rocks, blood orange, mocha and incense. Graceful and stately in bearing, the 2005 boasts tremendous purity and breathtaking balance. Readers will find a stunning Saint-Émilion that is just at the beginning of what promises to be a very long drinking window that will be measured in decades. It is a towering achievement from the Vauthier family.

More Info

Bordeaux
1
97 (VN (ST))

In Bond

€7,715.00

Vinous - Stephen Tanzer (97)

Bright medium ruby. Brooding, pure aromas of blackberry, blueberry, boysenberry, espresso and minerals. Wonderfully dense yet weightless, with a penetrating calcaire energy to its sappy black fruit and mineral flavors. This has filled out impressively since its early days in barrel but is still just at the beginning of its evolution. The slowly mounting, compellingly long finish saturates the palate with flavor, and the substantial tannins are amazingly sweet and fine-grained. My early candidate for wine of the vintage: this fills the mouth with perfume but its fruit of steel suggests that it will last a very long time. I won't be around to drink this beauty at its peak.

More Info

Bordeaux
7
97 (VN (ST))

In Bond

€3,590.00

Vinous - Stephen Tanzer (97)

Bright medium ruby. Brooding, pure aromas of blackberry, blueberry, boysenberry, espresso and minerals. Wonderfully dense yet weightless, with a penetrating calcaire energy to its sappy black fruit and mineral flavors. This has filled out impressively since its early days in barrel but is still just at the beginning of its evolution. The slowly mounting, compellingly long finish saturates the palate with flavor, and the substantial tannins are amazingly sweet and fine-grained. My early candidate for wine of the vintage: this fills the mouth with perfume but its fruit of steel suggests that it will last a very long time. I won't be around to drink this beauty at its peak.

More Info

Bordeaux
1
98.0

In Bond

€1,890.00

Bordeaux
1
100 (JS)

In Bond

€3,140.00

James Suckling (100)

Incredible nose of currants and blueberries. Flowers too. Licorice. Such purity on the nose of Cabernet Franc. Full body, incredible structure, with fabulous tannins and a long, long finish. Built out of stone. The prefect Ausone. Try after 2022.

More Info

Bordeaux
1
100 (JS)

In Bond

€5,095.00

James Suckling (100)

Incredible nose of currants and blueberries. Flowers too. Licorice. Such purity on the nose of Cabernet Franc. Full body, incredible structure, with fabulous tannins and a long, long finish. Built out of stone. The prefect Ausone. Try after 2022.

More Info

Bordeaux
1
99 (WE)

In Bond

€12,335.00

Wine Enthusiast (99)

98-100. Very concentrated and wonderfully perfumed wine. It has great balance and acidity, intense freshness. The superb fragrance of the Cabernet Franc has made a gorgeous wine, black fruited and likely to age for decades.

More Info

Bordeaux
1
99 (WE)

In Bond

€2,655.00

Wine Enthusiast (99)

98-100. Very concentrated and wonderfully perfumed wine. It has great balance and acidity, intense freshness. The superb fragrance of the Cabernet Franc has made a gorgeous wine, black fruited and likely to age for decades.

More Info

Bordeaux
2
99 (WE)

In Bond

€6,110.00

Wine Enthusiast (99)

98-100. Very concentrated and wonderfully perfumed wine. It has great balance and acidity, intense freshness. The superb fragrance of the Cabernet Franc has made a gorgeous wine, black fruited and likely to age for decades.

More Info

Bordeaux
1
95+ (WA)

In Bond

€3,175.00

Wine Advocate (95+)

Its bigger sibling, the 2011 Ausone increases the level of intensity, elegance, complexity, richness and length. Nearly a mirror image of the La Chapelle, just with more going on, the Ausone boasts a more saturated purple color, and the wine has everything in large, intense proportions. The finesse and delicacy of all its components are what make it such a remarkable wine. The quality of the tannins and purity of the fruit make this another legendary effort that should age for 30-40 years.

More Info

Bordeaux
3
93-95 (WA)

In Bond

€1,915.00

Wine Advocate (93-95)

Probably the wine of the vintage, once again. Only 9,000 bottles of the 2013 Ausone were produced, as crop size was 50% of normal. However, proprietor Alain Vauthier and his daughter certainly have proven a truly great wine can be produced in some of the most trying conditions Bordeaux wine producers have had to deal with over the last 20 years. Yields were only 22 hectoliters per hectare and the final blend was 55% Cabernet Franc and 45% Merlot. The haunting aromas of wet rocks, spring flowers, blue and black fruits and forest floor are followed by an incredibly dense, attractive wine with sweet tannin, stunning concentration and texture, medium body and a depth that is essentially unreal in a vintage such as this. The wine is a superb example of great winemaking under the most difficult circumstances. Unlike more recent Ausones, this should be reasonably drinkable in 5-6 years and yet be capable of lasting 25-30.

More Info

Bordeaux
4
93-95 (WA)

In Bond

€475.00

Wine Advocate (93-95)

Probably the wine of the vintage, once again. Only 9,000 bottles of the 2013 Ausone were produced, as crop size was 50% of normal. However, proprietor Alain Vauthier and his daughter certainly have proven a truly great wine can be produced in some of the most trying conditions Bordeaux wine producers have had to deal with over the last 20 years. Yields were only 22 hectoliters per hectare and the final blend was 55% Cabernet Franc and 45% Merlot. The haunting aromas of wet rocks, spring flowers, blue and black fruits and forest floor are followed by an incredibly dense, attractive wine with sweet tannin, stunning concentration and texture, medium body and a depth that is essentially unreal in a vintage such as this. The wine is a superb example of great winemaking under the most difficult circumstances. Unlike more recent Ausones, this should be reasonably drinkable in 5-6 years and yet be capable of lasting 25-30.

More Info