Pontet Canet 2019 (6x75cl)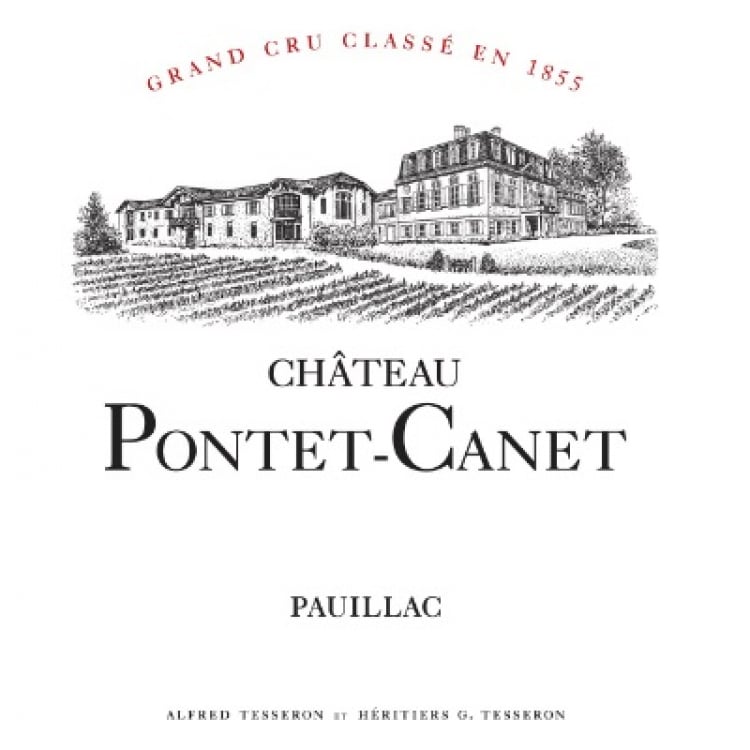 A very tight, compact red that shows wonderful precision and definition with lots of blackberries, blueberries, stones and black tea. The sorting and de-stemming was all done by hand. Love the sensibility to this. Superb length and finesse. Subtle and sophisticated. No pumping over and gentle pushing down. Handmade. Very exciting and thought-provoking. Very long. 35% in amphora and the rest in 50% new oak and 15% one-year oak. 65% cabernet sauvignon and 30% merlot, the rest cabernet franc and petit verdot. Biodynamic grapes.
Reviewer Name: James Suckling
Review Date: 28th May 2020
The blend this year is 65% Cabernet Sauvignon, 30% Merlot, 3% Cabernet Franc and 2% Petit Verdot. Very deep purple-black colored, the 2019 Pontet-Canet has the most gorgeous, lifted perfume of lilacs, dark chocolate, Morello cherries and rosehip tea over a core of crème de cassis, plum preserves, licorice and woodsmoke with a waft of fragrant soil. Full-bodied, rich and fantastically opulent, the palate offers layer upon layer of ripe, finely grained tannins and seamless freshness, finishing very long and mineral laced. A real head-turner, this beauty is absolutely going to steal your heart!
Reviewer Name: Lisa Perrotti-Brown
Review Date: 29th May 2020
Clear Pauillac character in terms of its tannic structure, overlaid with the Pontet signature of recent vintages that translates into spirals of peony and iris alongside brambled hedgerow. As it settles, coffee bean and tobacco adds a charred character alongside blackberry and cassis puree. It opens extremely slowly, with so many subtle nuances that gather in confidence. The tannins have unmistakeable Pauillac strength, but the structure and the subtlety of this wine is Pontet-Canet, with the amphoras having an influence in terms of the tannins feeling less silky than they do in many of the appellation's biggest wines, but still with swagger.

Back to a normal yield after the difficulties in 2018 with mildew that saw production drop to 12hl/ha. This is the last vintage under Jean-Michel Comme, technical director and estate manager for past 32 years. He has been replaced by Mathieu Bessonnet who has spent the last 15 years with Michel Chapoutier on his (also biodynamically farmed) estates in Australia and Alsace and who was, they tell me, selected by Comme who chose him and worked with him.

100% 1st wine, as it has been for the past four years. 55% will be aged in new oak barrel, 45% in amphoras.This is a two-point score under the 2016, because it doesn't have the concentration of that exceptional vintage, but it's an excellent Pontet, full of vigour.
Drinking Window: 2028 - 2044
Reviewer Name: Jane Anson
Review Date: 21st May 2020
A positively gorgeous, sumptuous wine, the 2019 Pontet-Canet is explosive right out of the glass. Layers of richness and pure textural intensity give the wine its statuesque build and a good deal of gravitas to match. Floral and savory accents appear later, adding layers of dimension that play off the natural radiance of the year. As always, Pontet-Canet offers a very personal, idiosyncratic expression of Pauillac.

The 2019 is 65% Cabernet Sauvignon, 30% Merlot, 3% Cabernet Franc and 2% Petit Verdot, harvested between September 23 and October 10, which is a typical time frame for the estate. Yields came in a 33 hectoliters per hectare, more or less the historical average these days. For the first time, all sorting and destemming were done by hand and the wine was vinified only with manual punchdowns (i.e. no pumpovers), without any motorized equipment. Cuvaison was around 21 days, after which the wine was taken off the skins for the malolactic fermentation (which was done in the fermentation vats), and then racked into barrels and concrete for aging – 50% new oak, 35% amphora and 15% once-used barrels. Sadly, 2019 is the last vintage at Pontet-Canet for long-time Technical Director Jean-Michel Comme, who left after 31 years to focus on his own projects. He is succeeded by Mathieu Bessonnet, formerly of Chapoutier.
Reviewer Name: Antonio Galloni
Review Date: 28th May 2020
Details

Year

2019

Colour

Red

Country

France

Region

Bordeaux

Sub Region

Pauillac

Designation

Classification

Pack Size

6x75cl

ABV

12.50°

Drinking Window

2028 - 2044

Drinking Recommendation

Not Ready

Certified Organic

Yes

Certified Biodynamic

Yes

LWIN

101430720190600750

Reviews (4)

A very tight, compact red that shows wonderful precision and definition with lots of blackberries, blueberries, stones and black tea. The sorting and de-stemming was all done by hand. Love the sensibility to this. Superb length and finesse. Subtle and sophisticated. No pumping over and gentle pushing down. Handmade. Very exciting and thought-provoking. Very long. 35% in amphora and the rest in 50% new oak and 15% one-year oak. 65% cabernet sauvignon and 30% merlot, the rest cabernet franc and petit verdot. Biodynamic grapes.

Reviewer Name: James Suckling

Review Date: 28th May 2020

The blend this year is 65% Cabernet Sauvignon, 30% Merlot, 3% Cabernet Franc and 2% Petit Verdot. Very deep purple-black colored, the 2019 Pontet-Canet has the most gorgeous, lifted perfume of lilacs, dark chocolate, Morello cherries and rosehip tea over a core of crème de cassis, plum preserves, licorice and woodsmoke with a waft of fragrant soil. Full-bodied, rich and fantastically opulent, the palate offers layer upon layer of ripe, finely grained tannins and seamless freshness, finishing very long and mineral laced. A real head-turner, this beauty is absolutely going to steal your heart!

Reviewer Name: Lisa Perrotti-Brown

Review Date: 29th May 2020

Clear Pauillac character in terms of its tannic structure, overlaid with the Pontet signature of recent vintages that translates into spirals of peony and iris alongside brambled hedgerow. As it settles, coffee bean and tobacco adds a charred character alongside blackberry and cassis puree. It opens extremely slowly, with so many subtle nuances that gather in confidence. The tannins have unmistakeable Pauillac strength, but the structure and the subtlety of this wine is Pontet-Canet, with the amphoras having an influence in terms of the tannins feeling less silky than they do in many of the appellation's biggest wines, but still with swagger.

Back to a normal yield after the difficulties in 2018 with mildew that saw production drop to 12hl/ha. This is the last vintage under Jean-Michel Comme, technical director and estate manager for past 32 years. He has been replaced by Mathieu Bessonnet who has spent the last 15 years with Michel Chapoutier on his (also biodynamically farmed) estates in Australia and Alsace and who was, they tell me, selected by Comme who chose him and worked with him.

100% 1st wine, as it has been for the past four years. 55% will be aged in new oak barrel, 45% in amphoras.This is a two-point score under the 2016, because it doesn't have the concentration of that exceptional vintage, but it's an excellent Pontet, full of vigour.

Drinking Window: 2028 - 2044

Reviewer Name: Jane Anson

Review Date: 21st May 2020

A positively gorgeous, sumptuous wine, the 2019 Pontet-Canet is explosive right out of the glass. Layers of richness and pure textural intensity give the wine its statuesque build and a good deal of gravitas to match. Floral and savory accents appear later, adding layers of dimension that play off the natural radiance of the year. As always, Pontet-Canet offers a very personal, idiosyncratic expression of Pauillac.

The 2019 is 65% Cabernet Sauvignon, 30% Merlot, 3% Cabernet Franc and 2% Petit Verdot, harvested between September 23 and October 10, which is a typical time frame for the estate. Yields came in a 33 hectoliters per hectare, more or less the historical average these days. For the first time, all sorting and destemming were done by hand and the wine was vinified only with manual punchdowns (i.e. no pumpovers), without any motorized equipment. Cuvaison was around 21 days, after which the wine was taken off the skins for the malolactic fermentation (which was done in the fermentation vats), and then racked into barrels and concrete for aging – 50% new oak, 35% amphora and 15% once-used barrels. Sadly, 2019 is the last vintage at Pontet-Canet for long-time Technical Director Jean-Michel Comme, who left after 31 years to focus on his own projects. He is succeeded by Mathieu Bessonnet, formerly of Chapoutier.

Reviewer Name: Antonio Galloni

Review Date: 28th May 2020

Producer

There's an old show business saying it takes twenty years of hard work to be an overnight success. If this is the case, in the past few stellar Bordeaux vintages, Pontet Canet has been the leading star stealing the limelight from its illustrious Pauillac neighbours, including Lafite and Mouton. Not bad for a mere cinquième (5th) cru. In reality, it has been 20 - 30 years of hard work by owner Alfred Tesseron, through implementing radical concepts such as biodynamics and even employing horses from Brittany to cultivate the precious vines. Techniques other wineries are chasing to catch up.

Vintage Comparison

Valuation Tools

Wine Rating is intended to show the quality of the wine from an investment perspective. It takes into account the prices achieved by the producer, the quality of the vintage and the critics' scores for this wine. AAA is the best rating, and B the most speculative.

Please wait a few seconds whilst we process the market data for this wine...

Calculating...

Investment Rating

Wine Rating is intended to show the quality of the wine from an investment perspective. It takes into account the prices achieved by the producer, the quality of the vintage and the critics' scores for this wine. AAA is the best rating, and B the most speculative.

Show Investment Rating Guide

Graph