Pol Roger Sir Winston Churchill 2012 (6x75cl)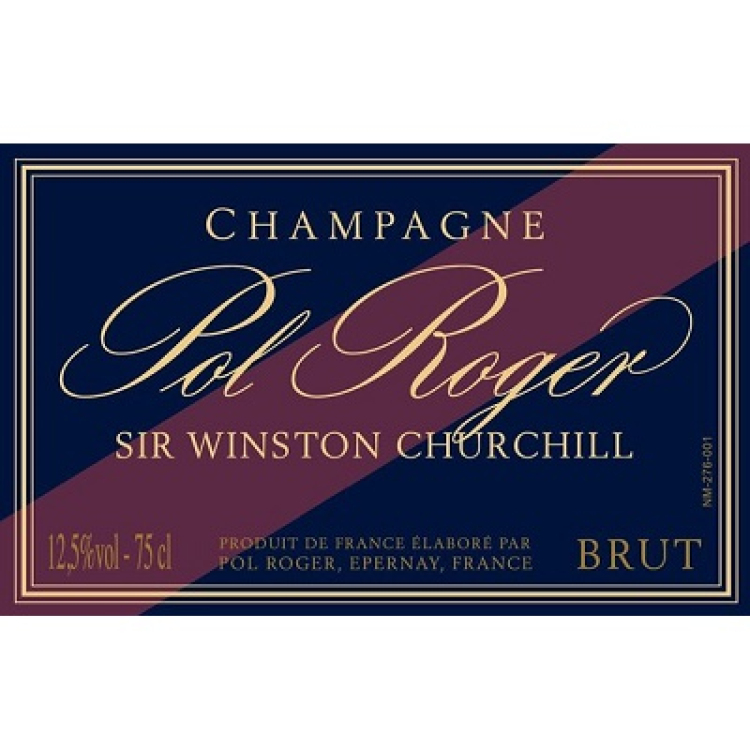 Broad and impressive nose, with a distinctive Pinot Noir character that is sofamiliar of the Cuvée. Notes of Pink Lady apples, Manuka honey and lightly toasted hazelnuts. The texture is broad, as is so often found with Churchill due to the extended time on the lees, but paired back with taut, mineral and precise acidity. The contrast between richness and acidity helps round the wine and gives immediate pleasure, but will grow in complexity over the years for those who can resist.
The great 2012 vintage shows well in this rich, full Champagne. Dominated as usual by Pinot Noir, the wine is powerfully ripe and impressively full of white fruits and tight minerality. Ready to drink from 2022, it is worthy of aging and certainly drinkable even in 10 years time.
Reviewer Name: Roger Voss
Review Date: 1st October 2021
Intense aromas of strawberry and subtle apple with pie crust and some ash and stone. An almost smoky undertone to the aromas. Full-bodied and very layered with ultra fine tannins that give it a rough-cut, velvety texture. It's very flavorful, yet so checked and reserved at the same time. Compact, tight palate that is deep and powerful. Very vinous at the end and in the mouth feel. Spicy and biscuity at the finish. Mostly pinot noir with chardonnay and only grand cru. More density and complexity than the 2008. Seven years on the lees. Delicious and luxurious to drink now, but giving this some age will make it even better.
Reviewer Name: James Suckling
Review Date: 6th April 2021
Sleek, with racy acidity, this tightly-meshed version nonetheless offers a lovely range of flavors, with ripe black cherry and currant fruit and accents of pomegranate, candied kumquat and raw almond. Finely detailed, creamily swaths the palate in silk-like texture, carrying the expanding flavor profile through to a graphite- and spice-laced, lasting finish. Drink now through 2032.
Drinking Window: 2021 - 2032
Reviewer Name: Alison Napjus
Review Date: 30th June 2021
Pol Roger's newly released 2012 Cuvée Sir Winston Churchill is showing brilliantly, bursting from the glass with youthful aromas of honeyed pears, toasted brioche, pomelo, fresh pastry, green apple and mandarin orange, with hints of stone fruit emerging with time in the glass. Full-bodied, vinous and textural, with an enveloping core of fleshy, concentrated fruit, bright acids and an elegant pinpoint mousse, it concludes with a long, penetrating finish. More muscular and vibrant than the generous and charming 2009, the 2012 ranks alongside the 2008 and 2002 as one of the three finest renditions of Sir Winston Churchill this millennium—and in style it resembles a hypothetical blend of those two vintages.


Drinking Window: 2022 - 2045
Reviewer Name: William Kelley
Review Date: 11th March 2021
Admirably modest bottle weight and packaging for a de luxe champagne. Bravo, Pol Roger! (It might not win a prize for the design but it's not an extra burden on the planet.) All grand cru fruit and, most unusually, all hand-riddled. 'The must undergoes two débourbages (settlings), one at the press house immediately after pressing and the second, a débourbage à froid, in stainless steel tanks at 6 °C over a 24-hour period. A slow, cool fermentation with the temperature kept under 18 °C takes place in stainless steel with each variety and each village kept separate. The wine undergoes a full malolactic fermentation prior to final blending. Secondary fermentation takes place in bottle at 9 °C in the deepest Pol Roger cellars (33 metres below street level) where the wine is kept until it undergoes remuage (riddling) by hand, a rarity in Champagne.'
Rather open on the nose – a surprise! Looser textured than some and still decidedly embryonic. It does open out rather remarkably on the finish, suggesting that it is very much a long-distance runner. I think I would wait until at least 2022 to take full advantage of that interplay of flavours underneath, where it is positively throbbing!
Drinking Window: 2022 - 2032
Review Date: 18th March 2021
Details

Year

2012

Colour

White

Country

France

Region

Champagne

Sub Region

NA

Designation

Classification

Pack Size

6x75cl

ABV

12.50°

Drinking Window

2022 - 2045

Drinking Recommendation

Not Ready

LWIN

108286120120600750

Reviews (5)

The great 2012 vintage shows well in this rich, full Champagne. Dominated as usual by Pinot Noir, the wine is powerfully ripe and impressively full of white fruits and tight minerality. Ready to drink from 2022, it is worthy of aging and certainly drinkable even in 10 years time.

Reviewer Name: Roger Voss

Review Date: 1st October 2021

Intense aromas of strawberry and subtle apple with pie crust and some ash and stone. An almost smoky undertone to the aromas. Full-bodied and very layered with ultra fine tannins that give it a rough-cut, velvety texture. It's very flavorful, yet so checked and reserved at the same time. Compact, tight palate that is deep and powerful. Very vinous at the end and in the mouth feel. Spicy and biscuity at the finish. Mostly pinot noir with chardonnay and only grand cru. More density and complexity than the 2008. Seven years on the lees. Delicious and luxurious to drink now, but giving this some age will make it even better.

Reviewer Name: James Suckling

Review Date: 6th April 2021

Sleek, with racy acidity, this tightly-meshed version nonetheless offers a lovely range of flavors, with ripe black cherry and currant fruit and accents of pomegranate, candied kumquat and raw almond. Finely detailed, creamily swaths the palate in silk-like texture, carrying the expanding flavor profile through to a graphite- and spice-laced, lasting finish. Drink now through 2032.

Drinking Window: 2021 - 2032

Reviewer Name: Alison Napjus

Review Date: 30th June 2021

Pol Roger's newly released 2012 Cuvée Sir Winston Churchill is showing brilliantly, bursting from the glass with youthful aromas of honeyed pears, toasted brioche, pomelo, fresh pastry, green apple and mandarin orange, with hints of stone fruit emerging with time in the glass. Full-bodied, vinous and textural, with an enveloping core of fleshy, concentrated fruit, bright acids and an elegant pinpoint mousse, it concludes with a long, penetrating finish. More muscular and vibrant than the generous and charming 2009, the 2012 ranks alongside the 2008 and 2002 as one of the three finest renditions of Sir Winston Churchill this millennium—and in style it resembles a hypothetical blend of those two vintages.



Drinking Window: 2022 - 2045

Reviewer Name: William Kelley

Review Date: 11th March 2021

Admirably modest bottle weight and packaging for a de luxe champagne. Bravo, Pol Roger! (It might not win a prize for the design but it's not an extra burden on the planet.) All grand cru fruit and, most unusually, all hand-riddled. 'The must undergoes two débourbages (settlings), one at the press house immediately after pressing and the second, a débourbage à froid, in stainless steel tanks at 6 °C over a 24-hour period. A slow, cool fermentation with the temperature kept under 18 °C takes place in stainless steel with each variety and each village kept separate. The wine undergoes a full malolactic fermentation prior to final blending. Secondary fermentation takes place in bottle at 9 °C in the deepest Pol Roger cellars (33 metres below street level) where the wine is kept until it undergoes remuage (riddling) by hand, a rarity in Champagne.'
Rather open on the nose – a surprise! Looser textured than some and still decidedly embryonic. It does open out rather remarkably on the finish, suggesting that it is very much a long-distance runner. I think I would wait until at least 2022 to take full advantage of that interplay of flavours underneath, where it is positively throbbing!

Drinking Window: 2022 - 2032

Review Date: 18th March 2021

Producer

About Champagne Pol Roger

The son of a lawyer, Pol Roger began his vinous life as a merchant and importer. Founding his own champagne house in 1849, simply naming it "Roger", the now legendary Maison began by making champagnes for other houses. As the business grew, his sons Maurice and Georges renamed the business "Pol Roger" to honour their father.

Viniculture

The prestige cuvée of the historic and prestigious Pol Roger was named in recognition of Sir Winston Churchill's devotion to their Champagne. Allegedly, he imbibed over 42,000 bottles during his lifetime - the reward for such an achievement (amongst others no doubt!) is, apparently, having one of the leading prestige cuvées in the entire region bear your name! The production of cuvée Sir Winston Churchill is much smaller than many of the other prestige Champagnes (just 20% the volume of Dom Pérignon). Because of this lower production level, mature vintages of Sir Winston Churchill are much rarer on the secondary market and carry a substantial premium.

Astonishingly, the level of Sir Winston Churchill produced is less than 1/5th of that of Dom Perignon. Thanks to that most lethal combination of excellence, fame and dramatically limited availability, mature vintages of Sir Winston Churchill are fleetingly rare on the secondary market, carrying very substantial premiums.

Vintage Comparison

Valuation Tools

Wine Rating is intended to show the quality of the wine from an investment perspective. It takes into account the prices achieved by the producer, the quality of the vintage and the critics' scores for this wine. AAA is the best rating, and B the most speculative.

Please wait a few seconds whilst we process the market data for this wine...

Calculating...

Investment Rating

Wine Rating is intended to show the quality of the wine from an investment perspective. It takes into account the prices achieved by the producer, the quality of the vintage and the critics' scores for this wine. AAA is the best rating, and B the most speculative.

Show Investment Rating Guide

Graph