Leoville Barton 2019 (12x75cl)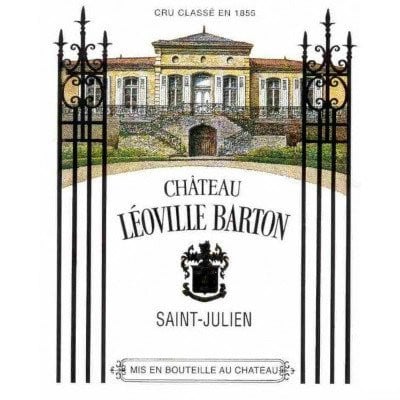 The vivid purple, almost blue-hued 2019 Château Léoville Barton is a Cabernet Sauvignon-dominated wine that includes 16% Merlot. It will spend 18 months in a mix of new and used barrels. Classic Barton notes of cassis, scorched earth, burning embers, new leather, and violets emerge from the glass, and this beauty is full-bodied, massively concentrated, and structured on the palate, yet it has a beautiful elegance as well as a plushness in its texture. Nevertheless, it's not for those seeking instant gratification and is going to need 10-15 years of bottle age to hit maturity. It reminds me of the 1990 and is a great, great wine in the making. If you love Léoville Barton, don't miss this wine!
Reviewer Name: Jeb Dunnuck
Review Date: 30th June 2020
A pure, focused red with blackberries and blackcurrants. Very floral, too. Medium-to full-bodied, tight and fine-tannined. Pretty clarity and balance to this. Less muscular than the 2018, but very attractive all the same.
Reviewer Name: James Suckling
Review Date: 3rd June 2020
Medium to full intensity in colour, this is glass-staining ruby and yet another hit from an estate that is making seriously great wine right now. Mint and eucalyptus are clear, tension and grip held through the palate. This has shoulders and swagger to the tannins, pure cassis hit of fruit and some lovely black chocolate and slate overtones along the way. Strays almost to Pauillac in terms of the weight of the tannins, but it's brilliant.
Drinking Window: 2029 - 2045
Reviewer Name: Jane Anson
Review Date: 14th May 2020
The 2019 Léoville Barton is a different kettle of fish compared to its sibling Langoa. It has a complex bouquet of blackberry, sous-bois, tobacco and minerals, much more introverted yet exceedingly complex. The palate is exquisite in terms of balance, laden with intense black fruit laced with orange zest, that citrus element counterbalancing the tannic grip and structure. There is a sense of completeness to this Léoville-Barton, certainly on par with the best vintages in recent years. A formidable yet charming Saint-Julien in the making.
Drinking Window: 2026 - 2065
Reviewer Name: Neal Martin
Details

Year

2019

Colour

Red

Country

France

Region

Bordeaux

Sub Region

Saint-Julien

Designation

Pack Size

12x75cl

ABV

13.00°

Drinking Window

2029 - 2065

Drinking Recommendation

Not Ready

LWIN

101236120191200750

Reviews (4)

The vivid purple, almost blue-hued 2019 Château Léoville Barton is a Cabernet Sauvignon-dominated wine that includes 16% Merlot. It will spend 18 months in a mix of new and used barrels. Classic Barton notes of cassis, scorched earth, burning embers, new leather, and violets emerge from the glass, and this beauty is full-bodied, massively concentrated, and structured on the palate, yet it has a beautiful elegance as well as a plushness in its texture. Nevertheless, it's not for those seeking instant gratification and is going to need 10-15 years of bottle age to hit maturity. It reminds me of the 1990 and is a great, great wine in the making. If you love Léoville Barton, don't miss this wine!

Reviewer Name: Jeb Dunnuck

Review Date: 30th June 2020

A pure, focused red with blackberries and blackcurrants. Very floral, too. Medium-to full-bodied, tight and fine-tannined. Pretty clarity and balance to this. Less muscular than the 2018, but very attractive all the same.

Reviewer Name: James Suckling

Review Date: 3rd June 2020

Medium to full intensity in colour, this is glass-staining ruby and yet another hit from an estate that is making seriously great wine right now. Mint and eucalyptus are clear, tension and grip held through the palate. This has shoulders and swagger to the tannins, pure cassis hit of fruit and some lovely black chocolate and slate overtones along the way. Strays almost to Pauillac in terms of the weight of the tannins, but it's brilliant.

Drinking Window: 2029 - 2045

Reviewer Name: Jane Anson

Review Date: 14th May 2020

The 2019 Léoville Barton is a different kettle of fish compared to its sibling Langoa. It has a complex bouquet of blackberry, sous-bois, tobacco and minerals, much more introverted yet exceedingly complex. The palate is exquisite in terms of balance, laden with intense black fruit laced with orange zest, that citrus element counterbalancing the tannic grip and structure. There is a sense of completeness to this Léoville-Barton, certainly on par with the best vintages in recent years. A formidable yet charming Saint-Julien in the making.

Drinking Window: 2026 - 2065

Reviewer Name: Neal Martin

Producer

Château Léoville Barton is a Saint-Julien estate, one of just fifteen Deuxièmes Crus (Second Growths) in the original 1855 Classification. Along with Château Léoville-Las Cases and Château Léoville-Poyferré, Léoville Barton was once part of the vast Léoville estate. The estate we now know at Léoville Barton was purchased by Hugh Barton in 1826. It is still owned by the Barton family, who were originally of Irish descent. The current owner Anthony Barton began running the estate in 1983, along with its sister property Château Langoa Barton. Many people don't know that Léoville Barton actually doesn't have its own château, and the beautiful façade depicted on its label is is actually that of Château Langoa Barton! Léoville Barton's 116 acres (47 ha) of vineyards are located in the central part of the appellation along the Gironde river. The soil composition is mostly gravel with a subsoil of clay. The plantings are 72% Cabernet Sauvignon, 20% Merlot, and 8% Cabernet Franc.

Value Comparison