Latour 2010 (3x75cl)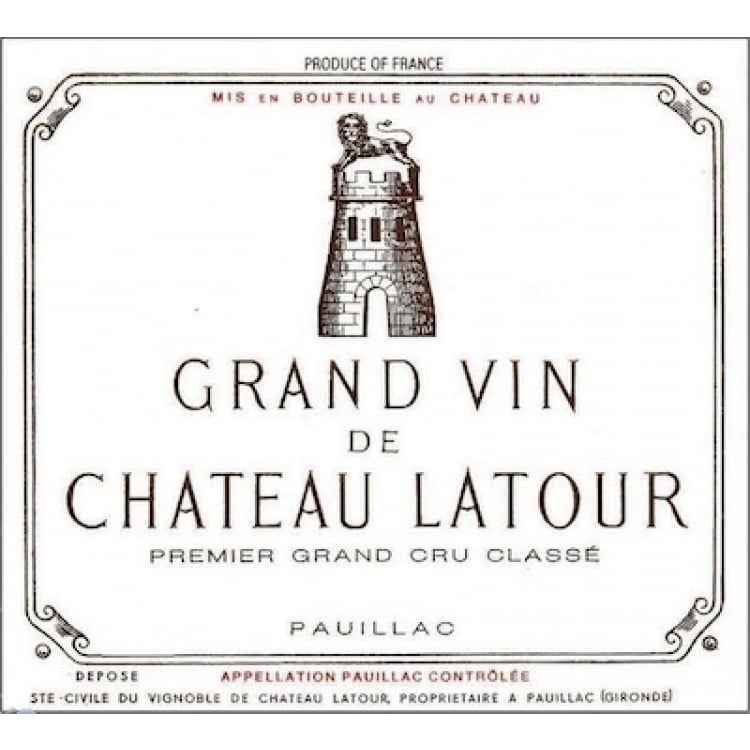 The 2010 Latour can be summed up in two words: "The king." It convincingly asserts its superiority over other 2010s, including First Growths, in terms of its aromatic complexity, precision, balance, intensity, complexity and persistence. Simply a faultless Latour that ranks among its greatest achievements. Tasted from an ex-château bottle at the BI Wines & Spirits 10-Year On tasting.
Drinking Window: 2028 - 2070
Reviewer Name: Neal Martin
Review Date: 1st April 2020
The 2010 Latour is deep garnet in color, and—WOW—it erupts from the glass with powerful crème de cassis, Black Forest cake and blackberry pie scents plus intense sparks of dried roses, cigar boxes, fragrant earth and smoked meats with aniseed and crushed rocks wafts. Full-bodied, concentrated and oh-so-decadent in the mouth, it has a firm, grainy texture and lovely freshness carrying the rich, opulent fruit to an epically long finish. It is incredibly tempting to drink now, but I suspect this hedonic experience isn't a scratch on the mind-blowing, otherworldly secrets this time capsule will have to reveal given another 7-10 years in bottle and continuing over the following fifty years++.
Drinking Window: 2024 - 2080
Reviewer Name: Lisa Perrotti-Brown
Review Date: 5th March 2020
I get the same peony and violet aromatics here as I did in Forts de Latour. This is powerful, muscular, not even getting close to being ready. The tannins crowd in from the mid palate onwards, extremely physical in the way they make their presence felt. Behind them, if you give the wine enough time in the glass, it gives black pepper spice, pencil lead, slate and compressed earth, along with cassis, bilberry and all the tight compact dark-berried fruits you can think of. Don't even consider this for another five years at least. This is a monumental Latour and a flashing signpost for how good this vintage is in Pauillac.
Drinking Window: 2025 - 2050
Reviewer Name: Jane Anson
Review Date: 30th January 2020
The aromas of flowers such as roses, violets and lilacs jump from the glass then turn to dark berries such as blueberries and blackberries. It's full-bodied, with velvety tannins and dense and intense with a chocolate, berry and currant character. This is juicy and rich with wood still showing a bit, but it's all coming together wonderfully. Muscular yet toned. Another perfect wine like the 2010. Try in 2022.
Reviewer Name: James Suckling
Review Date: 23rd February 2013
Stern, almost severe initially, this great wine takes time to show its immense fruit power. Black currant and blackberry notes are packed into the wine, along with an impressive array of spices from new wood that gives a more exotic element. At the end, though, it has a fine, structured sense of proportion. Obviously for aging over decades, so don't drink before 2022.
Reviewer Name: Roger Voss
Review Date: 1st May 2013
Unbelievably pure, with distilled cassis and plum fruit that cuts a very precise path, while embers of anise, violet and black cherry confiture form a gorgeous backdrop. A bedrock of graphite structure should help this outlive other 2010s. Powerful, sleek and incredibly long. Not perfect, but very close. Best from 2020 through 2050.
Drinking Window: 2024 - 2039
Reviewer Name: James Molesworth
Review Date: 31st March 2013
98
Jane Anson Inside Bordeaux
Spiced damson clear from the first moment, stroked satin in texture, loading up on cassis and bilberry fruits. The smoky, spicy side comes out after 15 to 20 minutes in the glass, along with smoked earth and turmeric. Huge amounts of crayon and pencil lead follow, this has less floral nuance than comparable vintages such as Latour 2016, which comes after full conversion to organic and biodynamic farming. What you get instead is utterly classic old school Latour from top to bottom, every inch powerful, muscular, stately. 2010 was a hydric stress year, with very little rain, in comparison to 2009 where the stress came from heat, and it is developing exactly as promised, which means slowly but surely, with the tannic architecture still brooding at 12 years old. At the very beginning of its drinking window, and on this showing just a nudge below the 2009 Latour, which I tasted in the same week. 36% of overall production.


Drinking Window: 2024 - 2045
Reviewer Name: Jane Anson
Review Date: 2nd July 2022
96-99
Vinous - Ian D'Agata
(blend of 90.5% cabernet sauvignon, 8.5% merlot, and 0.5% each cabernet franc and petit verdot; 83 IPT; 36% selection for the grand vin) Deep, opaque, glass-staining ruby-purple. Intensely pure, classic Bordeaux cabernet sauvignon aromas of fresh blackcurrant, minerals, cedar and truffle, with sweeter blueberry and intense floral notes emerging with air. The palate offers great depth of flavor, but the wine is currently hard as nails and lacking in generosity. Still, there's great depth of pristine dark fruit lurking beneath the heavy cloak of smooth, high-quality tannins. Amazingly balanced and extremely long, but this Latour will need a good two decades to approach optimal maturity, and may be better suited for your grandchildren. A winemaking tour de force, this may very well be the wine of the vintage.
Reviewer Name: Ian d'Agata
Review Date: 1st May 2011
96+
Vinous - Stephen Tanzer
Dark ruby-red. Brooding nose hints at plum, cassis, brown spices and cedary oak. Sweet, fresh and highly concentrated, with brisk, intense cabernet sauvignon-dominated flavors of blackcurrant, blackberry, cedar and cocoa powder. Vibrant acidity gives this wine terrific lift and energy, but it's currently hard as nails. Finishes impressively long, with noble tannins and palate-staining concentration; nutmeg and licorice nuances emerge slowly with aeration. A knockout, but forget about it in your cellar for another 15 years. While I think the 2009 Latour has a magic spicy charm, the 2010 is more in keeping with this great estate's DNA.
Reviewer Name: Stephen Tanzer
Review Date: 1st July 2013
Year

2010

Colour

Red

Country

France

Region

Bordeaux

Sub Region

Pauillac

Designation

Classification

Pack Size

3x75cl

ABV

14°

Drinking Window

2028 - 2080

Drinking Recommendation

Not Ready

LWIN

101231620100300750
About Château Latour

Latour has, in many ways, always been the most forward-thinking and disruptive First Growth, ever since its original rise to prominence under the Ségur family in the 18th century. Its decision not to participate in En Primeur had a rippling effect throughout the fine wine world, and whilst it has not precipitated a broader move away from the system by other estates, the vast majority of Bordelais properties have certainly reduced the amount of their wine offered in this way choosing to hold back stock to be released upon maturity. A sign of Latour's influence upon the entire region.

The Vineyard and the Wine

There is an ancient Médoc saying - to make great wine, you must be able to see the water. No other First Growth is closer to the Gironde's estuary than this imposing estate, contributing to simply extraordinary terroir which means that Latour has an enviable (and uncanny) ability to produce outstanding wine in difficult years. In favourable years, the vineyard soaks up extra heat reflected from the water's surface. In unpleasant years, the property is protected from extremes by the moderating effect of the estuary's regulatory benefits.


This dream terroir allows the winemaking team to focus on a variety of aspects of viticulture safe in the knowledge that nature will see them through the worst - and focus they have! Ever the pioneers, Latour was one of the first châteaux to introduce cutting-edge processes such as satellite imaging of distinct plots, sensors assessing vine vigour and even wind-direction monitoring before the application of fully biodynamic treatments.

Château Latour has a distinctly high proportion of clay in the soil throughout its vineyard. Whilst unusual for Pauillac, it is, in fact, the very same clay upon which the vines of Château Pétrus are planted in Pomerol. Obviously found in far smaller quantities and dominated by glorious Left Bank gravel, the result of this composition is a wine of unfathomable texture, richness, concentration and spine-tingling freshness - for which Latour garnered the epithet "an iron fist in a velvet glove".



Wine Rating is intended to show the quality of the wine from an investment perspective. It takes into account the prices achieved by the producer, the quality of the vintage and the critics' scores for this wine. AAA is the best rating, and B the most speculative.

Please wait a few seconds whilst we process the market data for this wine...

Calculating...

Investment Rating

Wine Rating is intended to show the quality of the wine from an investment perspective. It takes into account the prices achieved by the producer, the quality of the vintage and the critics' scores for this wine. AAA is the best rating, and B the most speculative.

Show Investment Rating Guide
A free Cru storage account at all of our warehouse facilities is automatically created for you on your first purchase with Cru and your stock will be instantly allocated to this personal account. Whilst in Cru's care, this account is in your name and the contents will 100% belong to you, no matter what.

When storing with Cru you can choose to keep the stock in its current location or transfer it to another one of our 5 global storage locations.

Keeping stock in its current Cru storage facility is the safest, cheapest and most environmentally friendly option. It is also the best option if you're buying for investment purposes and intend on selling/trading your stock later.

To keep your stock in its current storage location, please select:

30 Days Free storage

is offered on all purchases from the point when the item has landed in your account. Full replacement insurance is also included in this period, as well as, when the stock is in transit to us.

Thereafter, our competitive storage (inc. replacement value insurance) rates are as follows:

If you choose to keep the stock where it is now, it will still be possible to transfer to another location or organise home delivery once it has landed in your Cru storage account. This can be paid and organised through your online Cru account later.
When ordering it is possible to either keep your stock in its current location (see Storage tab) or transfer it to your personal Cru storage account at another warehouse facility within the Cru network for further cellaring or to organise local home delivery at a later date.

To order this item and transfer it to another Cru storage facility, please select:

As always,

30 Days Free storage

is offered on all purchases from the point when the item has landed in your desired location - see 'Storage' for more details.

Once the item has landed into your desired Cru storage account you will be notified and you will then be able to organise a local home delivery or transfer to another storage provider.

For faster transfer to our facilities in Hong Kong SAR China or Singapore then Air Freight can be paid for and organised through your online Cru account. See 'Delivery' tab for more details.
Home delivery can only be organised once your stock has arrived at a local Cru storage facility. For example, if you are based in Singapore, the stock will need to be transferred to Cru's Singapore storage facility before you can arrange and pay for delivery and taxes.

If the stock status is:

In Stock

- you will be able to organise delivery (or transfer) immediately after placing your order by going to "Deliveries" in your online Cru account.

Due in

- place your order immediately, so not to miss out, and you will be notified by email when the stock has landed so you can organise and pay for delivery and taxes.

Timings are estimated on our best available ETAs but are subject to change depending on global and local logistics delays.

If you select the following option, the stock will automatically be transferred to your local Cru storage facility:

Once stock has been transferred to United Kingdom, estimated home delivery cost €19.20 including tax.

Home delivery is Free for orders over

- mainland UK, EU, SG and HK only - for US and other locations please contact us before making your purchase.

For faster delivery to our facilities in Hong Kong SAR China or Singapore then Air Freight can be paid for and organised through your online Cru account.

To do this, please select "

Keep stock in its current location

" when you place your order. You will then be able to organise and pay for this service once the stock has landed in your Cru account. Making this selection will not delay the transfer further.
This item is
currently ONLY available on On Allocation,
please enter a quantity and your maximum price to submit your Allocation request.