Lafite Rothschild 2018 (6x75cl)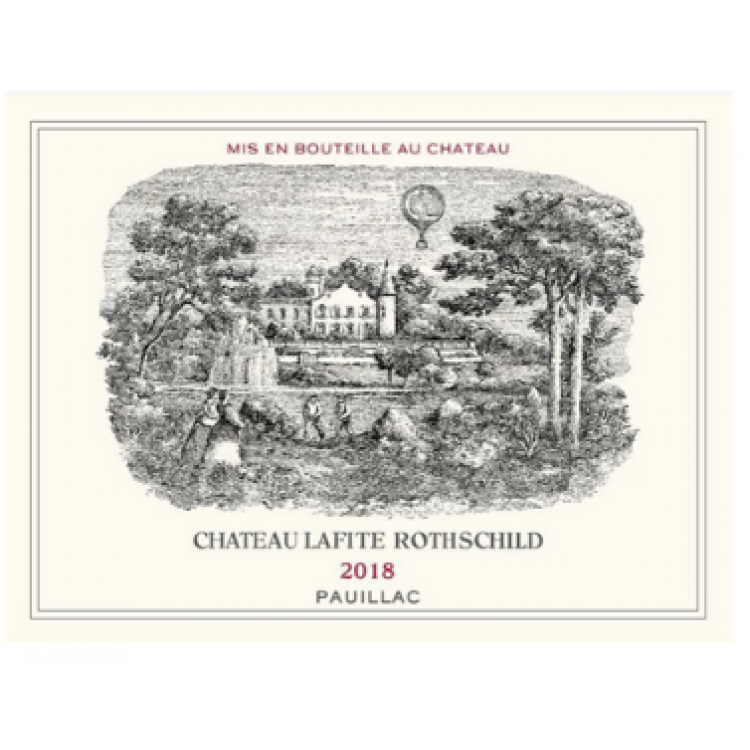 Only available VAT & Duty Paid
Very intense on the nose with dense flowers, black fruit with a cerebral approach. A monolithic effort that had a magical sense of energy and refinement. There is evident pedigree and classicism here that serves to define the potential of Pauillac, 2018 and Bordeaux as a whole. Some pure fresh cherry and a bit of flowers. Some delicate spiciness and soft red fruit. The palate has nice lightness and texture. Better than last year by a wide margin with decent concentration, firm structure and elegant freshness.
The 2018 Lafite Rothschild is blended of 91% Cabernet Sauvignon, 8.5% Merlot and 0.5% Petit Verdot and has 13.3% alcohol. The Merlot was harvested September 17-24, the Cabernet Sauvignon was harvested September 25 to October 5, and the Cabernet Franc was harvested on September 24. It has a deep purple-black color and then WOW—what a nose. It comes sashaying out of the glass with bags of grace and perfume, revealing notions of lilacs, red roses, fragrant soil, cinnamon stick and Morello cherries with a core of blackcurrant cordial, fresh black plums, redcurrant jelly and tapenade plus a waft of iron ore. Medium-bodied, the palate has wonderful, tightly wound layers of black, red and blue fruits intermingled with floral, earth and mineral notions and a rock-solid frame of the most finely pixelated tannins you can possibly imagine. Anyone who wants to see what I mean when I babble about the Lafite tannins needs to try this benchmark. The finish goes on, and on, and on. If this wine doesn't get Bordeaux lovers hearts' racing, nothing will.
Reviewer Name: Lisa Perrotti-Brown
Review Date: 23rd April 2019
This is silky and delicious and juicy, not something you can often say about a Lafite En Primeur sample but before you even get close to tasting the wine you can feel the layers building. It has the precision, the freshness and the sense of effortless elegance that Lafite always conveys with lots of power and depth, deep black fruits on the nose and a mix of spices from rosemary to saffron on the palate. Is it better than the 2016? It's hard to say at this stage but it certainly feels its equal, although differently constructed and unlikely to take as long to come around - think 10 rather than 14 years before reaching its drinking window. It's worth adding that very few wines have been so unmarked by the extremes of the vintage, or as technical director Eric Kohler puts it; 'Even after 25 years of working at Lafite I continue to be full of admiration for this terroir. Other plots that we own reacted to the heat at times, but Lafite just kept sailing on as usual'. The harvest took place between 17 September and 5 October, with a yield of 40hl/ha. 40% of the production went into the grand vin. 3.75pH which is classic for them. 74IPT.
Drinking Window: 2028 - 2050
Reviewer Name: Jane Anson
Review Date: 11th April 2019
Wow. The aromas are so intense and refined at the same time, offering gorgeous blackcurrant, lead-pencil and orchid character. Such purity of fruit. Sleek and finely polished with a fine cut to the tannins that provide such grace and glamor. Yet, it's got the power and structure to age for decades. On and on. Try after 2029.
Review Date: 4th March 2021
Checking in as a blend of 91% Cabernet Sauvignon, 8.5% Merlot, and the balance Petit Verdot, the 2018 Château Lafite-Rothschild is one of those magical Lafites that offers an already up-front, complex, nuanced style yet has the class and balance to evolve for 40-50 years. As always, this wine is never about sheer power, and the 2018 offers a full-bodied, incredibly elegant and weightless style that carries textbook blackcurrant fruits, lead pencil shavings, green tobacco, cedarwood, and camphor aromas and flavors. I compared this wine to a more elegant version of the 2016 from barrel and I think that comparison still holds. Incredibly up-front and charming, and already drinkable with sweet tannins, it will unquestionably pick up more complexity and nuance over the coming 4-6 years. It should hit maturity around age 10 and evolve for 75 years or more given its perfect balance. This is a beautiful, quintessential Lafite that exudes elegance and charm.
Drinking Window: 2027 - 2102
Review Date: 11th March 2021
The 2018 Lafite-Rothschild comes in an embossed bottle to celebrate 150 years of ownership by the de Rothschild family. Typical of this First Growth, there is nothing gaudy or showy on the nose; instead, sensual, almost placid aromas of tobacco and pencil-shaving-tinged black fruit unfold gently in the glass. Less extroverted than the 2018 Mouton, this is sophisticated and cerebral. As I found before, it only gains vigor after 60 minutes. The palate is beautifully balanced with finely chiseled tannins, pure black fruit and those traits of cracked black pepper and sage extant. I once thought it might challenge the 2016 with bottle age, and though I feel that the 2018 is not quite at that level, it is certainly a wine befitting the anniversary. Lafite-Rothschild, masterfully proving how less is more.
Drinking Window: 2025 - 2060
Reviewer Name: Neal Martin
Review Date: 1st March 2021
Year

2018

Colour

Red

Country

France

Region

Bordeaux

Sub Region

Pauillac

Designation

Classification

Pack Size

6x75cl

ABV

13.50°

Drinking Window

2028 - 2102

Drinking Recommendation

Not Ready

LWIN

101187220180600750
About Château Lafite Rothschild

Château Lafite-Rothschild is one of the most collectable wines in the world. Purchased in 1868 it has remained continuously in the Rothschild family. Less powerful than Latour and more classical than Mouton, the hallmarks of this wine of wines is a taut, lithe, willowy muscularity, enveloped by transcendent just-ripe black fruit with the perfect sweetness of blackcurrant, black cherry and plum. The scent of Lafite often beguiles its fortunate drinkers and the mythical, irresistible perfume of wonderful cedar, so fresh and elegant, must be experienced to be believed.

Part of Lafite's centuries-long success lies in its situation on some of the most gravel-dominant terroir in the Médoc. Up to ten metres deep with the stuff in some places, there are a few pockets of aeolian black sand and bedrock of limestone to complete the soils. Naturally conducive to the production of the most unbelievable Cabernet Sauvignon, the Grand Vin of Château Lafite Rothschild is frequently composed of up to 90% of the varietal. Couple this with the outstandingly talented team, headed for 40 years by the imperious Charles Chevallier (until 2018), and we have an estate whose strength lies in its being "a spectrum of flavours rather than a strong expression of any particular one" in the words of Chevallier's replacement, Eric Kohler.

The 1996 vintage onwards heralded some of the best wines in their history; 2003 and 2009 are notably outstanding. Elegant, fresh, with great fruit purity and remarkable ageing potential. The second wine, Carruades de Lafite, has also been intensely collected over the past decade.



Lafite Rothschild - Offers on Cru
Wine Rating is intended to show the quality of the wine from an investment perspective. It takes into account the prices achieved by the producer, the quality of the vintage and the critics' scores for this wine. AAA is the best rating, and B the most speculative.

Please wait a few seconds whilst we process the market data for this wine...

Calculating...

Investment Rating

Wine Rating is intended to show the quality of the wine from an investment perspective. It takes into account the prices achieved by the producer, the quality of the vintage and the critics' scores for this wine. AAA is the best rating, and B the most speculative.

Show Investment Rating Guide
This item is
currently ONLY available on On Allocation,
please enter a quantity and your maximum price to submit your Allocation request.