La Conseillante 2019 (6x75cl)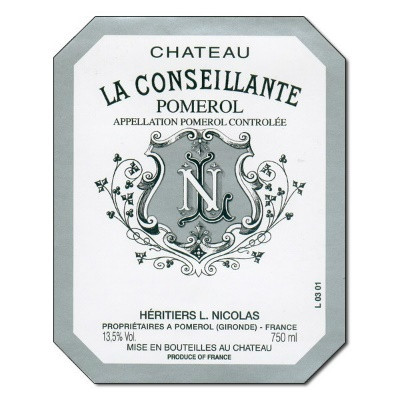 A very fine, ethereal wine, offering blueberries, white truffles and violets. Full body and a wonderful texture with tannins that spread across the palate, caressing the mouth. Really polished to the finest grain. Extremely long. Shows strength with finesse.
Reviewer Name: James Suckling
Review Date: 8th June 2020
The 2019 La Conseillante was picked 17-20 September for the Merlot and 30 September and 7 October for the Cabernet Franc. Yields were low at just 34hl/ha. The Grand Vin is aged in 70% new French oak, 27% one-year old barrels and 3% in clay amphora. Limpid purple in colour, this has an exquisite bouquet with pixelated blackberry and raspberry scents, laced with pressed iris and a touch of graphite. It reminds me of a less powerful version of the 2010 when I tasted that from barrel. The palate is very smooth with ebullient red and black fruit on the entry, then it tapers in a little, towards a very cohesive, satin-textured middle. This is definitely one of the purest La Conseillante wines that I have encountered from barrel. It delivers a subtle spiciness towards the finish with hints of tobacco and clove on the persistent aftertaste. Winemaker Marielle Cazaux and her team have conjured a magnificent Pomerol here.
Drinking Window: 2026 - 2060
Reviewer Name: Neal Martin
Review Date: 15th June 2020
Deeply coloured, high aromatics with iris and violets, extremely focused with savoury fruits - a character that I have found in the Cabernet Francs in this vintage. It has an excellent grip that takes hold from the first moment and carries you through building tannins. A lovely tactile wine and an austere finish, signs that this will age for decades. The chocolate of Pomerol comes in on the end, but you have to wait for it, the beginning is savoury blueberry and raspberry fruit. Harvest September 17 to 21, taking in all the Merlot in four days, quite unusual but they knew rain was coming and wanted it to be in; they pick only in the morning to keep freshness, then Cabernet Franc September 30 and again one day October 7 (the drought slowed ripening more of the Cab Franc). A yield of 34hl/ha.
Drinking Window: 2027 - 2043
Reviewer Name: Jane Anson
Review Date: 2nd June 2020
The 2019 La Conseillante is a blend of 84% Merlot and 16% Cabernet Franc, harvested from the 17th of September to the 7th of October at yields of 34 hectoliters per hectare. It is being aged in 70% new French oak barrels, 27% second fill barrels and 3% amphora. The alcohol this year is 14.5% with a pH of 3.67. Very deep purple-black colored, it comes bounding out of the glass with all the energy of a new puppy, featuring notes of warm plums, wild blueberries and freshly crushed black cherries with hints of licorice, molten chocolate, violets, woodsmoke and tar plus a waft of lavender. Medium to full-bodied, the palate is laden with layer upon layer of black and blue fruits with loads of floral sparks and a very fine-grained, silt-like texture, finishing with incredible freshness and a provocative mineral edge. La Conseillante's signature perfume, purity and restrained power shine through with amazing clarity and style this vintage.
Reviewer Name: Lisa Perrotti-Brown
Review Date: 16th June 2020
Details

Year

2019

Colour

Red

Country

France

Region

Bordeaux

Sub Region

Pomerol

Designation

Pack Size

6x75cl

ABV

14.00°

Drinking Window

2027 - 2060

Drinking Recommendation

Not Ready

LWIN

100874620190600750

Reviews (4)

A very fine, ethereal wine, offering blueberries, white truffles and violets. Full body and a wonderful texture with tannins that spread across the palate, caressing the mouth. Really polished to the finest grain. Extremely long. Shows strength with finesse.

Reviewer Name: James Suckling

Review Date: 8th June 2020

The 2019 La Conseillante was picked 17-20 September for the Merlot and 30 September and 7 October for the Cabernet Franc. Yields were low at just 34hl/ha. The Grand Vin is aged in 70% new French oak, 27% one-year old barrels and 3% in clay amphora. Limpid purple in colour, this has an exquisite bouquet with pixelated blackberry and raspberry scents, laced with pressed iris and a touch of graphite. It reminds me of a less powerful version of the 2010 when I tasted that from barrel. The palate is very smooth with ebullient red and black fruit on the entry, then it tapers in a little, towards a very cohesive, satin-textured middle. This is definitely one of the purest La Conseillante wines that I have encountered from barrel. It delivers a subtle spiciness towards the finish with hints of tobacco and clove on the persistent aftertaste. Winemaker Marielle Cazaux and her team have conjured a magnificent Pomerol here.

Drinking Window: 2026 - 2060

Reviewer Name: Neal Martin

Review Date: 15th June 2020

Deeply coloured, high aromatics with iris and violets, extremely focused with savoury fruits - a character that I have found in the Cabernet Francs in this vintage. It has an excellent grip that takes hold from the first moment and carries you through building tannins. A lovely tactile wine and an austere finish, signs that this will age for decades. The chocolate of Pomerol comes in on the end, but you have to wait for it, the beginning is savoury blueberry and raspberry fruit. Harvest September 17 to 21, taking in all the Merlot in four days, quite unusual but they knew rain was coming and wanted it to be in; they pick only in the morning to keep freshness, then Cabernet Franc September 30 and again one day October 7 (the drought slowed ripening more of the Cab Franc). A yield of 34hl/ha.

Drinking Window: 2027 - 2043

Reviewer Name: Jane Anson

Review Date: 2nd June 2020

The 2019 La Conseillante is a blend of 84% Merlot and 16% Cabernet Franc, harvested from the 17th of September to the 7th of October at yields of 34 hectoliters per hectare. It is being aged in 70% new French oak barrels, 27% second fill barrels and 3% amphora. The alcohol this year is 14.5% with a pH of 3.67. Very deep purple-black colored, it comes bounding out of the glass with all the energy of a new puppy, featuring notes of warm plums, wild blueberries and freshly crushed black cherries with hints of licorice, molten chocolate, violets, woodsmoke and tar plus a waft of lavender. Medium to full-bodied, the palate is laden with layer upon layer of black and blue fruits with loads of floral sparks and a very fine-grained, silt-like texture, finishing with incredible freshness and a provocative mineral edge. La Conseillante's signature perfume, purity and restrained power shine through with amazing clarity and style this vintage.

Reviewer Name: Lisa Perrotti-Brown

Review Date: 16th June 2020

Producer

Château La Conseillante has been sold as La Conseillante since at least 1756. It is widely acknowledged to have some of the best terroir in the appellation sitting as it does wedged between Vieux Châteaux Certan, L'Evangile, Cheval Blanc and Pétrus (see map below). La Conseillante was bought by the Nicolas family in 1871, and they are the still the owners today. In 2003 Jean-Michel Laporte became manager of the Pomerol wine with the famous purple label. The bottle is one of many people's favourite in all of Bordeaux! The vineyard is roughly 80% Cabernet Franc and 20% Merlot. Intriguingly, 30% of vines are actually in Saint-Émilion! The wine is luxurious and velvety. Not the most powerful or ripest Pomerol, but in many experts' eyes the most harmonious.

Value Comparison