Duhart-Milon 2020 (6x75cl)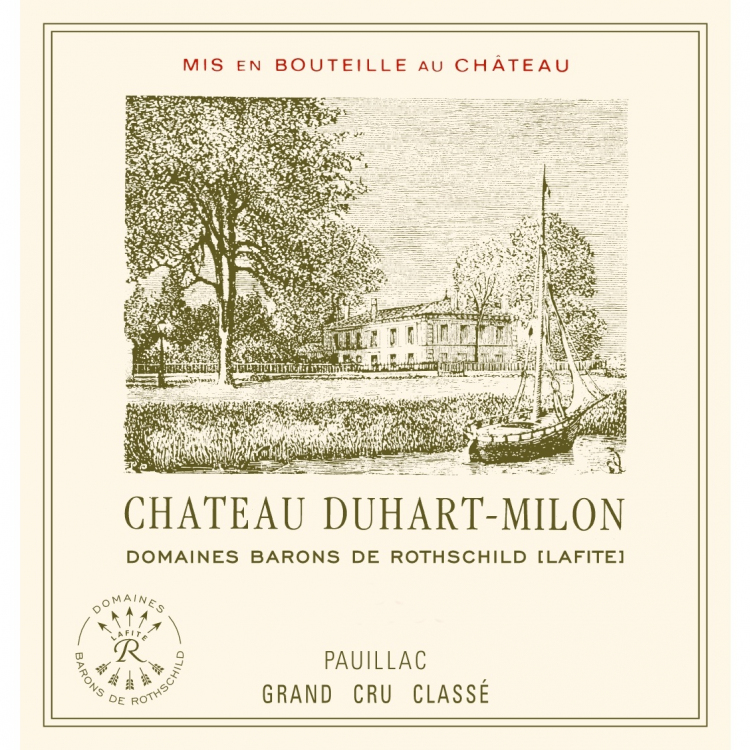 From the Lafite Rothschild stable but costing 1/10th of the price of its more famous sibling, Duhart-Milon offers a near unrivalled combination of pedigree and value not just in Pauillac, but all of Bordeaux. It is an annual surprise that Duhart-Milon is not more expensive.
"Possibly the best Duhart yet" in the words of JancisRobinson.com's James Lawther MW, the 2020 vintage is on par with, and could even exceed once in bottle, the brilliant 2009 vintage. Frequently outperforming Lafite's second wine Carruades de Lafite, the 2020 achieves 95-96 points from James Suckling, 94-96 points from Jeb Dunnuck, 95 points from Decanter, and 17.2/20 from James Lawther (JancisRobinson.com)
With its prime location of vineyards between two First Growths and being managed by one of the best winemaking teams in the world, Duhart-Milon has top Bordeaux pedigree without the hefty price tag.
This is so refined with beautiful currant, berry and some subtle chocolate and coffee. It's full and very subtle with fine tannins that have a long finish. Such purity and finesse with structure. Fresh and savory. 72% cabernet sauvignon and 28% merlot.
Review Date: 4th May 2021
Lots of tobacco, damp earth, chocolate, and lead pencil notes define the 2020 Château Duhart-Milon. Medium to full-bodied, it has a beautifully balanced mouthfeel, loads of blue and black fruits, and ripe yet certainly present tannins. Its relatively plush, rounded style is not too dissimilar from the 2016, but it offers ample structure as well. The blend is 72% Cabernet Sauvignon and 28% Merlot, and it hit 13% natural alcohol. This is another classic, concentrated, impressive wine from this team.
Review Date: 23rd May 2021
Restrained and sombre at first, but carefully constructed, with a rippling muscular texture, full of firm tannins with bright acidities underneath. Like the precision and the slightly austere cool blue fruits, pencil lead and liquorice root. Elegant, precise, feels very Pauillac in its density combined with fine tannins that have life and lift on the finish. Harvest September 9 to 29. First vintage in the new cellar.
Drinking Window: 2028 - 2042
Reviewer Name: Jane Anson
Review Date: 1st May 2021
93-95
The Wine Cellar Insider
Earthy in nature, the wine lifts off with its cigar wrapper, forest leaf, tobacco, peppery spice and sweet red currant profile. Medium-bodied, elegant, silky and fresh, with a beautiful symmetry and balance, along with freshness, length and purity in the fruits, this is a top vintage for Duhart Milon. The wine is a blend of 72% Cabernet Sauvignon and 28% Merlot. This is the first vintage made in the new cellars, which for the first time allow for parcel by parcel vinification.
Reviewer Name: Jeff Leve
Review Date: 20th May 2021
Deep garnet-purple colored, the 2020 Duhart-Milon comes skipping out of the glass with vibrant notes of crushed black cherries, black raspberries and plum preserves, plus an exotic spice undercurrent of cumin seed, star anise and cardamom, with an earthy touch of black truffles. The medium-bodied palate delivers mouth-coating, juicy black fruits with a plush texture and just enough freshness, finishing long and spicy.

The blend this year is 72% Cabernet Sauvignon and 28% Merlot, with the alcohol coming in at 13.1%.
Drinking Window: 2024 - 2039
Reviewer Name: Lisa Perrotti-Brown
Review Date: 20th May 2021
The 2020 Duhart-Milon has a delightful, elegant bouquet, an almost equal mixture of red and black fruit laced with sous-bois, cigar box and touches of curry leaf in the background. It is a little timid at first, but it seemed to grow over the 90 minutes I observed this wine. The palate is medium-bodied with supple tannins, a slightly fleshier Duhart-Milon compared to the obdurate, tannic wines of yore. It is gentle in some ways, revealing elegant brambly red fruit mixed with cedar and mint on the finish. Fine, although I would have liked just a tad more grip and heft.
Drinking Window: 2027 - 2050
Reviewer Name: Neal Martin
Review Date: 1st May 2021
The 2020 Duhart-Milon is soft, pliant and wonderfully seductive. Strong Cabernet aromatics open first, lending quite a bit of savory nuance. Bright red/purplish berry fruit, spice, cedar and earthy notes show the vibrant side of this Pauillac's personality. The 2020 deftly balances ripeness with energy. It's a terrific example of the year. Yields were 36.5 hectoliters per hectare, more or less in line with the recent past. The 2020 is the first vintage made in the new cellar.
Drinking Window: 2028 - 2040
Reviewer Name: Antonio Galloni
Review Date: 1st June 2021
72% Cabernet Sauvignon, 28% Merlot. Cask sample.
Power and definition but elegance as well. Tight and retrained initially then opens to blackcurrant with aeration. Fruit dense on the palate, a profusion of super-fine tannins providing a velvety texture as well as freshness. Long ageing. Possibly the best Duhart yet. (JL) 13%
Drinking Window: 2028 - 2045
Reviewer Name: James Lawther MW
Review Date: 26th April 2021
Video

Details

Year

2020

Colour

Red

Country

France

Region

Bordeaux

Sub Region

Pauillac

Designation

Pack Size

6x75cl

ABV

12.00°

Drinking Window

2028 - 2050

Drinking Recommendation

Not Ready

LWIN

100948220200600750

Reviews (8)

This is so refined with beautiful currant, berry and some subtle chocolate and coffee. It's full and very subtle with fine tannins that have a long finish. Such purity and finesse with structure. Fresh and savory. 72% cabernet sauvignon and 28% merlot.

Review Date: 4th May 2021

Lots of tobacco, damp earth, chocolate, and lead pencil notes define the 2020 Château Duhart-Milon. Medium to full-bodied, it has a beautifully balanced mouthfeel, loads of blue and black fruits, and ripe yet certainly present tannins. Its relatively plush, rounded style is not too dissimilar from the 2016, but it offers ample structure as well. The blend is 72% Cabernet Sauvignon and 28% Merlot, and it hit 13% natural alcohol. This is another classic, concentrated, impressive wine from this team.

Review Date: 23rd May 2021

Restrained and sombre at first, but carefully constructed, with a rippling muscular texture, full of firm tannins with bright acidities underneath. Like the precision and the slightly austere cool blue fruits, pencil lead and liquorice root. Elegant, precise, feels very Pauillac in its density combined with fine tannins that have life and lift on the finish. Harvest September 9 to 29. First vintage in the new cellar.

Drinking Window: 2028 - 2042

Reviewer Name: Jane Anson

Review Date: 1st May 2021

93-95

The Wine Cellar Insider

Earthy in nature, the wine lifts off with its cigar wrapper, forest leaf, tobacco, peppery spice and sweet red currant profile. Medium-bodied, elegant, silky and fresh, with a beautiful symmetry and balance, along with freshness, length and purity in the fruits, this is a top vintage for Duhart Milon. The wine is a blend of 72% Cabernet Sauvignon and 28% Merlot. This is the first vintage made in the new cellars, which for the first time allow for parcel by parcel vinification.

Reviewer Name: Jeff Leve

Review Date: 20th May 2021

Deep garnet-purple colored, the 2020 Duhart-Milon comes skipping out of the glass with vibrant notes of crushed black cherries, black raspberries and plum preserves, plus an exotic spice undercurrent of cumin seed, star anise and cardamom, with an earthy touch of black truffles. The medium-bodied palate delivers mouth-coating, juicy black fruits with a plush texture and just enough freshness, finishing long and spicy.

The blend this year is 72% Cabernet Sauvignon and 28% Merlot, with the alcohol coming in at 13.1%.

Drinking Window: 2024 - 2039

Reviewer Name: Lisa Perrotti-Brown

Review Date: 20th May 2021

The 2020 Duhart-Milon has a delightful, elegant bouquet, an almost equal mixture of red and black fruit laced with sous-bois, cigar box and touches of curry leaf in the background. It is a little timid at first, but it seemed to grow over the 90 minutes I observed this wine. The palate is medium-bodied with supple tannins, a slightly fleshier Duhart-Milon compared to the obdurate, tannic wines of yore. It is gentle in some ways, revealing elegant brambly red fruit mixed with cedar and mint on the finish. Fine, although I would have liked just a tad more grip and heft.

Drinking Window: 2027 - 2050

Reviewer Name: Neal Martin

Review Date: 1st May 2021

The 2020 Duhart-Milon is soft, pliant and wonderfully seductive. Strong Cabernet aromatics open first, lending quite a bit of savory nuance. Bright red/purplish berry fruit, spice, cedar and earthy notes show the vibrant side of this Pauillac's personality. The 2020 deftly balances ripeness with energy. It's a terrific example of the year. Yields were 36.5 hectoliters per hectare, more or less in line with the recent past. The 2020 is the first vintage made in the new cellar.

Drinking Window: 2028 - 2040

Reviewer Name: Antonio Galloni

Review Date: 1st June 2021

72% Cabernet Sauvignon, 28% Merlot. Cask sample.
Power and definition but elegance as well. Tight and retrained initially then opens to blackcurrant with aeration. Fruit dense on the palate, a profusion of super-fine tannins providing a velvety texture as well as freshness. Long ageing. Possibly the best Duhart yet. (JL) 13%

Drinking Window: 2028 - 2045

Reviewer Name: James Lawther MW

Review Date: 26th April 2021

Producer

Chateau Duhart-Milon was bought by the Rothschilds in 1962, owners of the neighbouring Lafite. They replanted the vines in the 1980s and built a new cellar in 2003. Once the vines were no longer young, real quality emerged. The wine has great structure and is slightly richer than the second wine of Lafite, Carruades de Lafite.

Vintage Comparison

Valuation Tools

Wine Rating is intended to show the quality of the wine from an investment perspective. It takes into account the prices achieved by the producer, the quality of the vintage and the critics' scores for this wine. AAA is the best rating, and B the most speculative.

Please wait a few seconds whilst we process the market data for this wine...

Calculating...

Investment Rating

Wine Rating is intended to show the quality of the wine from an investment perspective. It takes into account the prices achieved by the producer, the quality of the vintage and the critics' scores for this wine. AAA is the best rating, and B the most speculative.

Show Investment Rating Guide

Graph