D'Esclans Garrus Rose 2019 (6x75cl)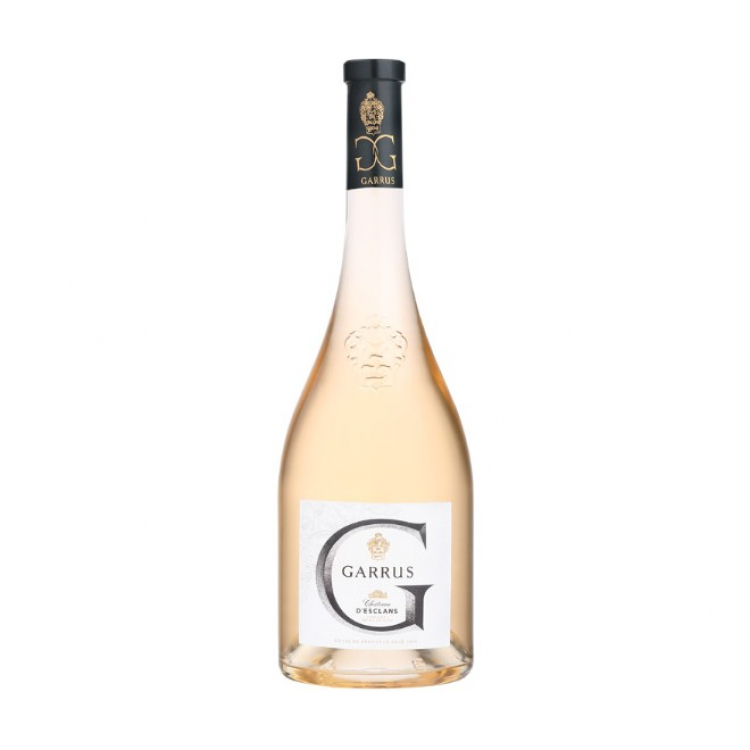 Garrus sits atop the hierarchy of wines made by Château d'Esclans, and is a single vineyard expression of 100 year-old Grenache and Rolle (Vermentino) vines. Entirely fermented and aged in new, large French oak barrels for 11 months, Garrus represents owner Sacha Lichine's quest to craft a true fine wine rosé. Powerful yet elegant, Garrus has established itself amongst connoisseurs as an iconic wine to rival the very best white and sparkling wines produced today. Its structure and concentration is totally unparalleled by its rival rosés, due to both the quality of the grapes and the long oak aging it undergoes
Garrus is always awesome and, every so often, it is completely unpredictable. The 2019s from Château d'Esclans are sublime and Garrus ought to be the most obviously masculine and imposing in the portfolio but, strangely, I felt that the perfume and the initial attack was positively gentle and come-hither in its composure and allure. So, I did what any right-minded person would do and relaxed into another sip. I then realised that I had been tricked! Garrus is as structured and proud as ever and yet it is sporting a kindly disguise to lull you into a false sense of security. Many will drink this wine too early, fooled by the glossiness and initial enchantment on offer. But they will soon realise that this wine's finish is firm and unyielding, pointing to a long and graceful life - as long as you have the patience. This is a sensational vintage for Garrus and I rate it as highly as the epic 2015 and that means that this is a perfect 20/20 in my notes. Nothing comes close in 2019 (apart from its sibling, Les Clans – you can find a write-up on this wine on this website) and I have tasted hundreds of bottles. The difference between this wine and the 2015 is the '15 was very obviously statuesque with amazing flanks and bold musculature. By contrast, this 2019 is subtle, brooding, complex and intricately perfumed. While the nose is cool and soothing, the palate is a veritable iceberg of power and equilibrium and while we can only sense the scale of grandeur of this wine, the signposts on the surface are already devastatingly attractive. You simply must buy and keep this wine for at least twelve months before you pop a cork! 20+/20
Drinking Window: 2021 - 2027
This is really something for a rosé. Very powerful yet subtle aromas and flavors of dried strawberry, sliced lemon, mineral and a pinch of salt. Some fresh-herb undertones, such as sage. Hint of coconut. It's full-bodied, yet so tight and compact with fantastic freshness and length. Goes on for minutes. Drink or hold.
Review Date: 27th October 2020
As with Les Clans, this is from old vines (up to 100 years old in the case of Garrus), fermented and aged in 600l oak casks. It also shares with a sibling an ability to really deliver an above-average rosé, with subtle persistency and grip. This has an expansive mid palate that promises raspberry, redcurrant, rosemary and orange peel notes, along with pulses of minerality and a slate-textured finish. Definitely not a wine that needs to be left just for the summer months, this is a brilliant rosé that delivers on expectations.
Drinking Window: 2020 - 2025
Reviewer Name: Jane Anson
Review Date: 3rd November 2020
From a single vineyard of nearly 100-year-old Grenache vines, and from Rolle (Vermentino). Fermented and aged in new large French oak barrels for 11 months. See the note on Les Clans 2019 for details of winemaking and the expansion of Ch d'Esclans.
Much more character already than Les Clans. Herbily scented and with beautifully integrated acidity and real grip on the palate. Serious wine with real structure and breadth. Very long and reverberant. It's delicious now but in my experience it doesn't age more than a handful of years, which I think will disqualify it from being viewed as the equivalent of one of the world's great wines.
Drinking Window: 2020 - 2024
Review Date: 11th November 2020
Details

Year

2019

Colour

Rose

Country

France

Region

Provence

Sub Region

Cotes de Provence

Designation

Classification

Pack Size

6x75cl

ABV

14°

Drinking Window

2021 - 2027

Drinking Recommendation

Drinking Now

LWIN

111915820190600750

Reviews (4)

Garrus is always awesome and, every so often, it is completely unpredictable. The 2019s from Château d'Esclans are sublime and Garrus ought to be the most obviously masculine and imposing in the portfolio but, strangely, I felt that the perfume and the initial attack was positively gentle and come-hither in its composure and allure. So, I did what any right-minded person would do and relaxed into another sip. I then realised that I had been tricked! Garrus is as structured and proud as ever and yet it is sporting a kindly disguise to lull you into a false sense of security. Many will drink this wine too early, fooled by the glossiness and initial enchantment on offer. But they will soon realise that this wine's finish is firm and unyielding, pointing to a long and graceful life - as long as you have the patience. This is a sensational vintage for Garrus and I rate it as highly as the epic 2015 and that means that this is a perfect 20/20 in my notes. Nothing comes close in 2019 (apart from its sibling, Les Clans – you can find a write-up on this wine on this website) and I have tasted hundreds of bottles. The difference between this wine and the 2015 is the '15 was very obviously statuesque with amazing flanks and bold musculature. By contrast, this 2019 is subtle, brooding, complex and intricately perfumed. While the nose is cool and soothing, the palate is a veritable iceberg of power and equilibrium and while we can only sense the scale of grandeur of this wine, the signposts on the surface are already devastatingly attractive. You simply must buy and keep this wine for at least twelve months before you pop a cork! 20+/20

Drinking Window: 2021 - 2027

This is really something for a rosé. Very powerful yet subtle aromas and flavors of dried strawberry, sliced lemon, mineral and a pinch of salt. Some fresh-herb undertones, such as sage. Hint of coconut. It's full-bodied, yet so tight and compact with fantastic freshness and length. Goes on for minutes. Drink or hold.

Review Date: 27th October 2020

As with Les Clans, this is from old vines (up to 100 years old in the case of Garrus), fermented and aged in 600l oak casks. It also shares with a sibling an ability to really deliver an above-average rosé, with subtle persistency and grip. This has an expansive mid palate that promises raspberry, redcurrant, rosemary and orange peel notes, along with pulses of minerality and a slate-textured finish. Definitely not a wine that needs to be left just for the summer months, this is a brilliant rosé that delivers on expectations.

Drinking Window: 2020 - 2025

Reviewer Name: Jane Anson

Review Date: 3rd November 2020

From a single vineyard of nearly 100-year-old Grenache vines, and from Rolle (Vermentino). Fermented and aged in new large French oak barrels for 11 months. See the note on Les Clans 2019 for details of winemaking and the expansion of Ch d'Esclans.
Much more character already than Les Clans. Herbily scented and with beautifully integrated acidity and real grip on the palate. Serious wine with real structure and breadth. Very long and reverberant. It's delicious now but in my experience it doesn't age more than a handful of years, which I think will disqualify it from being viewed as the equivalent of one of the world's great wines.

Drinking Window: 2020 - 2024

Review Date: 11th November 2020

Producer

The world's most famous rosé is produced by Château d'Esclans, an estate situated on elevated land in the heart of Provence. This is the passion project of Sacha Alexis Lichine, who bought the estate in 2006. Now the most famous wine in Provence, and the most sought-after rosé in the whole of France, Sacha's rosés are most recognisable for its crystalline salmon pink colour. These wines are bone-dry, classic premium rosés. They are magnificently refreshing and flavourful.

Vintage Comparison

Valuation Tools

Wine Rating is intended to show the quality of the wine from an investment perspective. It takes into account the prices achieved by the producer, the quality of the vintage and the critics' scores for this wine. AAA is the best rating, and B the most speculative.

Please wait a few seconds whilst we process the market data for this wine...

Calculating...

Investment Rating

Wine Rating is intended to show the quality of the wine from an investment perspective. It takes into account the prices achieved by the producer, the quality of the vintage and the critics' scores for this wine. AAA is the best rating, and B the most speculative.

Show Investment Rating Guide

Graph