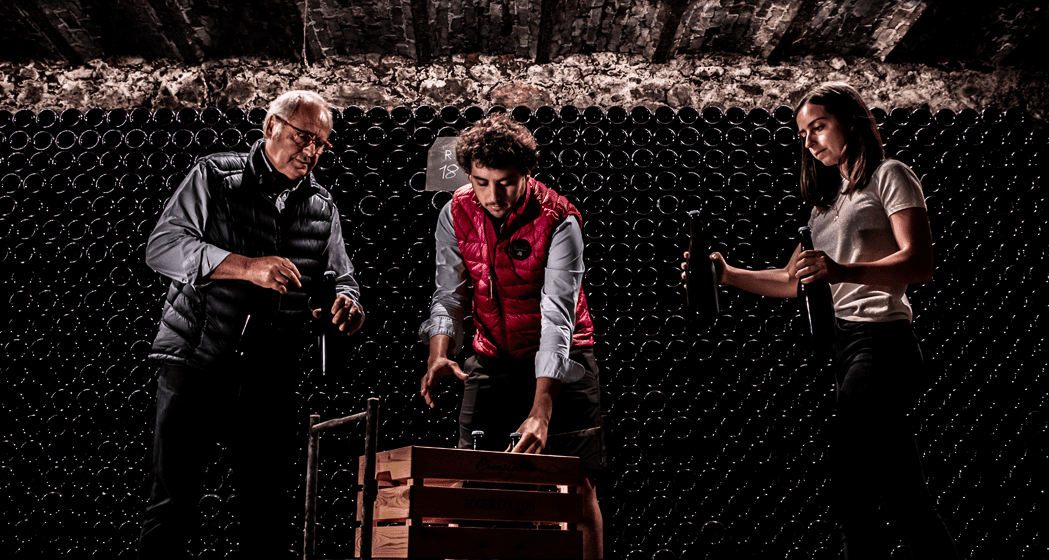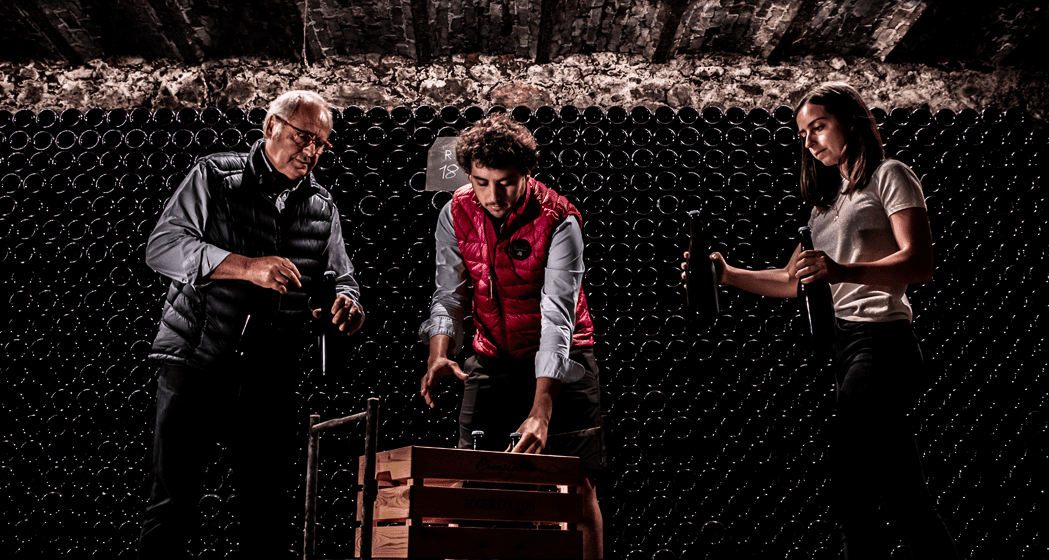 Champagne Roger Coulon is currently run by the 8th generation of the family. Eric and Isabelle Coulon, along with their children Edgar and Louise, produce what the Wine Advocate's William Kelley believes to be 'vinous, intensely flavored Champagnes of considerable character'. Farming just 11 hectares of Premier Cru vineyards based around Vrigny, Coulommes la Montagne, Pargny les Reims and Villers Allerand, they follow progressive viticultural practices and agroforestry initiatives. Much like his brother-in-law Francis Egly, of the highly sought-after Egly-Ouriet, Eric has long been a believer in picking as late as possible to in pursuit of full physiological maturity and this shows in the style of the full Champagne Roger Coulon line-up.
Louise is still in the relative early stages of her wine journey but it is a pleasure to hear from such a fresh face:
Which wine do you recall being the first truly great bottle you tasted?
It was with my family, to celebrate my father's birthday, we tasted a bottle of Clos des Lambrays 2010. It was amazing! I experienced in a single sip a moment of eternity.



Which wine region from around the world are you most excited about (apart from your own)?
One of my favorite grape varieties is Nebbiolo. In my opinion, Piedmont is one of the most beautiful wine regions in the world. There are great Barolo combining power and complexity. My next wine trip will definitely be there.



Viticulture and winemaking are inherently challenging endeavours, but what, be it climate change or otherwise, would you foresee as the biggest challenge to yourself or your region as a whole?
My father Eric has always run his vineyards with focus on improving the ecosystem to promote a quality harvest and ensure the sustainability of the Domaine.

Today, our biggest challenge with my brother Edgar is to succeed in coexisting with the vine. The vines show a great capacity for adaptation that is matched only by that of the winegrower who grows it, and who knows it like the back of his hand.

Edgar and I continue together the work started by our parents. In the last few years, in addition to the organic viticulture conducted, agroforestry viticulture has been set up at the Domaine: planting various species of trees and plant cover that make it possible to obtain a better soil structure, providing more water and nutrients for the vine. Domaine Roger Coulon is one of the pioneers in Champagne for this frugal viticulture that focuses on the future.

This is also the 5th consecutive year where we practice eco-grazing in winter. The sheep eat and mow the grass naturally in the vineyard which brings many benefits. And of course, no herbicide is used at the Domaine.

The Massal selection must also be brought back in the foreground to preserve the historic grape variety of the village. Since the dawn of time, our Meunier in Vrigny have always been able to adapt. We trust in them for the future.



For you, is winemaking more an art or a science?
In my opinion, winemaking is first of all the phase of adaptation of the terroir in a new environment. Art, crafts or science, nothing should be neglected, the goal is to make the best wine possible.



What is the most recent change you have made in the vineyard or winery that has significantly affected your style of wine?
My father Eric vinified already "Lieu-dit" by 'Lieu-dit". A further degree of precision was added. Vinification is now exclusively in plots. It's like a zoom-in on the terroir.

The proportion of barrel fermentation increases every year. We carry out artisan work to highest degree.


What do you think about the role that critics' scores play in the fine wine market?
I think everyone has their role to play. Being a winegrower, the goal is to make the best wine possible and if it can be distinguished and recognized by a beautiful note from a critic it is always glorifying. Also, our customers are happy for us and congratulate us.


What is the best/most unusual food pairing that you have had with your wine?
The Cuvée Esprit de Vrigny tasted at my friend Arnaud Lallement's 3 Michelin star restaurant Assiette Champenoise with a Saint Pierre de Bretagne sauce shellfish. The association was just absolute perfection.



If you could only have one vintage of one cuvée from your own estate in your cellar, which would it be?
The Blanc de Noirs Franc de Pieds vintage 2013 is one of my favourite Champagnes. Harvested at the beginning of October, it is the last late vintage. It offers beautiful flavors of red fruits with a long finish. It is a racy champagne, promised to a serene evolution. It was as if a little voice comes alive to tell me "that's what you like!".