Greatest Vintage Ever? The 2016 vintage in Tuscany is widely considered to be the greatest ever. This has caused huge demand amongst collectors and investors for this truly special year.

Critical Acclaim – Masseto 2016 boasts 4 x 100-point scores, including one from the influential Wine Advocate who called the 2016 a "super star". In fact, the average critic score for the 2016 is 99pts!

Rarity – Only around 2,500 cases are produced for each vintage. That is the same as fellow Merlot-based legend Pétrus, which has a 300% price premium!

Brand Power – Masseto is one of the strongest fine wine brands in Italy, and indeed the world. Consistently in the Liv-Ex power 100 list, it is one of the most searched-for producers on Wine-Searcher.

Comparative Value – Although clearly not 'cheap', we believe Masseto has considerable room for price appreciation vs. equivalent top wines from other major regions.

Impeccable Management - Distribution is tight and well managed. There is a clear desire at Masseto to emulate Le Pin and Pétrus by repositioning themselves at the very pinnacle of the fine wine market.

Collectable – Potentially the last perfect Masseto made from 100% Merlot, the 2016 should be highly collectable and sought-after for many decades to come.
The winemaking philosophy at Masseto is based on minimal intervention and maximum respect for the grapes and the environment, not too dissimilar from the Burgundian philosophy. The grapes are harvested by hand, fermented in temperature-controlled stainless-steel tanks, and then aged in French oak barrels for at least 18 months. The result is a wine of exceptional quality.
---
An Attractive Investment Opportunity
The 2016 vintage is widely considered one of the finest in Tuscany's history, and the Masseto 2016 is a clear standout. The 2016 vintage is the best performing Masseto vintage over the past 2 years. In fact, the 2016 vintage has outperformed the overall wine market, and surpassed other asset classes such as the S&P500 since release in September 2019.
Masseto is one of the most sought-after wine brands in the world, and its 2016 vintage is a particularly attractive investment opportunity. The wine has already received incredible ratings from critics, boasting as many as 4 x 100-point scores.
Since its release in September 2019, Masseto 2016 has appreciated by over 80% and is expected to age well, developing additional complexity and depth over the coming decades.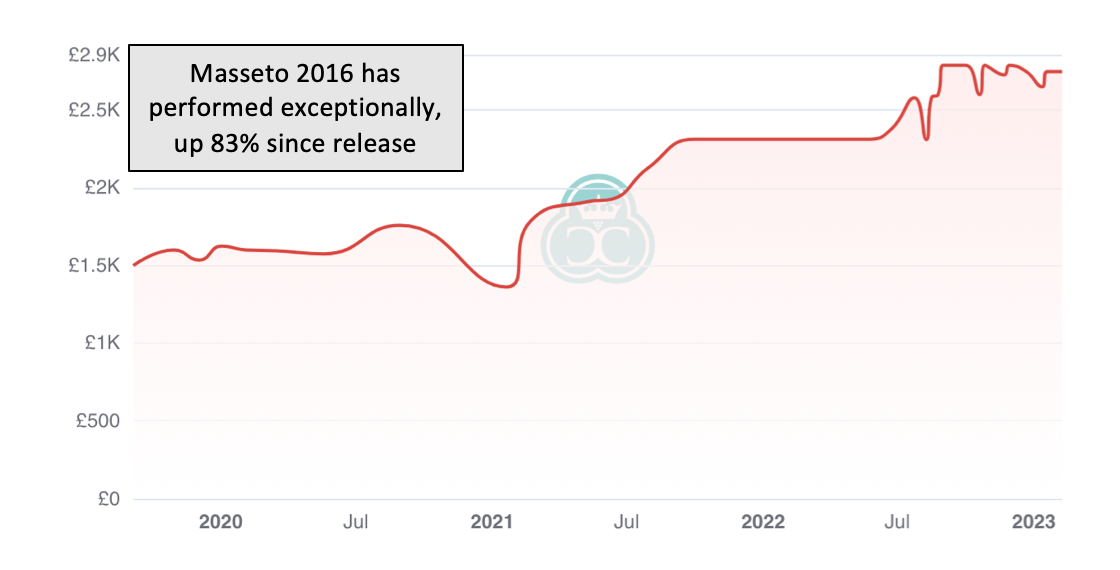 ---
Masseto Still has Significant Price Escalation Potential
Masseto is a small estate, producing only around 30,000 bottles of wine per year.
This production size is similar to the other Merlot-based superstar of the wine world: Château Petrus. Of course, Petrus has a longer history than Masseto, having been founded in the c18th, but otherwise the estates share many similarities. Masseto itself now has a decent amount of 'heritage' behind it, founded as it was in 1981 by Lodovico Antinori. The two properties are also both on small hills of clay upon which Merlot performs best. They also share similar winemaking philosophies both using the finest French oak to mature in barrel for roughly 2 years before bottling, Masseto is only two years younger than Pomerol's other 100% Merlot darling Le Pin (although Le Pin is made in even smaller quantities).
Petrus currently commands a +363% premium over Masseto, but this price gap is narrowing. In fact, since release in 2019, Masseto 2016 has outperformed Petrus 2016 (see chart below).
Given the still massive price gap between the two estates, we see definite potential for relative outperformance of Masseto to continue and for it to ascend closer to Petrus's current price.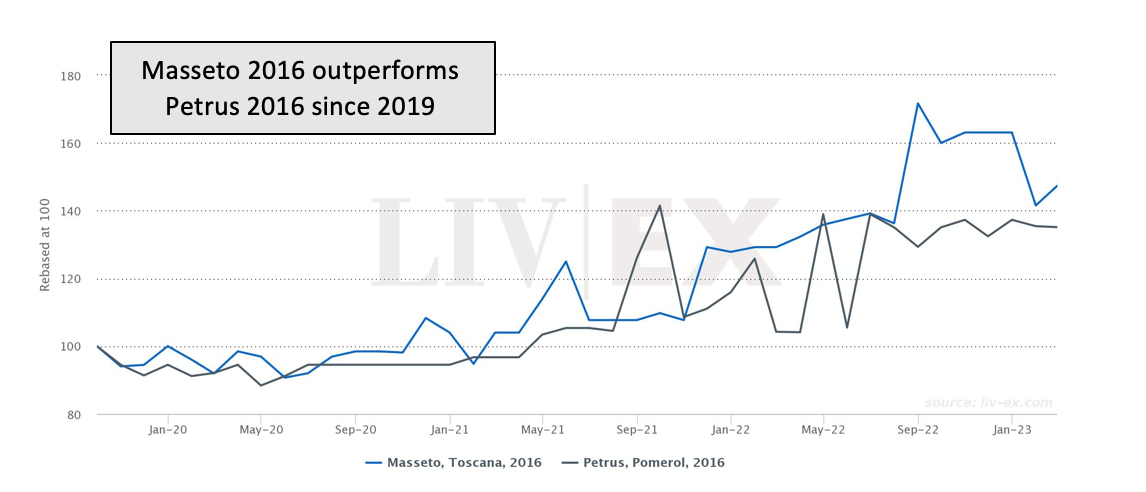 ---
Masseto Momentum
Masseto is an estate on a mission. Consistently in the Liv-Ex top 100 list and one of the most commonly searched producers on Wine-Searcher, global awareness of Masseto is increasing year by year. The vision and investment of owners the Frescobaldis are there to take this estate to the next level. In 2019 Masseto moved from Ornellaia to its own 27,000 sq. ft. state of the art uber-modern underground winery. The production has been fully organic since 2012. The spectacular success of the second wine Massetino (which is actually harder to buy than Masseto!) will create space for further price increases of the first wine.
Very tight and well organised distribution ensures that more and more collectors clamour for an allocation with each new release. At Cru, our demand vastly outstrips supply for Masseto and Massetino.
This demand over supply imbalance has allowed the owners to pursue a steady policy of new release price increases, and this of course exerts a commensurate upwards gravity on back vintage pricing.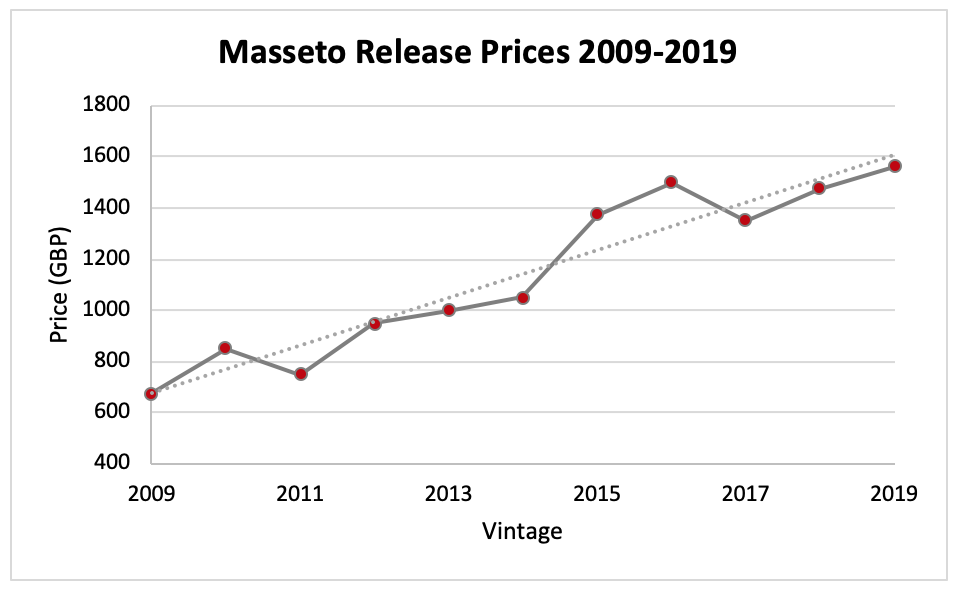 ---
Will 2016 be the Last 100 points / 100% Merlot from Masseto?
Climate change has had an unprecedented influence on wine viticulture everywhere, and producers are taking measures to try and mitigate its effects.
Masseto are not immune from this, and with the 2019 vintage they introduced 10% of Cabernet Franc into the blend, as it tends to accommodate temperature better than Merlot.
It is therefore very possible that we have already seen the last of Masseto as a 100% Merlot blend, as more Cabernet Franc is added as its Bolgheri terroir gets warmer.
If 2016 does turn out to be the last perfect vintage made from 100% Merlot, this will only increase is long-term appeal with collectors and Investors alike. And with a drinking window to 2060 (Jeb Dunnuck) there is a lot of time for this wine to get very scarce!
---