Biondi Santi Brunello di Montalcino Riserva 2012 (3x75cl)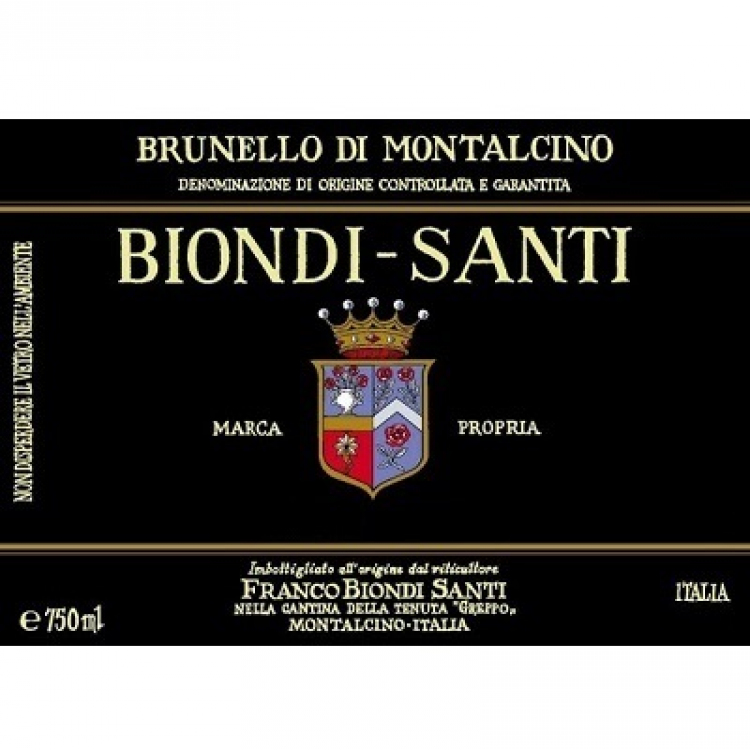 • 2012 has best average score from Wine Advocate and Vinous of any vintage.
• 2012 is the final vintage made by the legendary Franco Biondi Santi, who passed away in April 2013.
• 2012 has a special label "Dedicato a Franco Biondi Santi" that will make it forever especially collectable (see below)
• 2012 is the lowest priced top vintage of this wine (when special label bottles usually command a significant premium).
The Riserva 2012 is a quintessential Biondi Santi Riserva, reflecting not just the house style that made the firm famous, but it clearly shows Franco's own hallmark of extreme elegance. The 2012 is a classic in the making, boasting enticing scents of rose, underbrush, wild red berry, new leather and underlying notes of crushed mint. It has a chiseled palate, featuring Morello cherry, pomegranate, orange zest, star anise and a hint of tobacco framed in taut, polished tannins. Firm acidity lends youthful tension and keeps it impeccably balanced.

Reviewer Name: Kerin O'Keefe
Review Date: 16th March 2020
You will notice the dedication printed below the label of the wine label. It reads: "Dedicato a Franco Biondi Santi." Indeed, the Biondi-Santi 2012 Brunello di Montalcino Riserva is the last vintage made by the towering father figure of Brunello whom most everyone referred to as the "gentleman of Montalcino." Il Dottore, as he was also respectfully addressed, died at age 91 in April 2013, and he was very active in the winery as this magnificent wine took shape. This Riserva is a true work of beauty. It is released one year later than usual. The wine reflects the natural heft and power of the 2012 vintage, and it also shows that distinctive open-knit and accessible personality that characterizes this warm and sunny growing season. Il Dottore's magic touch is revealed in the level of fine detail and precision that transcends vintage, grape and territory. That extreme focus is an achievement of this estate alone located in the celebrated Il Greppo property. This Brunello pours from the bottle with a magnificent garnet color, and it evolves in the glass with dark fruit, candied orange peel, spice, licorice, anise seed, cola and balsam herb. The aromas are magical and ethereal, albeit slightly ripe and soft as expected of this vintage.
Drinking Window: 2024 - 2050
Reviewer Name: Monica Larner
Review Date: 4th June 2020
Luminous garnet red. Perfumed nose of orange peel, cinnamon, sour red cherries, strawberries, talcum powder, and old fine leather, plus sneaky hints of slightly air-dried berries (not surprising, given how hot 2012 was, even taking into consideration that Biondi-Santi is one of the first estates to pick each year). Then juicy and dense with a silky mouthfeel to the flavors of red berries, blood orange and spices. Finishes long and silky now, but this specific Brunello Riserva was especially austere in its youth and so the estate decided to release it one year later than usual for sale. The wine carries an extra label "Dedicato a Franco Biondi Santi" (dedicated to Franco Biondi Santi) who passed away in 2013; CEO Giampiero Bertolino explained to me that everyone at the estate believed this wine was a real snapshot of Franco and the Brunellos he most enjoyed drinking, and so it was decided to dedicate it to him. Actually, there's an air-dried quality to this wine that is absolutely enchanting, if in my opinion not altogether typical of Franco's work. No matter, it's one of the top three Brunello Riservas of the 2012 vintage.
Drinking Window: 2024 - 2036
Reviewer Name: Ian D'Agata
Details

Year

2012

Colour

Red

Country

Italy

Region

Tuscany

Sub Region

Brunello di Montalcino

Designation

Pack Size

3x75cl

ABV

13.5°

Drinking Window

2024 - 2050

Drinking Recommendation

Not Ready

LWIN

117468720120300750

Reviews (3)

The Riserva 2012 is a quintessential Biondi Santi Riserva, reflecting not just the house style that made the firm famous, but it clearly shows Franco's own hallmark of extreme elegance. The 2012 is a classic in the making, boasting enticing scents of rose, underbrush, wild red berry, new leather and underlying notes of crushed mint. It has a chiseled palate, featuring Morello cherry, pomegranate, orange zest, star anise and a hint of tobacco framed in taut, polished tannins. Firm acidity lends youthful tension and keeps it impeccably balanced.


Reviewer Name: Kerin O'Keefe

Review Date: 16th March 2020

You will notice the dedication printed below the label of the wine label. It reads: "Dedicato a Franco Biondi Santi." Indeed, the Biondi-Santi 2012 Brunello di Montalcino Riserva is the last vintage made by the towering father figure of Brunello whom most everyone referred to as the "gentleman of Montalcino." Il Dottore, as he was also respectfully addressed, died at age 91 in April 2013, and he was very active in the winery as this magnificent wine took shape. This Riserva is a true work of beauty. It is released one year later than usual. The wine reflects the natural heft and power of the 2012 vintage, and it also shows that distinctive open-knit and accessible personality that characterizes this warm and sunny growing season. Il Dottore's magic touch is revealed in the level of fine detail and precision that transcends vintage, grape and territory. That extreme focus is an achievement of this estate alone located in the celebrated Il Greppo property. This Brunello pours from the bottle with a magnificent garnet color, and it evolves in the glass with dark fruit, candied orange peel, spice, licorice, anise seed, cola and balsam herb. The aromas are magical and ethereal, albeit slightly ripe and soft as expected of this vintage.

Drinking Window: 2024 - 2050

Reviewer Name: Monica Larner

Review Date: 4th June 2020

Luminous garnet red. Perfumed nose of orange peel, cinnamon, sour red cherries, strawberries, talcum powder, and old fine leather, plus sneaky hints of slightly air-dried berries (not surprising, given how hot 2012 was, even taking into consideration that Biondi-Santi is one of the first estates to pick each year). Then juicy and dense with a silky mouthfeel to the flavors of red berries, blood orange and spices. Finishes long and silky now, but this specific Brunello Riserva was especially austere in its youth and so the estate decided to release it one year later than usual for sale. The wine carries an extra label "Dedicato a Franco Biondi Santi" (dedicated to Franco Biondi Santi) who passed away in 2013; CEO Giampiero Bertolino explained to me that everyone at the estate believed this wine was a real snapshot of Franco and the Brunellos he most enjoyed drinking, and so it was decided to dedicate it to him. Actually, there's an air-dried quality to this wine that is absolutely enchanting, if in my opinion not altogether typical of Franco's work. No matter, it's one of the top three Brunello Riservas of the 2012 vintage.

Drinking Window: 2024 - 2036

Reviewer Name: Ian D'Agata

Producer

About Biondi Santi

The Biondi Santi family is synonymous with Brunello di Montalcino, holding the first recorded mention and being the only Domaine to continuously produce it. Their wines have incredible ageing potential which the Bondi Santis demonstrate by their occasional vertical tastings of Brunello riservas.

One of the most esteemed producers of Brunello di Montalcino, Biondi-Santi has a rich history dotted with numerous accolades, including being credited as the family who invented the 100% Sangiovese-based wine in the late 1800s, and therefore, "the estate that put Brunello di Montalcino on the map" (Galloni, Wine Advocate, Apr 2010).

The birth of Biondi-Santi's Brunello di Montalcino probably dates to the Agrarian Exhibition of Montepulciano in 1869, where "a select red wine (Brunello) of 1865" made by Clemente Santi was mentioned and received a prize - an astounding feat almost mirroring the Judgment of Paris, as the French considered themselves to the only producers of high-quality wines at that time. A pharmaceutical graduate who was well-versed in chemistry and owned vast estates in Montalcino and Pienza, Clemente Santi channelled his expertise into improving the quality of his grapes, especially on a plot called Greppo. The name Biondi Santi formally came into existence after Clemente's daughter, Caterina, married a doctor, Jacopo Biondi.

As each generation made gradual improvements over the next century and a half, the estate grew from strength to strength, making world-famous Brunellos that won critical acclaim worldwide.

"These remain some of the most rigorous, age-worthy Brunellos readers will come across. Traditional vinification and ageing in large, neutral casks are the rules. Ideally, the wines are best left in the cellar for at least a decade after release, but readers will have a very hard time exercising such restraint here. These are magnificent Brunellos." – Galloni (Wine Advocate, Apr 2010)

Vintage Comparison

Valuation Tools

Wine Rating is intended to show the quality of the wine from an investment perspective. It takes into account the prices achieved by the producer, the quality of the vintage and the critics' scores for this wine. AAA is the best rating, and B the most speculative.

Please wait a few seconds whilst we process the market data for this wine...

Calculating...

Investment Rating

Wine Rating is intended to show the quality of the wine from an investment perspective. It takes into account the prices achieved by the producer, the quality of the vintage and the critics' scores for this wine. AAA is the best rating, and B the most speculative.

Show Investment Rating Guide

Graph