Angelus 2018 (6x75cl)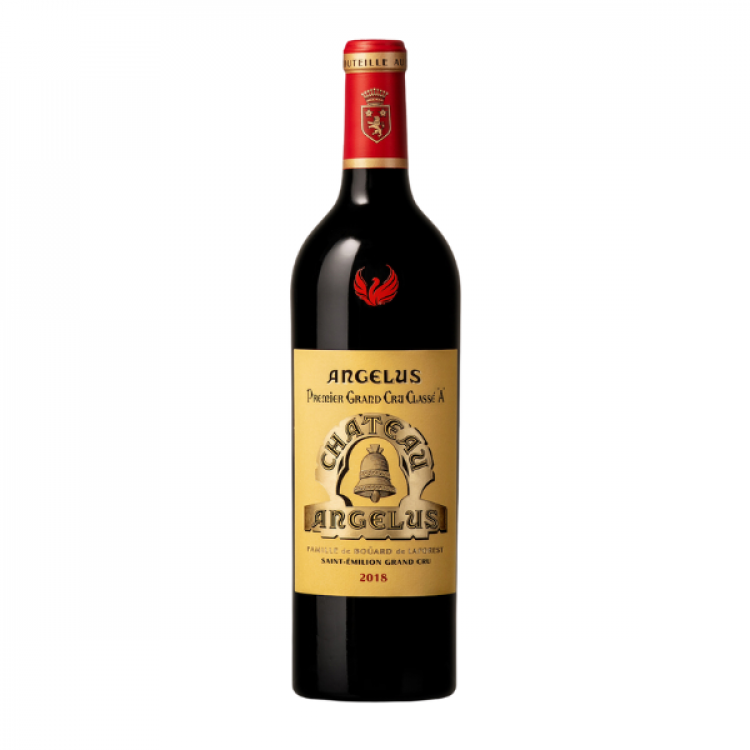 This is a wine meriting just about every superlative imaginable. It is as broad as it gets, as powerful as it gets, tannic, alcoholic, megalithic and yet there is something undeniably charming within this monstrous Saint-Emilion First Growth. It is true to form and unashamed of it's richness, and unyielding monument to modernity in Bordeaux and no doubt the recipient of at least one 100-pt score when the ratings come out!

1. Château Angélus 'Le Phénix' 2018 features a red phoenix etched onto the bottle.
2. This special bottling, in an already iconic year like 2018, will make this wine especially collectable for decades to come.
3. This is also potentially the only 100 pts Wine Advocate vintage since 2005.
4. The critics were blown away by it – with two potential 100 point scores and one potential 99.
5. All bottles 2018 bottles are micro-chipped guarantee authenticity.
The 2018 Angélus is blended of 65% Merlot and 35% Cabernet Franc, to be aged 18-22 months in barriques, 100% new, plus two new foudres. Deep garnet-purple in color, it slips slowly, sensuously out of the glass with beautiful black raspberries, kirsch, warm plums and red roses scents, building in intensity to reveal chocolate-covered cherries, raspberry coulis, black tea, woodsmoke and powdered cinnamon notions with a waft of black olives and charcuterie. Medium to full-bodied, the palate delivers a wonderfully profound, multilayered, seamless experience of red and black fruits intertwined with earth, spice and floral notions and framed by exquisitely ripe, satiny tannins, finishing with amazing freshness and length. Incredibly, finely, expertly, seamlessly knit. Stunning.
Reviewer Name: Lisa Perrotti-Brown
Review Date: 23rd April 2019
The grand vin, the 2018 Angélus, is magical juice in 2018 as well as possibly one of the wines of the vintage. While it shows a slightly more elegant style compared to past great vintages, it doesn't lack for depth, density or richness. Thrilling notes of crème de cassis, toasted spice, graphite, incense, and tobacco leaf all flow to a full-bodied, powerful Saint-Émilion that has seamless tannins, a stacked mid-palate, no hard edges, and a finish that just won't quit. Reminding me of an improved 2009, it's going to be drinkable with just short-term cellaring and keep for 30 years or more. The blend of the 2018 is 65% Merlot and 35% Cabernet Franc that will spend 18-22 months in new barrels (and a small portion in foudre as well). Hats off to director Emmanuelle d'Aligny-Fulchi for keeping this estate at the top of the hierarchy in Saint-Émilion!
Review Date: 1st May 2019
The aromas are incredibly complex with dark berries, elderberries, bay leaves, cloves and tile, follow through to a full body with layers of creamy and lightly dusty tannins that deliver a lingering finish and great attention to detail. The flavors range from black fruit to earth and stones. It's reserved and poised with great intensity and power, in a toned and formed mode. One for the cellar. Try after 2026.
Review Date: 4th March 2021
The 2018 Angélus is a fabulous wine from the de Boüard family. Often much more severe when it is young, the 2018 possesses stunning depth and remarkable finesse. I don't think I have tasted a young Angélus with this much finesse. In this vintage, Angélus is 65% Merlot and 35% Cabernet Franc, which is to say more Merlot and less Franc than in the past, which may or may not represent more of a longer term shift. To be sure, the 2018 is glorious, with generous, pliant fruit and silky tannins that add to its considerable allure. Crème de cassis, new leather, spice and licorice build into the striking finish. What a wine.
Reviewer Name: Antonio Galloni
A wonderful Angélus, rich in the character of this vintage. Stunning length on the silky tannins. This extends outwards, and the architecture is very much more linear than circular (as it is in some vintages), with a lovely freshness and power. I just love how effortless this feels, with deeply intense black fruits and a dried herb edge. The flesh isn't overt but absolutely present. Likely to take on some more weight over time and it will certainly take its time to reach its perfect drinking window. Wonderful sense of energy, power and intensity, yet it's so drinkable now. The 100% new oak is very well-integrated, a brilliant success. Blend is 60% Merlot, 40% Cabernet Franc, with the lowest pH for many years at 3.7 (the 2009 more like 3.9), mainly because the wide temperature differences between day and night slowed down the maturing process and kept freshness.
Reviewer Name: Jane Anson
Review Date: 11th April 2019
Barrel Sample. This is a dense, smoky wine, packed with ripe tannins and a line of fresh acidity that forms a fine contrast. It's a great wine that is rich in tannins while keeping elegance and finesse.
Reviewer Name: Roger Voss
Review Date: 1st April 2019
Details

Year

2018

Colour

Red

Country

France

Region

Bordeaux

Sub Region

Saint-Emilion Grand Cru

Designation

Classification

Pack Size

6x75cl

ABV

14.50°

Drinking Window

2027 - 2042

Drinking Recommendation

Not Ready

LWIN

100604520180600750

Reviews (6)

The 2018 Angélus is blended of 65% Merlot and 35% Cabernet Franc, to be aged 18-22 months in barriques, 100% new, plus two new foudres. Deep garnet-purple in color, it slips slowly, sensuously out of the glass with beautiful black raspberries, kirsch, warm plums and red roses scents, building in intensity to reveal chocolate-covered cherries, raspberry coulis, black tea, woodsmoke and powdered cinnamon notions with a waft of black olives and charcuterie. Medium to full-bodied, the palate delivers a wonderfully profound, multilayered, seamless experience of red and black fruits intertwined with earth, spice and floral notions and framed by exquisitely ripe, satiny tannins, finishing with amazing freshness and length. Incredibly, finely, expertly, seamlessly knit. Stunning.

Reviewer Name: Lisa Perrotti-Brown

Review Date: 23rd April 2019

The grand vin, the 2018 Angélus, is magical juice in 2018 as well as possibly one of the wines of the vintage. While it shows a slightly more elegant style compared to past great vintages, it doesn't lack for depth, density or richness. Thrilling notes of crème de cassis, toasted spice, graphite, incense, and tobacco leaf all flow to a full-bodied, powerful Saint-Émilion that has seamless tannins, a stacked mid-palate, no hard edges, and a finish that just won't quit. Reminding me of an improved 2009, it's going to be drinkable with just short-term cellaring and keep for 30 years or more. The blend of the 2018 is 65% Merlot and 35% Cabernet Franc that will spend 18-22 months in new barrels (and a small portion in foudre as well). Hats off to director Emmanuelle d'Aligny-Fulchi for keeping this estate at the top of the hierarchy in Saint-Émilion!

Review Date: 1st May 2019

The aromas are incredibly complex with dark berries, elderberries, bay leaves, cloves and tile, follow through to a full body with layers of creamy and lightly dusty tannins that deliver a lingering finish and great attention to detail. The flavors range from black fruit to earth and stones. It's reserved and poised with great intensity and power, in a toned and formed mode. One for the cellar. Try after 2026.

Review Date: 4th March 2021

The 2018 Angélus is a fabulous wine from the de Boüard family. Often much more severe when it is young, the 2018 possesses stunning depth and remarkable finesse. I don't think I have tasted a young Angélus with this much finesse. In this vintage, Angélus is 65% Merlot and 35% Cabernet Franc, which is to say more Merlot and less Franc than in the past, which may or may not represent more of a longer term shift. To be sure, the 2018 is glorious, with generous, pliant fruit and silky tannins that add to its considerable allure. Crème de cassis, new leather, spice and licorice build into the striking finish. What a wine.

Reviewer Name: Antonio Galloni

A wonderful Angélus, rich in the character of this vintage. Stunning length on the silky tannins. This extends outwards, and the architecture is very much more linear than circular (as it is in some vintages), with a lovely freshness and power. I just love how effortless this feels, with deeply intense black fruits and a dried herb edge. The flesh isn't overt but absolutely present. Likely to take on some more weight over time and it will certainly take its time to reach its perfect drinking window. Wonderful sense of energy, power and intensity, yet it's so drinkable now. The 100% new oak is very well-integrated, a brilliant success. Blend is 60% Merlot, 40% Cabernet Franc, with the lowest pH for many years at 3.7 (the 2009 more like 3.9), mainly because the wide temperature differences between day and night slowed down the maturing process and kept freshness.

Reviewer Name: Jane Anson

Review Date: 11th April 2019

Barrel Sample. This is a dense, smoky wine, packed with ripe tannins and a line of fresh acidity that forms a fine contrast. It's a great wine that is rich in tannins while keeping elegance and finesse.

Reviewer Name: Roger Voss

Review Date: 1st April 2019

Producer

Château Angelus is a Saint-Émilion Premier Cru Classé A. The estate has one of the longest histories in Saint-Émilion, dating back to 1782. Saint-Émilion itself was previously called 'Ascumbas'. It was renamed after the monk called Émilion, a travelling confessor, who settled in a hermitage carved into the rock there in the 8th century. The monks who followed him started up the commercial wine production in the area. Angelus is owned by the historic de Bouard family. It has a fanatical following in China, in part due to the label image of a golden bell. In China the wine is referred to as 'Kin Chung' (The Golden Bell). The wine has also been featured in James Bond films.

Vintage Comparison

Valuation Tools

Wine Rating is intended to show the quality of the wine from an investment perspective. It takes into account the prices achieved by the producer, the quality of the vintage and the critics' scores for this wine. AAA is the best rating, and B the most speculative.

Please wait a few seconds whilst we process the market data for this wine...

Calculating...

Investment Rating

Wine Rating is intended to show the quality of the wine from an investment perspective. It takes into account the prices achieved by the producer, the quality of the vintage and the critics' scores for this wine. AAA is the best rating, and B the most speculative.

Show Investment Rating Guide

Graph